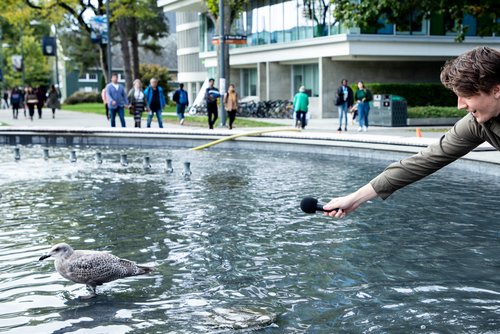 The seagull who has taken up residency in the Martha Piper Fountain is everywhere. He's taken over the UBC subreddit. The official UBC Facebook page has given him a nod. Despite his fame, the newfound face of the university has stayed silent on the major issues facing students today — until now. Join me, The Ubyssey's official ornithological commentator, as I field an exclusive interview with the fountain birb.
How's the water in there?
The seagull did not immediately respond, but I imagine he's enjoying the fountain water since he's repeatedly dunking his head under the surface.
Do you support the provincial government's decision to raise MSP monthly premiums for international students back to pre-2018 levels?
No comment at this time.
How positive an impact do you think Translink's long-term plan for the Broadway Transit Corridor will have for commuter students?
Yet again, no comment on this pressing issue. He kind of shook his head a bit, which I'll take as a yes, but this answer left me disappointed because it wasn't a yes or no question.
What's your favourite kind of french fry?
I've been told that it's a bad idea to feed seagulls anything, let alone french fries. The birb doesn't take handouts.
How should UBC fix the slow UBC Secure's internet speed?
No response. The seagull is still buffering, I guess.
So there you have it. Like any public figure under high scrutiny, it'll remain a mystery how the fountain seagull truly feels about the issues that matter to students. Join me next week for another exclusive interview, this time with Canuck the Crow from an undisclosed location.