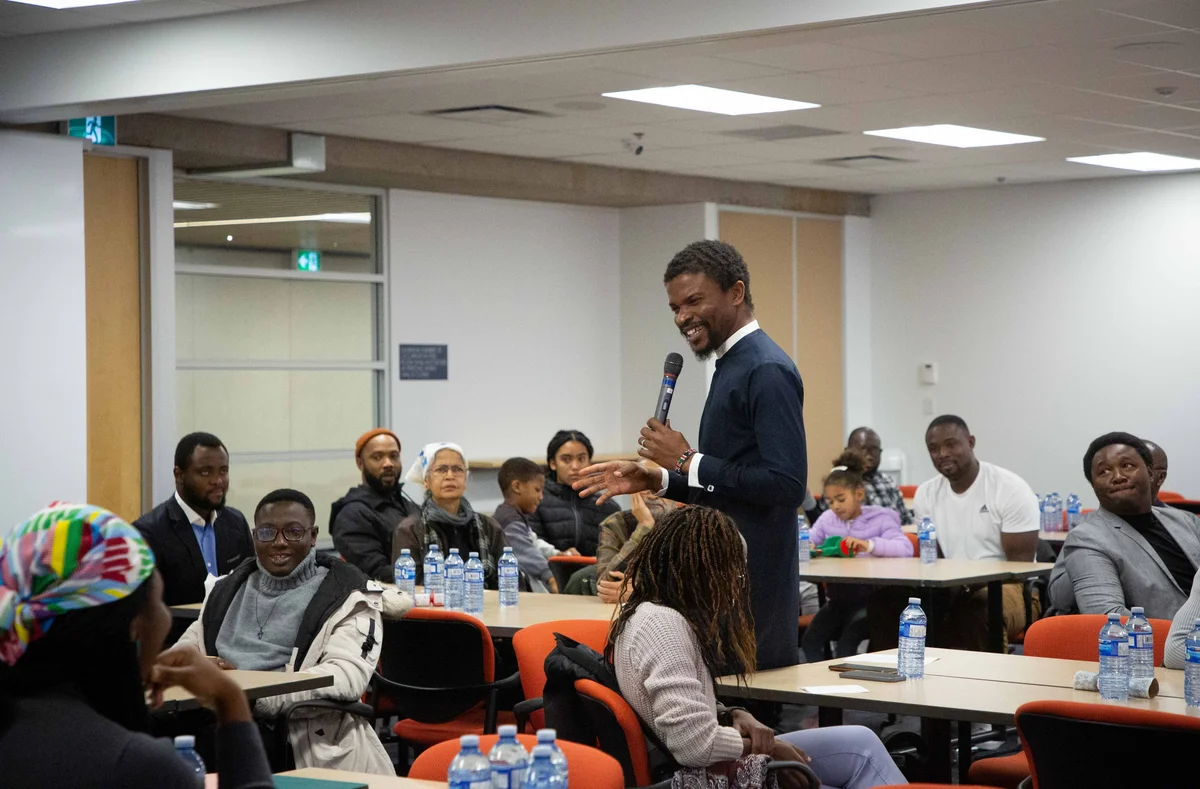 Members of the African community in BC and other community members gathered downtown on Saturday to discuss how the African diaspora can serve as a catalyst for sustainable development.
Hosted by Precious Fountain Foundation (PFF), Liu Institute Network for Africa and UBC Connects, this town hall discussed topics surrounding decolonization, education, entrepreneurship and local unification.
"The point of this conversation is to kickstart something that will have a lasting impact," said Christian Sopuruchi, president of PFF, as he opened the event. Through his years of experience implementing educational resources for disadvantaged children in Nigeria, he said he has seen firsthand the vital need for support for this group.
"244 million children are not in school," said Adaeze Oputa-Anu, program director of Empowered Black Girl. She described early childhood education in Africa as "essentially neglected," and presented practical ways to "close the gap."
Her suggestions for practical development revolved around financial support for grassroots organizations, providing mentorship to share knowledge and advocating for issues impacting Africans.
"If all else fails, buy African," Oputa-Anu said. This is an easy method to promote African entrepreneurship because "there is an African iteration for everything we consume." She cited singer Beyoncé's directory of Black-owned businesses as an example.
"The continent of Africa has great potential for growth. She deserves our support."
The future of Africa
Discussion continued as the panelists were called to stage. The conversation was centred around three speakers who compared and contrasted their perspectives surrounding the obstacles to African development.
"Decolonizing, that's where we need to start," said Lama Mugabo, founding director of Building Bridges with Rwanda (BBR). Mugabo was born in Rwanda but left when he was four years old, and grew up as a refugee in various countries.
"The world turned a blind eye as a million people were slaughtered," he said.
Mugabo founded BBR to assist in the reconstruction of post-genocide Rwanda. The non-profit organization has served as a platform to facilitate learning exchanges between international visitors and Rwandan communities. Locally, the organization often hosts public events to raise awareness about Rwanda's development journey.
Olumuyiwa Igbalajobi, a postdoctoral research fellow at UBC and founder of Scholarships Cafe, has helped connect thousands of candidates to opportunities in academia. Founded in 2020, the AI-driven platform has reached users in over 156 countries.
"At the end of this year, we raised about 7,000 Canadian dollars," Igbalajobi said. The funds were used to help Nigerian candidates create international passports, granting them the opportunity to apply for international positions.
"I'm not contributing to brain drain in Africa," clarified Igbalajobi. His non-profit's goal is to give future leaders the chance to engage in scholarship outside the continent and then bring their ideas back to support Africa's growth.
Kimani Karangu, a UBC PhD candidate, the president of the Kenyan Community in BC and the 2020–22 GSS president, said he believes Africa has all the policies and instruments for change, it just needs the correct drivers.
"The only problem we have is proper implementation," he said.
His solution for development included bringing new actors to address the African obstacles to development.
Karangu advocated for an increased number of women in the decision-making sphere to offer new perspectives in a male-dominated discussion. In addition to women, Karangu spoke about youth representation.
"Youthful minds must be brought on board," he continued. Through spotlighting youth-led businesses, and innovations, he believes the younger generation can be empowered to create the Africa they want to inherit.
"Today, Africa is writing their own history," said Karangu.
"We must not be silent, we must be present."