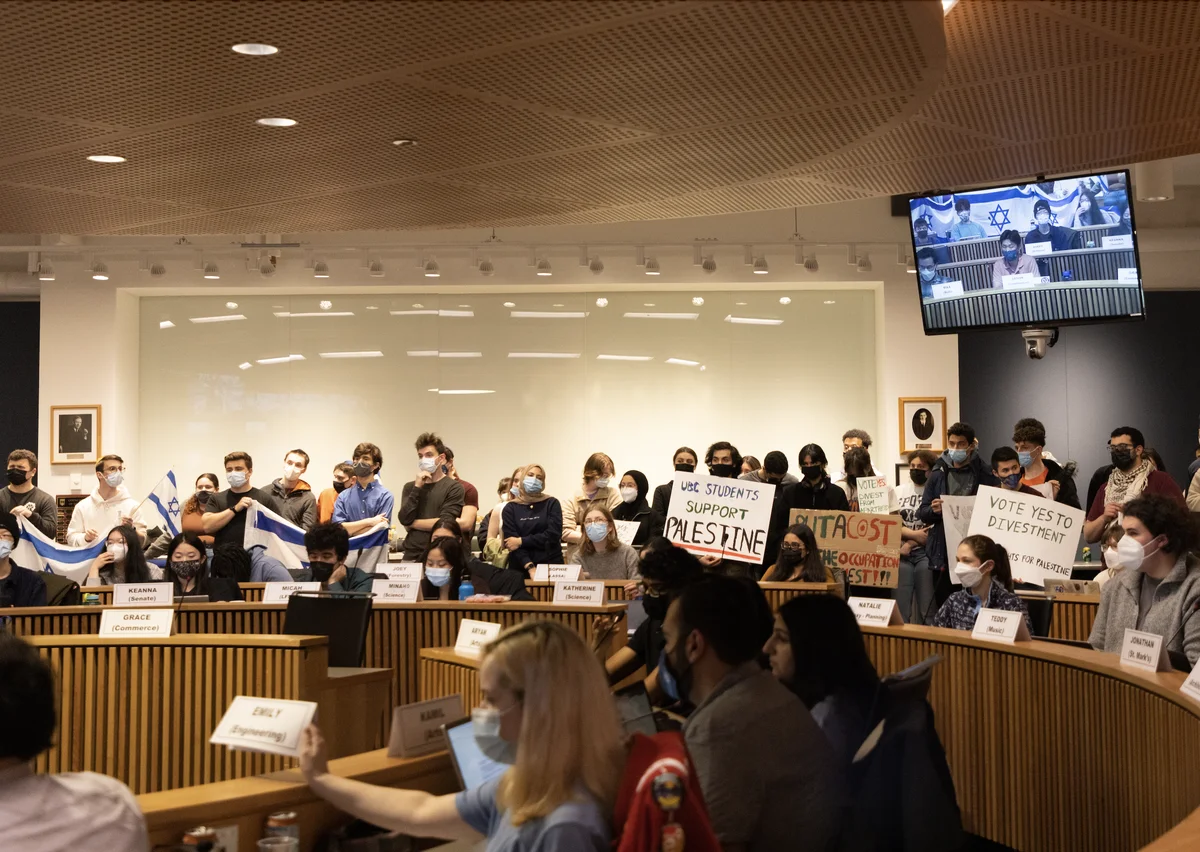 Cheers erupted in Michael Kingsmill Forum last night at around 9:40 p.m. when AMS Council voted 'yes' to urge the university to divest from companies involved in or complicit in human rights violations against Palestinians.
The student society agreed to pen a letter condemning "the Israeli state's system of apartheid and its occupation of Palestine" and calling on the Board of Governors and UBC to divest from nine companies.
The nine companies either appear in the UN database for businesses involved in activities that were deemed to be "human rights violations concerns" in a report following an independent international fact-finding mission, or companies that have been cited to be violating the human rights of Palestinians.
Proposed by a Divestment Coalition of 20 student groups, the motion was approved after a three-hour debate. The motion previously passed the AMS Advocacy Committee unanimously.
Yahya Abdul Ghani, a Palestinian fourth-year political science student and a member of the Divestment Coalition, said this motion could prove "that UBC cares [about Palestinian students] and they're willing to do something."
"When I first came to UBC, I was constantly told about 'ancestral, traditional, unceded territory,' showing that UBC is against occupation. And in my lifetime, when I grow up, I do not want to ever have to make a land statement about Palestine," Ghani added.
The following motion passes: pic.twitter.com/4TxY9VpS8T

— Ubyssey News (@UbysseyNews) March 24, 2022
While the motion's supporters said the AMS needed to take action against human rights violations as it has in other conflicts, student groups like Hillel Jewish Students' Association and UBC Israel on Campus said this motion could fuel antisemitism on campus and criticized the lack of consultation by the Coalition and the Advocacy Committee with many Jewish and Israeli groups.
The Coalition only consulted with one Jewish or Israeli group, Independent Jewish Voices (IJV), on the motion. IJV supported the motion.
Daniel Sax, a representative of IJV who was in favour of the motion, argued that "holding the state of Israel accountable is not a condemnation of Israeli students or Jewish students, and divesting from companies with financial ties to the Israeli state and complicit in apartheid occupation is legitimate protest and not antisemitism."
Sax added that Jewish voices on campus are not a monolith.
While Adam Dobrer, a member of UBC Israel on Campus, agreed that Jewish voices were not a monolith, he argued that the "consensus position" in the Jewish campus community is that this motion could "inflame and worsen antisemitism on campus."
"[The motion] names Israel by name, and many students, unfortunately, are not able to distinguish between government and students," said Dobrer.
On the lack of consultations with other Jewish or Israeli clubs, Ava Katz, president of UBC Israel on Campus, said that the student group had reached out to the Advocacy Committee in February but never heard back.
"Our voices have been left out, our narratives silenced and our history disregarded within the words of the motion and the process by which it has come to be presented before Council today," said Katz.
Feasibility concerns remain
In debate, some councillors expressed concern about the feasibility of UBC divesting from specific companies and the lack of consultation, but a motion to refer the issue back to the Advocacy Committee failed before councillors overwhelmingly voted to support the main motion.
On feasibility, Eshana Bhangu, the VP academic and university affairs and the chair of the Advocacy Committee, said there could be an argument that it is "risky to invest in companies that are complicit in human rights violations."
"[UBC's] not able to divest based on moral or ethical, targeted, issue-based things. However, if it seemed from a risk and return perspective and if it makes sense financially, then they're able to pursue [divestment]," said Bhangu, but added that this proposal was unlikely to be feasible.
Bhangu said there has "not been extensive consultation" with UBC on this motion.
Michelle Marcus, a member of Climate Justice UBC, said she disagreed that the motion would be unfeasible based on her advocacy experience for UBC's divestment from fossil fuels. She pointed at the university's fund managers employed by IMANT, who are working to divest from Russian positions amid the invasion of Ukraine, as an "even stronger precedent for this case."
"The UN Principles of Responsible Investment [have] specifically highlighted human rights abuses and violations of international law as critical environmental social governance risks. This means that the companies complicit in these issues have strong financial risk associated with them as we are all seeing right now with what's happening to companies operating in Russia," Marcus added.
An amendment to the motion added on the floor directed the Advocacy Committee to advocate to UBC to develop human rights/environmental, social governance principles in all investments and disclose information on specific investments, with a progress report coming back to Council at the end of August.
Yahya Abdul Ghani has written three articles for The Ubyssey.