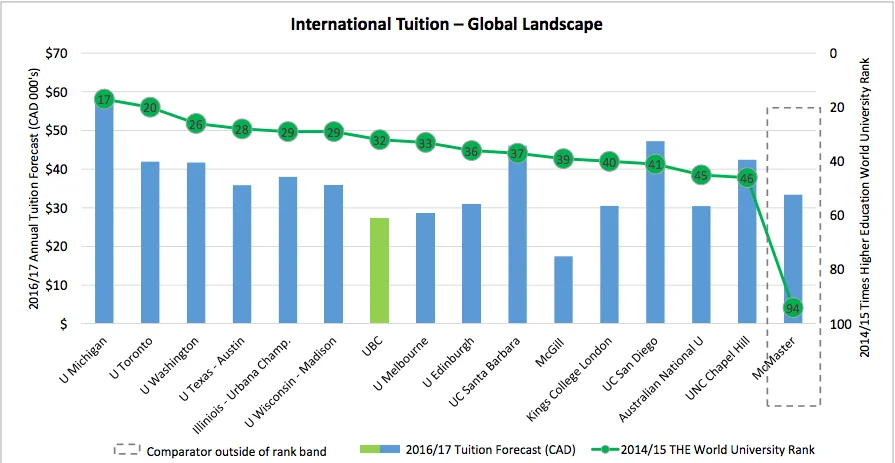 Last week the Finance and Property committee of the Board of Governors told UBC's administration to "do the right thing" and "accommodate students" in their demand for a better benchmarking process of international tuition at UBC against that of peer institutions.
In a speech that came as close as the board has come in recent memory to criticizing the administration, Greg Peet, chair of the Finance and Planning committee of the board, expressed disappointment "that we have as little agreement as we have so far" between the AMS and the university.
Student representatives in tuition discussions had many issues with the way the university decided on the amount by which international tuition should increase — comparing UBC tuition against that of peer institutions.
"The issue with the benchmarking was firstly that we disagree with the methodology used," said Jenna Omassi, AMS VP Academic and University Affairs. "But secondly, even if we had agreed with the methodology used, it was applied inconsistently."
The AMS's first problem with the process was the calculation of the average increase of fees. 
According to UBC's website on the current tuition proposal, administration used Statistics Canada data to assess how much international tuition is increasing annually on average. Omassi said that this is problematic.
"You simply cannot base your inflation rates on that kind of data because it is not specifically to inflation increases, it was just increases generally," she said.
While an earlier draft of the proposal stipulated five per cent increases for both undergraduate and graduate tuition fees annually, the university amended this to reflect Statistics Canada data. This stated that undergraduate international tuition fees saw an average increase of five per cent last year while graduate international tuition increased by three per cent. However, Omassi stills sees this as being an erroneous interpretation of data. Stats Canada does not say that this increase is due to inflation, but simply that it is an average increase — possibly due to fee increases just like UBC's.
"If you yourself are increasing your own inflationary increase, the average is going to go up. So if you constantly based it on the average, you'd just be perpetuating a higher average. So it simply did not make sense," said Omassi.
"We assume that other institutions will increase fees at five per cent a year as they have for the last several years," said Anji Redish, interim provost, in her presentation to the Board of Governors last week. "So we assumed that they will continue to inflate their fees."
A second major issue the AMS had with the university's benchmarking process was that UBC based their proposed international tuition increases to match schools within ±15 rankings of UBC on the Times Higher Education university ranking system. This means that not only a comparison of UBC's international tuition to other Canadian schools, but also to American and European schools. 
"When we proposed that only Canadian institutions be looked at, the university said that because of the differences in provincial regulation in Quebec, we couldn't truly look at McGill as a peer institution," said Omassi. "Which is one of the most ironic statements I've ever heard, seeing as we used American schools and European schools, who have different governmental models completely, as peer institutions."
Another issue was the discrepancy between numbers. In documents presented to the Board of Governors, the university stated that a Bachelor of Science Nursing (BScN) would cost roughly $80,000 at the University of Toronto. The website for the Lawrence S. Bloomberg Faculty of Nursing at U of T said that international tuition fees for a BScN is a little under $40,000.
Redish was unable to comment on this discrepancy due to time constraints.
The AMS also had problems relating to the classification of non-thesis based, professional masters programs – whose fees would see an increase as part of the current proposal. The Vancouver School of Economics Undergraduate Society (VSEUS) in particular took issue with the masters of economics programs being included as non-thesis based programs.
"Since in Canada an MA is an essential step towards obtaining a PhD, the MA in Economics is inherently academic based, even if it does not require a thesis," said Daniel Gao, president of the VSEUS. He compared UBC's programs to those of University of Toronto, where they have a specified non-academic track masters of economics.
"We aren't against the formation of a professional-based MA program as well as an academic-based MA, but to compare the program as it stands now to professional programs would seem to be poor justification for cost increases."
In addition, the university's original proposal included a fee increase of roughly 50 per cent to programs created in the last two years. Omassi pointed out that since the university had drawn up these tuition structures for the Board to vote in so recently, if there was a mistake then students shouldn't pay extra for it.
"People should have to be held accountable to their mistakes," said Omassi. "That's not a problem students should have to deal with."
The administration won't elaborate on what changes they'll be making to the tuition proposal to meet the Board's requirements.
"We are working to address the committee's input over the next week," said Anji Redish, interim provost. "As this work has just begun and is ongoing, it would be premature to speculate on the final outcome."
At this time, Anji Redish, the university's sole spokesperson on the proposed tuition increases, was unable to comment on particulars due to time constraints.
Moving forward, Omassi saw the words of last week's Board meeting as positive change. "This is the first time in a very long time that the Board of Governors has listened to students … and, though it seems small, has stood on the side of students and their concerns, and not on the side of the UBC administration.
"Although students probably don't see this as a huge win, it sets a precedent for the future. Which is important because when legitimate concerns do come up — like tuition — and we do have a proper seat at the table, there's room to wiggle," said Omassi. "I think this is baby step one in students actually being a part of the decision making process at the highest levels of the institution."
This article has been updated to include comments from the VSEUS.