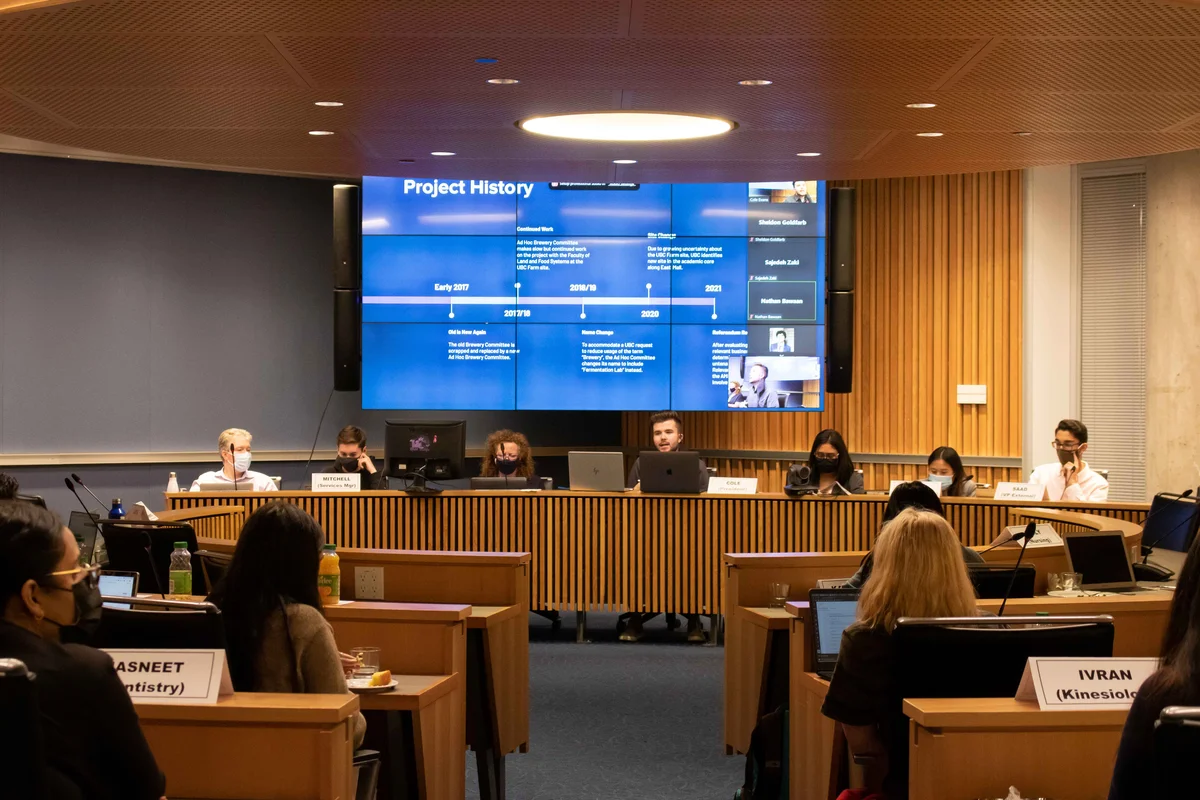 Last night, AMS councillors met for the first time in 2023 to vote on motions to discontinue the student society's eHub and housing services.
The motions passed unanimously following a presentation from AMS Senior Student Services Manager Kathleen Simpson on the 2022/23 AMS services review. The review recommended the discontinuation of these two services.
The eHub, offers a free one-on-one entrepreneurial mentorship for UBC students with business ideas. The program's drastic decrease in demand and similarity to other services were the main factors leading to this decision. Simpson said that the eHub usually helps a "small cohort" of students for a limited period of one-year. By discontinuing the eHub, the AMS can focus more on its key services, Simpson said.
As for the Housing Service, Simpson said many of the students approaching the Housing Service often come with concerns outside the scope of the service's capabilities, such as the need for obtaining housing. Other concerns revolve around landlord disputes and housing scams, which Simpson believes could be integrated into an Advocacy Service.
President Eshana Bhangu commended Simpson's presentation as "beyond impressive," specifically pertaining to its "realistic nature."
Bhangu is "very confident in the direction that the services are going in."
Councillors hear recommendations on Food Bank, SASC improvements
Simpson also presented recommendations and updates on the two most used AMS student services: the AMS Food Bank and the Sexual Assault Support Centre (SASC).
On the AMS Food Bank, Simpson reported that it has seen "absolutely staggering growth," with notable "day-to-day" increases in visits. Current statistics project a two-fold increase in the Food Bank's annual interactions.
To keep up with the demand, the Food Bank is in the process of recruiting new volunteers and an additional assistant coordinator.
In terms of recommendations, Simpson said the team wants to re-brand the Food Bank as a regular food bank for continuous client usage, as opposed to an emergency service.
Funding remains a priority with 1.38 tons of purchased food and approximately $3,500 dollars spent on groceries each operating day.
Simpson noted the challenge of acquiring long-term funding from external organizations, such as UBC, and the threat that it poses to the Food Bank's $200,000 reserve fund. This fund could "disappear in a single year" if external funding is not secured.
The recommendations for one of the two most used services, the SASC, involve the continued access for support through flexible platforms. In addition, recommendations extend to updating online materials, expanding education and increasing integration with other AMS Services.