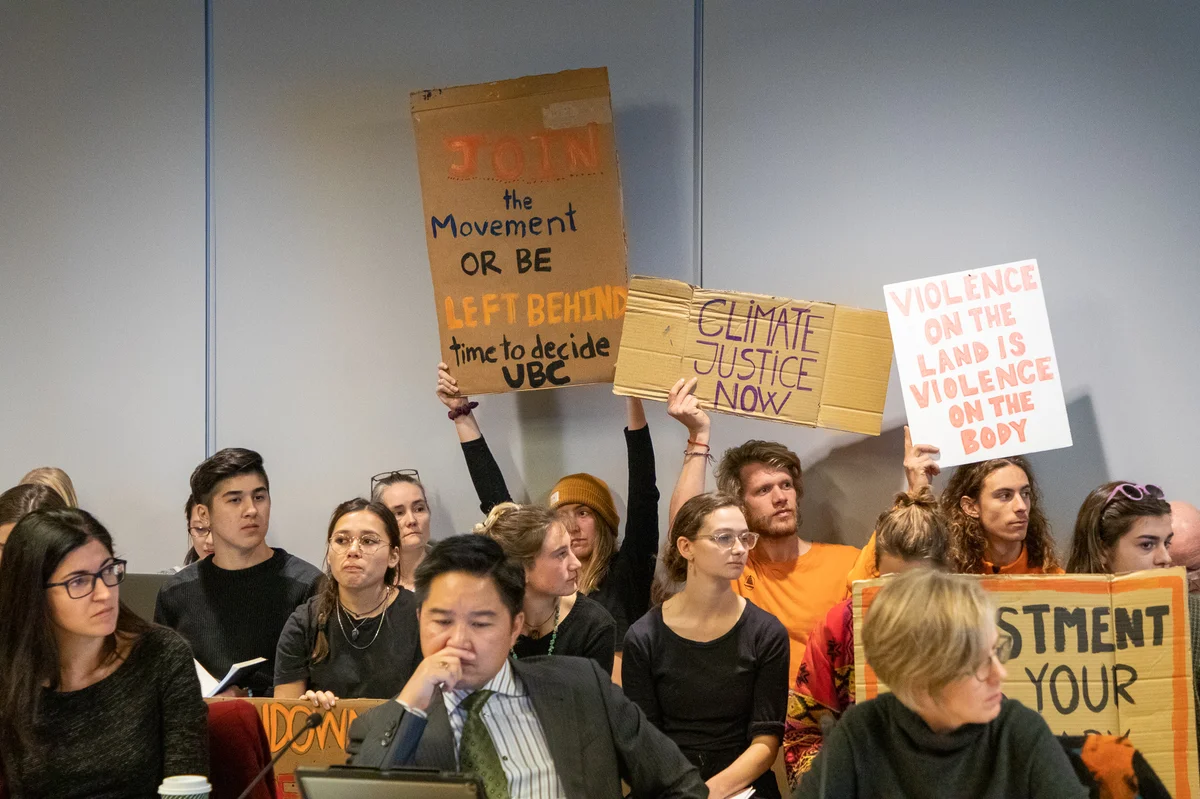 On November 22, as student climate activists flooded the third floor of the Robert H. Lee Alumni Centre chanting and singing, the Board of Governors (BoG) Endowment Responsible Investment Policy (ERIP) voted to get the ball rolling on divesting part of its endowment.
Over 50 students — representing UBCC350, Extinction Rebellion (XR) UBC, the Social Justice Centre and others — were picketing the committee meeting with one ultimate demand: that the university divest fully from fossil fuels.
Following a presentation from UBCC350 member Michelle Marcus, the ERIP Committee met to consider a motion authorizing UBC to transfer funds from its approximately $381 million Trek Endowment to the Sustainable Future Pool (SFP), a low-carbon fund that excludes fossil fuel investments.
This would bring the amount of divested funds in the SFP from $30 million to $411 million, amounting to 23.5 per cent of UBC's $1.75 billion endowment.
The Trek Endowment is made up of the university's own money generated from land use revenue for 22 per cent of UBC's Main Endowment Pool (MEP). The BoG can invest and spend the money freely as long as it complies with the BC University Act, which only specifies that governors act "in the best interests of the university."
The remaining 78 percent of the MEP comprises charitable donations that are restricted by donor agreements specifying how the money must be spent. As trustees of the donations, UBC is bound by the BC Trustee Act, which has a stronger definition of fiduciary duty than the University Act.
While UBCC350 and XR UBC are demanding full divestment, there is no timeline for the divestment of the endowment's charitable purposes trusts.
But even the authorization of divesting the Trek Endowment is bound by two conditions that will delay it for several months.
By February 1, 2020, the university must receive a legal opinion that "confirm[s]" transferring the funds will not have any adverse legal implications.
And by March 31, 2020, the university must conduct an asset-liability study to ensure that no pools within the endowment — neither the MEP nor the SFP — will lose money as a result of the transfer.
In the meeting, UBC VP Finance and Operations Peter Smailes said these deadlines will allow his portfolio to bring forth a definitive vote on divesting the Trek Endowment in the April 2020 meeting.
The move was met with resounding support from governors, including BoG Chair Michael Korenberg. He added that if UBC's legal opinion does not recommend divesting the fund, the Board will have to get a second opinion.
He also told the Investment Management Trust (IMANT), which oversees the investment of the endowment and UBC's Staff Pension Plan, to make sure that the Trek Endowment is invested in funds that are not only low-carbon but also entirely fossil fuel-free like the rest of the SFP.
"IMANT needs to be prescriptively told ... that [low-carbon only] is not an acceptable solution."
Korenberg recommended that ERIP be instated as a permanent committee so that it can work towards divesting the rest of the endowment.
Making their voices heard
During her presentation at the beginning of the meeting, Marcus outlined the student group's demands alongside academic research on divestment.
"We're not here because we want to be loud and cause trouble, we're here because we're terrified," said Marcus. "We feel this urgency and we cannot stand to see our university complicit."
"There are no neutral stances here. By not divesting, you are siding with the fossil fuel industry and continued devastation. This is at odds with the purpose of UBC and your duty as governors of a public institution," she added.
She clarified that UBCC350 is also advocating for UBC to divest its $1.82-billion Staff Pension Plan.
This is not the first time students have demonstrated at BoG meetings. The April 2018 meeting was met with protests from a crowd of students, many of whom were part of UBCC350. At that meeting, the Board also voted in favour of doubling the university's contributions to the SFP.
Many governors were supportive of UBCC350's message for full divestment. President Santa Ono said he was hopeful UBC could completely divest by 2025.
"There's so much more we have to do even beyond [divestment]. This is really an emergency," he said, fulfilling a Global Climate Strike ask from the groups that he declares a climate emergency.
Other governors, including Vancouver BoG faculty representative Dr. Nassif Ghoussoub, said the university should have made more progress on divestment over the last three years.
"Why are we just rediscovering the wheel when many universities have gone through these motions?" Ghoussoub said.
Vancouver BoG student representative Max Holmes also said he was glad to see action being taken after many instances of avoidance, but more immediate steps are required.
"Climate change in its current crisis isn't about the low-hanging fruit. It's about the entire tree," Holmes said.
In a presentation on UBC's Responsible Investing Approach, UBC Treasurer Yale Loh said the university had been communicating with other schools and organizations about their divestment initiatives.
Recently, Concordia University and the University of California made decisions to divest their endowments from fossil fuels.
According to Loh, the people UBC spoke with encouraged them to take time to assess the risks and consequences.
"Their advice to us was always take it slow and you got to be careful as you progress through this because of understanding the consequences," he said.
This was met with calls of "shame" from the student demonstrators.
Loh added that IMANT will do more to provide more transparency as it engages the companies it's invested in to accept more sustainable practices. And notably, the approach did not declare divestment a poor climate action strategy as past proposed approaches have.
AMS President Chris Hakim said the AMS supports the student call for divestment. According to him, the AMS has seen a profitable portfolio from its decision to divest last year and they've cited that in discussions with the university.
"Students are making it very clear to the university that divestment needs to happen as soon as possible, that this community has waited much too long for this movement. The progress that is happening now should have happened years ago," he said.
As the meeting wrapped up, two student activists stood up and demanded the university make a public statement committing to full divestment. Darryl-Lee Schalm, a student organizer with XR UBC, stood up and said students would begin a hunger strike if the university failed to act by January 6.
"We want to make it clear that we do not want to do a hunger strike. It is painful. It is uncomfortable. It is exhausting and it is unsafe," Schalm said.
"We would much rather focus on our studies and our professional pursuits. But what is the point in doing that if we don't have a future?"
As the governors began to file out of the room, the students remained singing: "Which side are you on?"