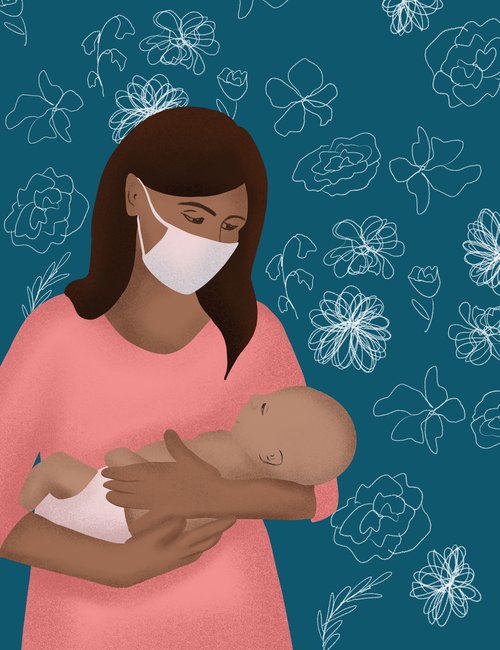 As part of her neighbourhood's self-proclaimed "Social Distance Social Club," Acadia Park resident Estefanía Alejandra Milla-Moreno and her three children — aged 5 months, 6 years and 15 years old — participate in daily dancing times, and the community occasionally claps and bangs pots at a distance to show support for front-line workers.
But for Milla-Moreno, a PhD candidate in the faculty of forestry, financial support has been hard to come by during the pandemic.
"We organize ourselves to advocate for more support towards rent and tuition and have seen some support coming our way. Unfortunately, it's still scarce given the circumstances," she said in an email.
Social distancing, self-isolation, travel bans, the closures of schools and childcare services — all of these measures have forced families into adopting a new norm during COVID-19, and the transition to this new way of life has been significantly challenging for UBC professors and students who are parents.
Many parents are balancing working, teaching and studying remotely while having to adjust to being at home with their children all day. Those with school-aged children have even taken on the role of the primary educator, but with limited access to resources.
According to the 2019 Graduate Student Society (GSS) Student Satisfaction Survey, nine per cent of grad students "live with dependent children for whom they are parents or guardians." Of those students, two-thirds require childcare services.
The GSS did not provide comment by press time.
On May 1, 2020, Susan Porter, dean and vice-provost of the Faculty of Graduate and Postdoctoral Studies, announced two funding initiatives for graduate students. Graduate students registered for the May–August 2020 session are eligible to apply for a needs-based Graduate Student Emergency Bursary which can provide up to $3,000 per student.
Beginning summer 2020, all PhD students except those who have external sponsors pay their tuition will receive the President's Academic Excellence Initiative PhD Award worth 17 per cent of students' tuition.
On March 31, 2020, UBC Child Care Services (UBCCCS) announced the closure of its child care programs. Days later, in a COVID-19 update, UBCCCS said it applied for temporary emergency funding from the Ministry of Children and Family Development. UBCCCS is expected to resume at a time recommended by the province and the university.
Molly Babel, associate professor in the department of linguistics and mother to a 21-month-old daughter, had been on the UBCCCS waitlist for over 2 years when the university cancelled many of its in-person operations. She acknowledged that she is "extremely fortunate" in being able to continue her teaching and research virtually while her husband provides care for her daughter.
"My husband had been the primary caregiver as we wait for her daycare spot, and he still is," she said in a statement to The Ubyssey. "So, I, fortunately, can still do the teaching and research work that being a professor entails, and my husband still does the childcare during the workday."
Despite having to work from home, Babel is making the most of her new environment.
"The most challenging aspect of my workday is having to ignore adorable toddler shenanigans as I work from the bedroom."
Milla-Moreno said that she and her husband "are very organized and share roles when it comes to parenting and housekeeping." Their family were early adopters of physical distancing, so Milla-Moreno decided to keep her six-year-old from attending a UBC camp she had registered for. She said she wasn't able to get a refund.
However, to help cope with new challenges brought by the pandemic, she asked her parents who live in Chile to spend one hour of free time via Zoom with her 6-year-old during weekdays.
While family has been helpful, Milla-Moreno said that the pandemic has also created a sense of unity among her neighbours.
"For many, Acadia Park is our only home and our families are far. Our neighbours become our friends and in many cases, our family."