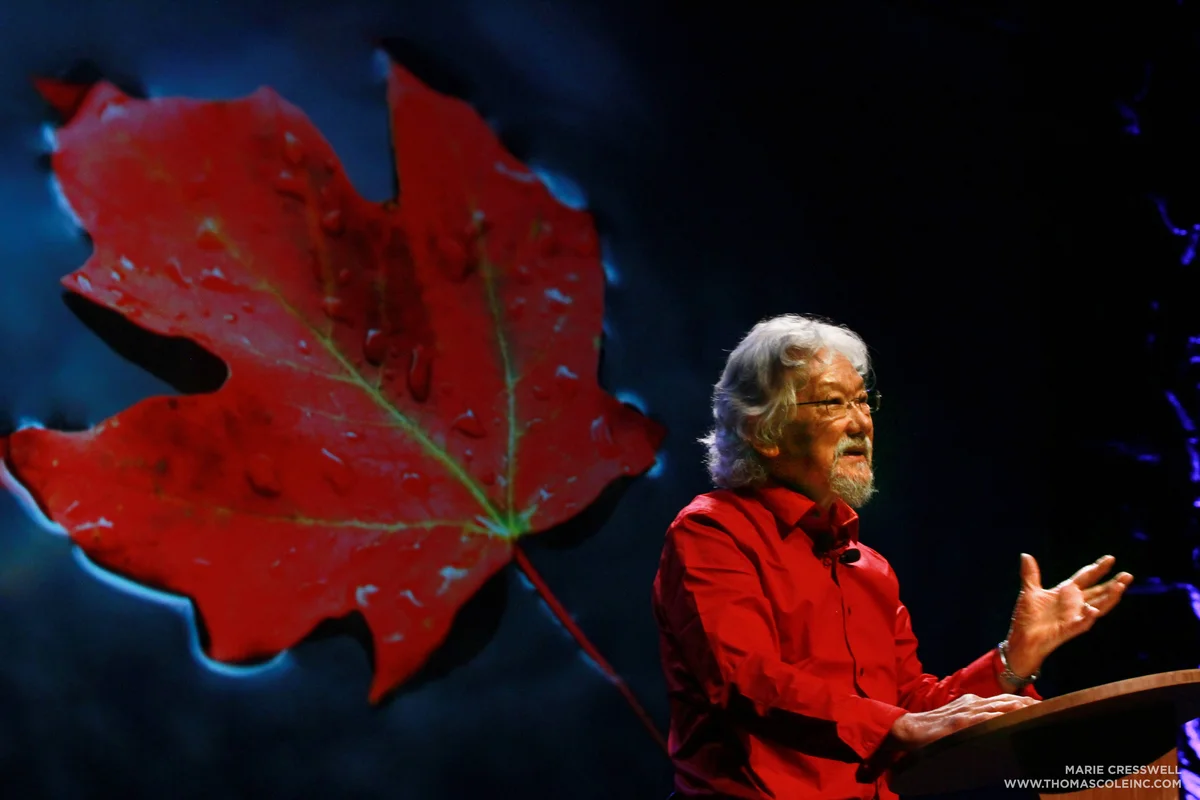 On Friday night, over a thousand people filled the Chan Centre to hear three generations of activists deliver a collective message on climate action.
Dr. David Suzuki — a prominent scientist, broadcaster and professor at UBC for almost 40 years — and former Canadian Ambassador to the United Nations Stephen Lewis brought their message of climate activism to UBC as part of their Climate First Tour. The pair is travelling to five universities across the country, urging Canadians to vote with the climate crisis and the future of young people in mind.
Joining the discussion was Kanahus Manuel, an Indigenous activist and traditional birthkeeper. Manuel is also a Tiny House Warrior currently pushing back against the Trans Mountain Pipeline project on the Secwepemc territory.
Moderating the event were Climate Strike Organizer Rebecca Hamilton and Zoe Craig-Sparrow, a co-director of Justice For Girls and member of the Musqueam Indian Band.
'The most important election in Canadian history'
The nonpartisan event was centred around the upcoming federal election and the importance of taking environmental issues into consideration when Canadians cast their ballots.
"I think this is the most important election in Canadian history," Suzuki told The Ubyssey.
Referencing the Intergovernmental Panel on Climate Change (IPCC) 2018 Special Report, he explained that a period of climate crisis could be imminent if temperatures continue to rise 1.5 degrees above pre-industrial levels by 2021.
"Every time, [IPCC] predictions have fallen short of what actually happened," Suzuki said. "So when they came out with these reports in October of last year, I was blown away that they actually came out with such an urgent, urgent call for action."
The three activists argued that in order to tackle the climate crisis, governments need to move away from a view of the world that is centred on humans and towards a view that is centred on the natural world.
"That's our governance structure and that's something that has been torn and ruptured because of colonization, but not lost," explained Manuel, "because we showed the world through tens and thousands of years how we could live on our continent without destroying her."
"Our intelligence seemed to enable us to escape the constraints of nature, so it is easy to believe that there are no limits to what we can do," Suzuki added. "All that limits us is our imagination."
Craig-Sparrow then asked the trio to explore the issue of "legacy" and how "the actions of today will affect future generations to come."
Lewis said a significant part of the problem is that candidates are forced to prioritize reelection and can't focus on long-term goals like climate action.
"So it's not that politicians are evil or stupid, it's just that the game they're in demands that the priorities of youth don't make political sense," he said.
Listing fossil fuel companies like Exxon, Shell, BP and Chevron, which are among the highest carbon emitters in the world since 1988, Lewis explained that multinational oil, gas and coal corporations need to be tackled "head-on." He believes policy changes such as carbon taxes are only a "microscopic part of the solution."
"We need to put so much pressure on the political class that change is inescapable," Lewis said. "That is where youth are the pivot."
Institutional priorities
According to the speakers, none of the five universities on the tour agreed to sponsor Suzuki and Lewis when they first reached out.
"Not one of the universities is sponsoring our visit. We are acting as independents. We are paying for the Chan Centre," explained Suzuki, who along with Lewis, is not charging any speaker fees for the tour.
He added UBC's disinterest to sponsor, along with its reluctance to divest, is indicative of a larger apathy among universities about the climate crisis.
"You're in a university who won't even bother to divest itself from the fossil fuel industry and I think that's a very revealing stance that the university is taking, that they're too deeply embedded in the current economic system to pull out," said Suzuki.
When asked why it decided not to sponsor the event, the university said it had to preserve its status as a nonpartisan public institution, especially after Elections Canada warned in August that discussing the climate crisis could be considered a partisan activity.
"The increased uncertainty surrounding changes to the Canada Elections Act and rules and guidance for third parties has given us cause for even greater caution during this election," wrote Media Relations Senior Director Kurt Heinrich.
He added that after declining to sponsor, UBC referred Suzuki to possible academic collaborators and that the university still supports public debate.
"Such decisions to decline requests for financial support are not made with any intent to limit public discourse or the vital role that the university community plays in research, teaching, engagement and advocacy around important issues during the election or at any other time," wrote Heinrich.
In the absence of institutional leadership, Suzuki sees the burden falling on younger generations to take action — something he views as a tragedy.
"Youth shouldn't be fighting for their future, that's what parents and older generations should be doing," said Suzuki. "Youth should be learning and finding out about the world and deciding what they're going to do with their lives, and yet they're the ones who are leading the battle."