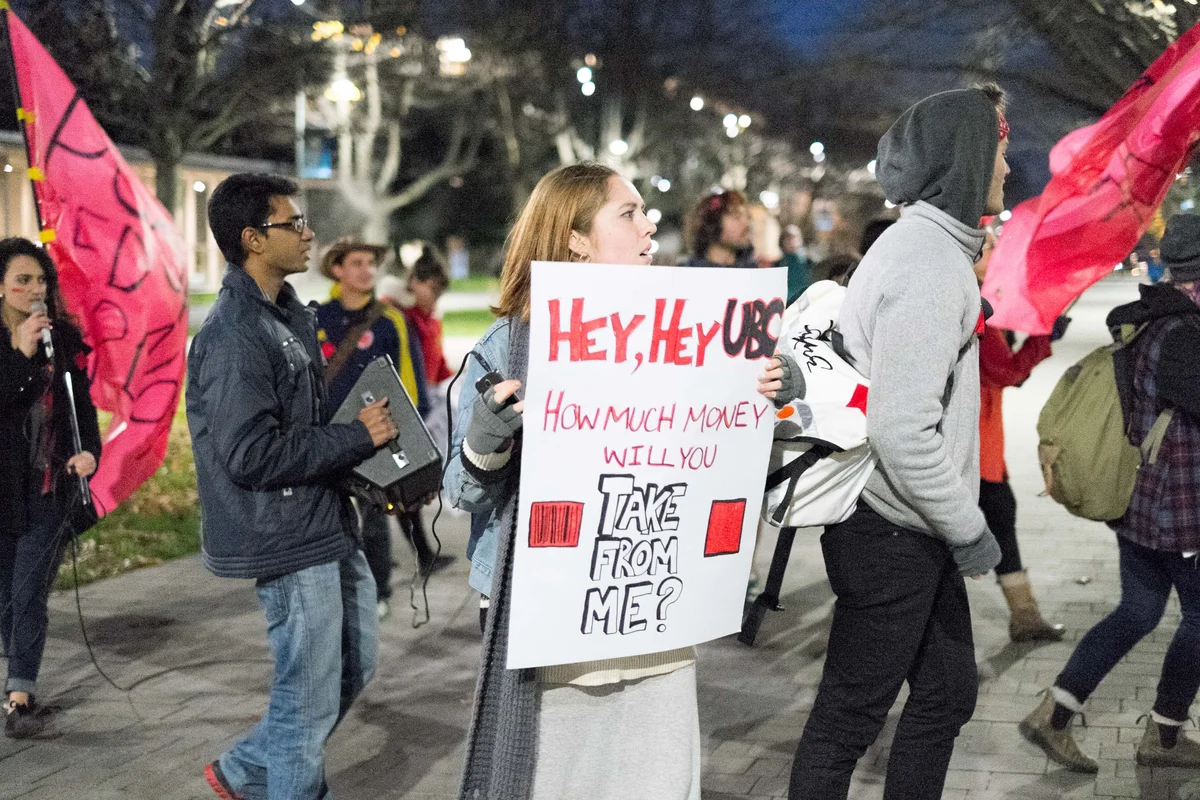 UBC tuition has increased substantially in the past decade, especially for international students. This has been a major source of contention throughout the years, hashed out by students, the Board of Governors (BoG) and the AMS.
While the university justifies these increases by saying they go towards student programs and financial aid such as the Excellence Fund, they have been criticized for commodifying UBC degrees and targeting international students and students of lower socio-economic status.
Tensions surrounding tuition hikes escalated in 2014 and 2015, culminating in the birth of the #IAmAStudent movement. In the fall of 2014, over 500 students protested at the AMS Annual General Meeting, voicing their gripes with rising housing and tuition costs. This meeting was also the first in over 40 years to meet quorum.
In October 2015, BoG approved a 48.6 per cent increase in international tuition for most programs to be implemented over three years. According to the 2015 BoG agenda, the increased tuition would "support the mission and excellence of the University and should be comparable to those at peer institutions."
High tuition rates are also seen as a source of prestige for UBC, as they seek to stay on par with rival schools University of Toronto and McGill. By the university's logic, high tuition would attract prestigious faculty members who increase UBC's research output, thereby increasing UBC's status in various university ranking systems.
As the decade draws to a close, tuition fees are still rising and international students are still bearing a disproportionate weight. In 2018, BoG approved a four per cent increase for international students and a two per cent increase for domestic students (the legal limit allowed by the provincial government). This amounts to a $1521.90 increase over 30 credits for international students while domestic students would only face a $107.70 increase.
The BoG voted in favour of increases by a historically slim margin in 2018, with eight out of twenty-one governors voting against the increases. 2018 was also the first year provincially-appointed governors voted against tuition hikes.
This year, BoG approved tuition increases again with a two per cent increase for domestic students, a three per cent for continuing international students and a four per cent increase for new international students. UBC has justified the increases are required to enact initiatives such as faculty renewal and Jump Start.
While the Board ultimately voted in favour of the increases during the December 2019 meeting, all three student representatives came out against the tuition increase.
Increased funding risks decreasing the socio-economic diversity of the student body. A 2014 report from the Canadian Federation of Students found that "international tuition fees at Canadian universities are usually more than the annual wage of most families in developing countries."