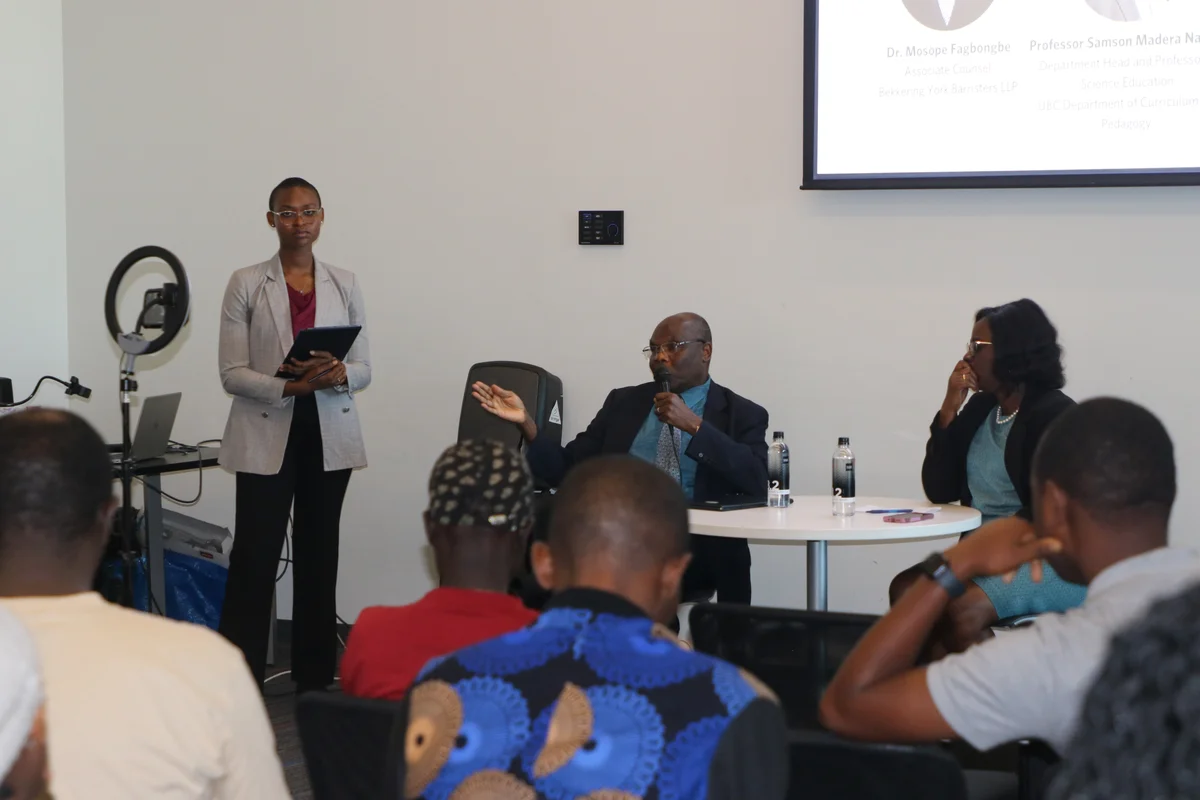 On September 14, the Liu Institute Network for Africa (LINA) hosted a discussion panel to help graduate students from African countries enter the Canadian job market.
Christian Sopuruchi, the co-chair of LINA, introduced the event by emphasizing how this event seeks to connect international students with African roots at the UBC and lay the foundation for a robust network of support and community.
Guest speakers, Dr. Mosope Fagbonbe, an Allard School of Law graduate and active member of the UBC Alumni Board and Dr. Samson Madera Nashon, Head of the Department of Curriculum and Pedagogy, shared their knowledge and advice and lived experience with students.
Fagbongbe highlighted the timeliness and importance of this conversation for students enrolled in their master's and PhD studies.
"Remember where you are and what you are here for," said Fagbongbe.
Her first piece of advice for graduate students is to stay connected. During her time as a PhD candidate at Allard, she said she was actively building connections within her program and with her peers.
She encouraged the postgraduate candidates to connect with others on a coffee date to discuss their career.
Fagbongbe also noted international students from Africa face particular challenges in Canada.
"[Here], you have to look people in the eye … you never [have to] in Nigeria" said Fagbongbe.
Laughter erupted in the crowd as she emphasized how cultural differences between Canada and her home country led to miscommunication in the professional environment.
For Fagbongbe, catching onto Canadian mannerisms was crucial to her successful legal career in Canada.
Nashon followed Fagbongbe by reminiscing on his own education.
For Nashon — a distinguished pioneer of high school science pedagogy — times were not always so simple. Despite ten kilometre walks to school in Kenya, his goal to earn a scholarship to complete his masters in the United Kingdom powered him through his studies.
Both speakers also highlighted the importance of a candidates' curriculum vitae when applying for jobs and more permanent immigration status in Canada.
Nashon emphasizes the importance of seizing every opportunity presented to you, no matter how minor it may seem.
"When given anything small, do it well," said Nashon.
During Mosope's studies, she capitalized on an opportunity to work with the United Nations Women's Rights program during her studies by staying assertive.
By maintaining a good relationship with his supervisor, Nashon landed a position as a teaching assistant during his time as a student for which he has felt a profound gratitude during his prolific career.
"Students make supervisors become better supervisors. Even if they don't smile, students can make them smile," said Nashon.
After the initial presentations, students were given the opportunity to ask Fagbongbe and Nashon questions.
A student in health sciences asked the panellists about their experiences being Black at the university as they sometimes feel isolated and experience discomfort as the only Black person in their program.
Nashon acknowledged how structural racism does exist in academic institutions but conveyed optimism about the future. During his 22-year tenure at UBC, he has noticed an increase in the number of Black faculty but a figure too insignificant to be applauded.
"At least I can [now] bump into a Black professor," said Nashon to The Ubyssey after the event.
Sopuruchi also highlighted how some questions demonstrate universal difficulties for the African graduate student community.
"You see — the experience resonates with everyone," said Sopuruchi. "When someone asked a question about getting Black professionals at UBC, you see how [it] went over the crowd."
Sopuruchi said his vision is to reimagine LINA as "a tool for Black [students]" and that he hopes to get the "Black community in Vancouver on a mission."
"We don't have too many Black people ... Black people are now discouraged from applying because there are no Black people."
LINA is planning to host their next workshop in December.