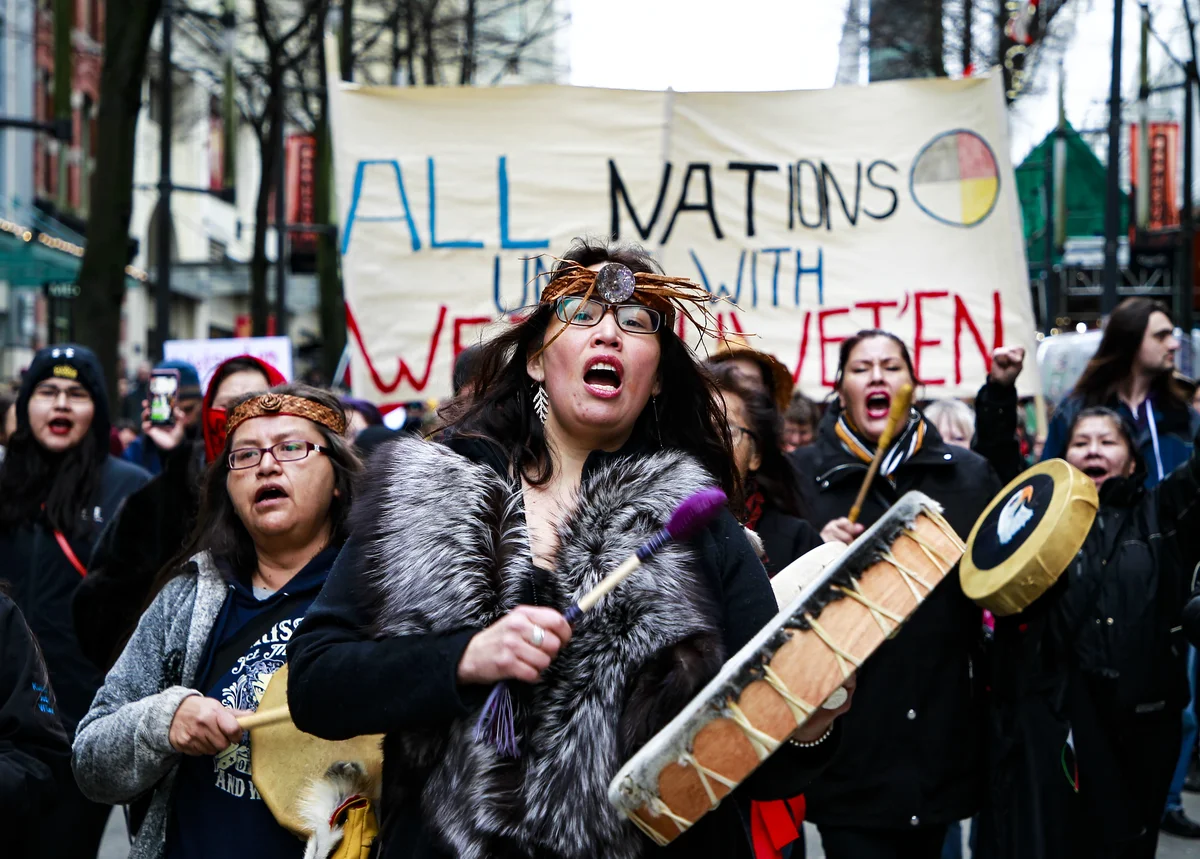 Hundreds marched through downtown Vancouver on Tuesday in solidarity with the Wet'suwet'en anti-pipeline camp in northern BC.
The rally, one of many across Canada, comes a day after the Unist'to'ten camp was raided by the RCMP under a supreme court injunction for blocking the path of a 670-kilometre LNG Coastal GasLink pipeline.
Protestors marched from the provincial courthouse to Victory Square, chanting support for Indigenous sovereignty and decrying the pipeline's construction.
"I'm here because I'm on unceded territory, and as someone who benefits from that everyday I have a responsibility when I see colonialism affecting people I care about," said second-year UBC political science student Hannah Stanley.
Stanley was one of many UBC First Nations and Indigenous Studies students who took part in the march. Third-year student Irene Duthion said her professor cancelled class so that interested student could take their learning beyond the classroom.
"It's something I take at heart, not just learning it in a classroom but also living it in my everyday life," said Duthion.
"... There's Indigenous oppression around the globe, even in my home country Costa Rica. Stolen lands and Indigenous sovereignty are still not recognized."
Former UBC student Nodi Yunus echoed this sentiment.
"This is a very extreme case of colonial violence and a violation of Indigenous jurisdiction and sovereignty," said Yunus. They said their attendance was also tied to decolonization at UBC's own Vancouver campus, which sits on unceded Musqueam territory.
"It would be deeply violent to benefit from that territory without also being engaged with decolonizing it," said Yunus. "So as part of that as well, I'm concerned with decolonizing other territories."
Other demonstrators emphasized the issue of climate change: one group of protestors lifted a massive pipeline prop throughout the length of the march, and the demonstration paused briefly to chant below the Coastal GasLink offices on Granville Street.
"If we don't deal with climate change, civilization itself is at threat," said climate activist and former UBC professor David Suzuki.
"October 21 is the next election, and if we don't make climate the issue of all parties — this is no longer a partisan issue," he said. "... This is a critical moment, and young people have to get off their asses and get out there."
The protest ended at Victory Square, where local Indigenous leaders and chiefs called on attendees to resist what they described as illegal encroachment on Indigenous territory — not just at Unist'to'ten, but across the country.
"History is calling up on all of us," said Grand Chief Stewart Phillip of the Union of British Columbia Indian Chiefs. "I want to say to Prime Minister Trudeau: Welcome to battleground British Columbia."