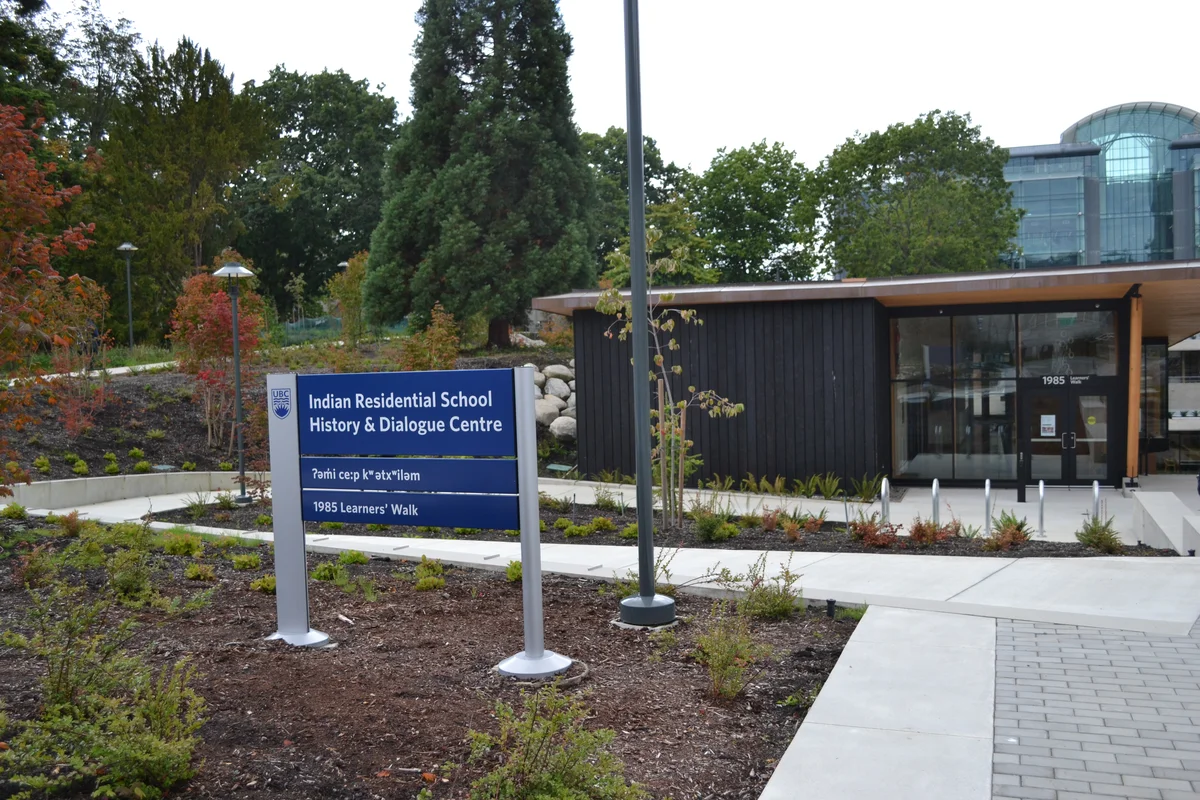 The April opening of the Indian Residential School History and Dialogue Centre (IRSHDC) was presented as an act of reconciliation on a scale that UBC had never previously achieved.
But over five months later, the Centre is short-staffed, its systems are incomplete and its building is effectively empty.
On April 9, UBC hosted the opening of the IRSHDC, which was marked with hundreds of attendees from across the campus community as well as Indigenous elders and residential school survivors.
Tearful speeches and powerful testimonies were capped-off by UBC President Santa Ono's formal apology for the university's institutionalized support for the residential school system. The apology was originally scheduled for September 28, 2017 — but it was pushed back due to a "scheduling conflict." In the post-opening event Facebook Live stream, Ono attributed the final timing to UBC wanting to tie the apology to the most significant day possible.
For the majority of the summer, the building was largely empty — the furniture used during the ceremony had been borrowed and returned. The hours of operation were minimal; it was open from 10 a.m. to 3 p.m. on Monday to Thursday, 9 a.m. to 12 p.m. on Friday and closed on the weekends. The reception desks were unoccupied, and the only interactive opportunities were two iPads directly upon entrance and four computers sitting in a room. A WorkLearn student, who seemed to be the only person in the building upon a Ubyssey visit, sat at one of the computers inputting metadata into files.
Mary Ellen Turpel-Lafond's term as IRSHDC director did not begin until June 1 even though UBC announced her appointment on April 26 — more than two weeks after the opening of the Centre. Upon assuming her role, she said the IRSHDC was not ready to open — and it still isn't.
"I'm quite frustrated about the fact that once I got into the role and started to get fully acquainted, I discovered that we [were] far from ready to open," Turpel-Lafond said.
"[When] I came in July … we had no systems in place."
"A fraction of the records"
The conception of the IRSHDC dates back to 2011 when UBC supported the University of Manitoba's bid to host the National Centre for Truth and Reconciliation with the understanding that UBC would then establish an affiliated centre that would have its own operations and mandate.
The IRSHDC would be "a place for former students and survivors of the Indian residential schools and their communities to access their records, for students and the public to explore the vast archival holdings and learn about the history and legacy of the schools through interactive technology, and for university and community members to meet in focused discussions about the uses of history and other collaborative projects," reads the UBC Ceremonies and Events website.
The archival holdings were meant to include a digital database of records, histories, documents and testimonies pertaining to the Indian Residential School System and its legacies as gathered by the Truth and Reconciliation Commission (TRC). Under this mandate, the TRC gathered approximately five million documents — and while the University of Manitoba was to host all of the physical and digital documents, the IRSHDC was to host those pertaining to BC.
"We gave UBC copies of the documents that we have that cover residential schools that were in operation in BC," explained Raymond Frogner, director of archives for the National Centre for Truth and Reconciliation. But when asked how many documents were transferred, he was unable to provide a direct answer.
The IRSHDC's staff said the records never arrived.
"They haven't handed over a fraction of the records related to BC," said Elizabeth Schaffer, associate director of data and curation at the IRSHDC.
"They've handed over some publicly available records, but even the publicly available ones that have personal information, we've chosen not to put on our site and they have them on theirs, so it's a very complex space in which we're working."
Schaffer's job at the Centre is to design a platform that hosts records of the Residential School System for survivors and family members to access. Due to the sensitivity of some of these records, Schaffer and her team aim to ensure that the system is "informed by Indigenous protocol" and that they know to whom documents can be accessible.
But without the records themselves, building the system has been challenging.
"The team here has been really using the resources that have been given to them to the best of their availability," she said. "We've gone to other sources [and] made partnerships with other archives to get more records because it's a longer conversation [and] a longer development of a relationship with the National Centre than I had anticipated personally when I came on board."
The TRC could not be reached for a follow-up comment by print time.
"Why did we [open]?"
While the official opening ceremonies seemed to mark the IRSHDC as 'ready for business,' none of these systems or records were available. When asked why the building was opened when it did, Turpel-Lafond said she wishes she knew the answer.
"I wish I could answer that question," she said. "I think they were pushing to open it … but it created expectations, and you know, I'm trying to meet those expectations."
The small team of nine at the IRSHDC had also been over-worked to the point of exhaustion, with Schaffer taking a month off after the opening due to fatigue.
"I'm happy about the pace and progress, two months in, but at the same time I scratch my head and say, 'Why did we [open]?'" said Turpel-Lafond. "They wanted to open a special building, but they didn't open a centre. We're not even designated a centre within UBC."
The IRSHDC isn't on the list of UBC-affiliated institutes and centres. A Senate academic policy committee web page lists the process that a space must go through in order to be designated a centre, but it has yet to be fulfilled for the IRSHDC.
Despite Turpel-Lafond describing it as a "soft opening," the Centre's launch was advertised as "a ceremony to witness the official opening." Indigenous community members from across British Columbia, including elders and residential school survivors were invited to the opening — encountering expectations that would not be fulfilled.
"The resources are not there," said Cole Daley, a recent Indigenous alumnus. His relatives who were forcibly enrolled in the Residential School System had traveled hours to visit the Centre, only to be met with unoperational facilities.
"I felt like it could have been handled better personally … And I know several members of my family felt the same way."
He also expressed that the Centre's incomplete operations is counter to Indigenous engagement being one of the university's top priorities in its strategic plan.
"I'm not confident you would do it [like this] in a different arena," Daley said.
"For example, would you spend that much money on a research facility and then invite a ... bunch of visiting professors and high-level clinical researchers to an opening to a facility that didn't actually operate? Would you do that? ... The people that came to the event from my community are important to my community, and it felt as though that wasn't necessarily considered as much as perhaps it could have been."
Turpel-Lafond acknowledged that there are expectations created by IRSHDC's premature opening, but the Centre's staff are not adequately supported.
"I really don't think we're going to be operational until 2019 and it's just not feasible until before then," she said. "... We sort of have a National Centre, but we don't really have records, we don't have systems, and we have expectations."
UBC declined to be interviewed for this article but provided a statement from Provost and Vice President Academic Andrew Szeri who called the IRSHDC "an important part" of the university's Indigenous engagement commitment.
In the statement, he said the Centre's April opening was "timed to coincide with construction completion" and provide "an occasion for President Ono to deliver the apology." He also acknowledged that the IRSHDC is a work in progress.
"These processes can take time, both in terms of determining required resources, then allocating those resources and building the necessary systems to steward and make accessible the historical information received," wrote Szeri.
"My office continues to work closely with the centre to ensure it has appropriate staffing, budget and infrastructure to fulfill its crucial mandate of providing access to records gathered by the Truth and Reconciliation Commission of Canada and providing visitors with information about the lasting impacts of the Indian residential school system."
Turpel-Lafond questioned whether the university's support was adequate.
"I think they stumbled out of the starting gates, and we've got to fix it," said Turpel-Lafond. "I'm very committed to doing that, but I have to say that it's a challenge.
"I certainly do not feel like I have adequate support."
"Not a trophy for UBC"
Despite the setbacks, community members interviewed for this article stressed that they support the creation and continued development of the Centre.
"I've been in there with survivors throughout the summer," said Adina Williams, an Indigenous UBC student who spoke at the opening ceremony of the IRSHDC. "... To be able to be there with them, and with some professors and folks who work at the Dialogue Centre has been really amazing."
The Centre's staff are also committed to pushing the work that has already been done forward.
"There is a lot of work that has happened and is continuing to go on to build these structures and systems here," Schaffer said. "Getting a director in place has been crucial to moving that work forward."
In his statement, Szeri stressed the Centre's importance and said UBC was committed to making it "fully operational."
"We are very proud of the progress being made towards becoming fully operational, and look forward to the key role the IRSHDC will play in the years to come." wrote Szeri.
Turpel-Lafond concurred that the creation of the Centre was a positive commitment towards reconciliation, but said it would ultimately be an empty one if not properly supported.
"If the Centre is a bit of a jewel on our campus around Indigenous people, then it really has to be put out there properly," stressed Turpel-Lafond. "It's not a trophy for UBC, it's really got to be about something like those calls to action in the TRC — a serious place that has to make an impact, and to do that is going to take some serious effort and it's not there yet."