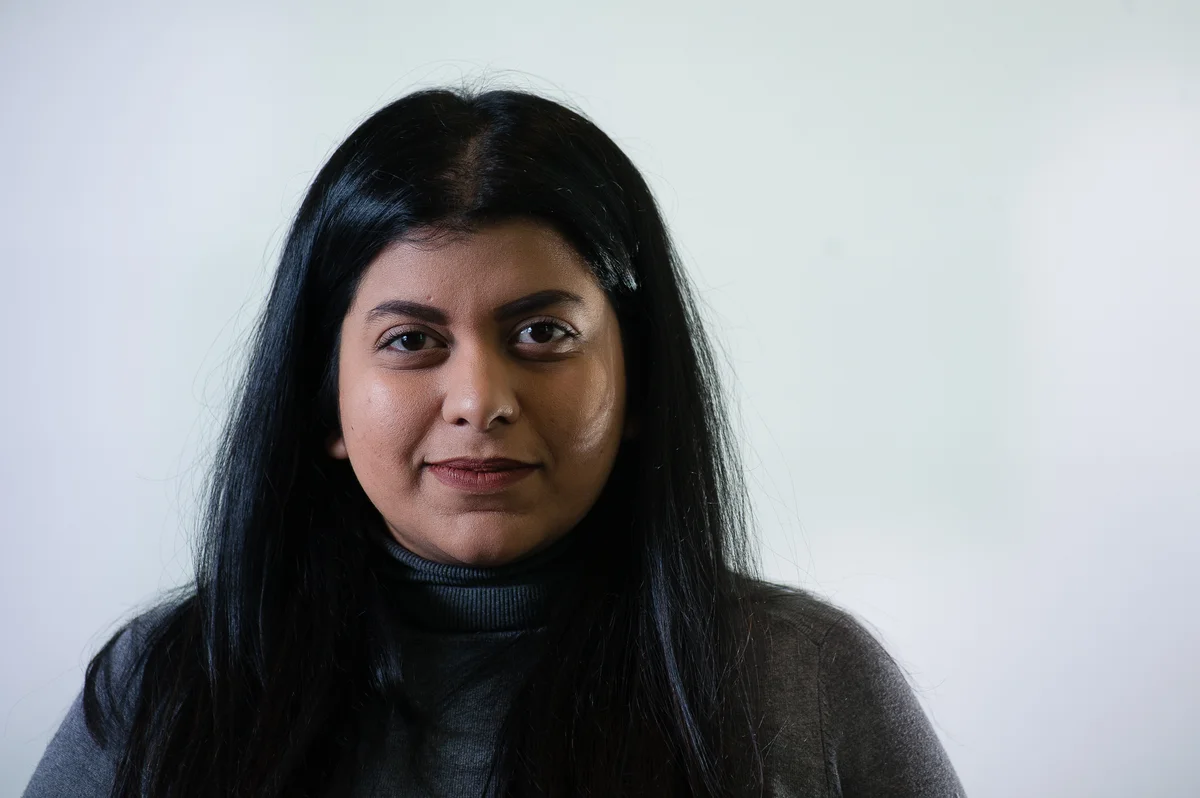 Six months into her term, AMS President Marium Hamid is working hard to fulfill her campaign promises while reflecting on accomplishments and lessons learned.
The Ubyssey identified 32 tangible goals or promises made by Hamid during her election campaign and in her executive goals report. Of those, eight are now complete while most others are in progress.
Hamid ran on a platform of accessibility, student engagement and inclusion.
One of her priorities was increasing student engagement in the AMS. The society's revamped website went live in September, which Hamid say was a "big win" for the AMS. The new site includes fee and budget information as well as information on AMS services like the Sexual Assault Support Centre and Vice.
"One of our campaign promises was accessible services and that comes with also having access to knowing what those services are," said Hamid.
Another of Hamid's executive goals was to create a centralized space for feedback on AMS services — but nothing has materialized so far.
"We wanted to first see how people will interact with the existing channels … now that [students] are actively accessing AMS information from [the website], we want to now integrate the idea of feedback," she said.
Hamid's platform stressed the importance of communicating with students about AMS services and actions. While she believes the website is helping to keep more students informed, she admits it's "only one part of the puzzle."
In October, AMS law councillor Dylan Braam criticized the society for failing to promote its annual general meeting— which has a quorum of 500 — after only 20 students came to the event. Braam argued this was because the AMS Executive had not adequately advertised the event. Hamid told Council the AMS had contacted The Ubyssey, but had otherwise not taken measures to secure quorum.
Another campaign promise involved conducting an accessibility audit on campus buildings, which Hamid said is moving forward in collaboration with Access and Diversity. She added she had reached out to the potential auditor.
Inclusivity was another major goal for Hamid.
The AMS faced criticism during the campaign cycle for its lack of Indigenous representation and engagement. The society held a discussion circle with Indigenous students in October and shortly after released a statement of apology that acknowledged its failure to include Indigenous students on campus. The discussion circle also prompted the recent creation of the Indigenous student's committee.
Creating a role for an executive projects assistant for Indigenous Affairs was another of Hamid's executive goals, but she stressed the importance of consulting with the Indigenous student's committee on any hiring decisions.
"We have budget for the position. [I want] to make sure that there is at all times somebody from within the community who is being paid for the labor that they're putting in," she said.
In March, Hamid told The Ubyssey the main priority after her appointment was vacant filling staff roles. All of those positions appear to have now been filled, including the pivotal roles of ombudsperson and elections administrator and a new slate of HR administrators.
She achieved another campaign goal when she helped secure additional funding for the AMS Food Bank earlier this term, after UBC President Santa Ono pledged to contribute $10,000 annually from the President's Office for five years.
But goals have stalled and their progress remains unclear. Hamid's election pledge to increase the capacity of Block Party may fizzle out as BC raises its minimum wage to $13.85 per hour in 2019, which would increase financial constraints on an event that has lost considerable sums of money in the past.
"If it is the will of students to see a bigger Block Party, we will do our best to make it happen. But we will of course weigh it against the finances," she said.
In the first half of her term, Hamid presided over a society steering itself towards a more activist role. The AMS came out against tuition increases, denounced American conservative commentator Ben Shapiro's event at UBC and released a statement in support of UBC alumna and detained Saudi Arabian activist Loujain Al-Hathloul.
"I feel as somebody who sees the way students access support on this campus through services and as somebody who herself is a racialized woman, I get to have the unique perspective of being able to bring people together to talk about some of those things," said Hamid. "And I think it informs the way that I work with the AMS as well.
"I am able to look at the way we do things at the AMS and say, 'Does the AMS look like the students it represents?'"
Hamid's term has not been without controversy. After the widely-condemned decision to cut the Sexual Assault Support Centre's (SASC) services in the summer, the AMS was forced to reverse their decision and released an apology.
Hamid says the decision was a learning experience.
"I think it's been an exercise of a lot of learning for everybody who was involved in it, to make sure that something like that doesn't happen again," she said. "And not only myself, but everybody who has the capacity as student leaders to make decisions is aware of the responsibility and the onus that carries with it."
Her priority for next term is to oversee the creation of a SASC referendum to increase its funding.
"Starting January, we will make sure that a referendum coordinator is hired under my office and this person will spend a lot of time making sure that AMS's effort is a yes vote," she said.
Hamid plans to focus on completing smaller goals that have "high impact," including the accessibility audit and the creation of student feedback forms.
She also said she wants to focus on strengthening the society's financial position while maintaining "a very holistic AMS that is a good employer."
"I'm really happy to see that the senior managers we have hired are all people who come from diverse experiences, the staff that work for us are all people who bring in very important perspectives to work. And it is because of the work that they do that we're able to continue on representing students."