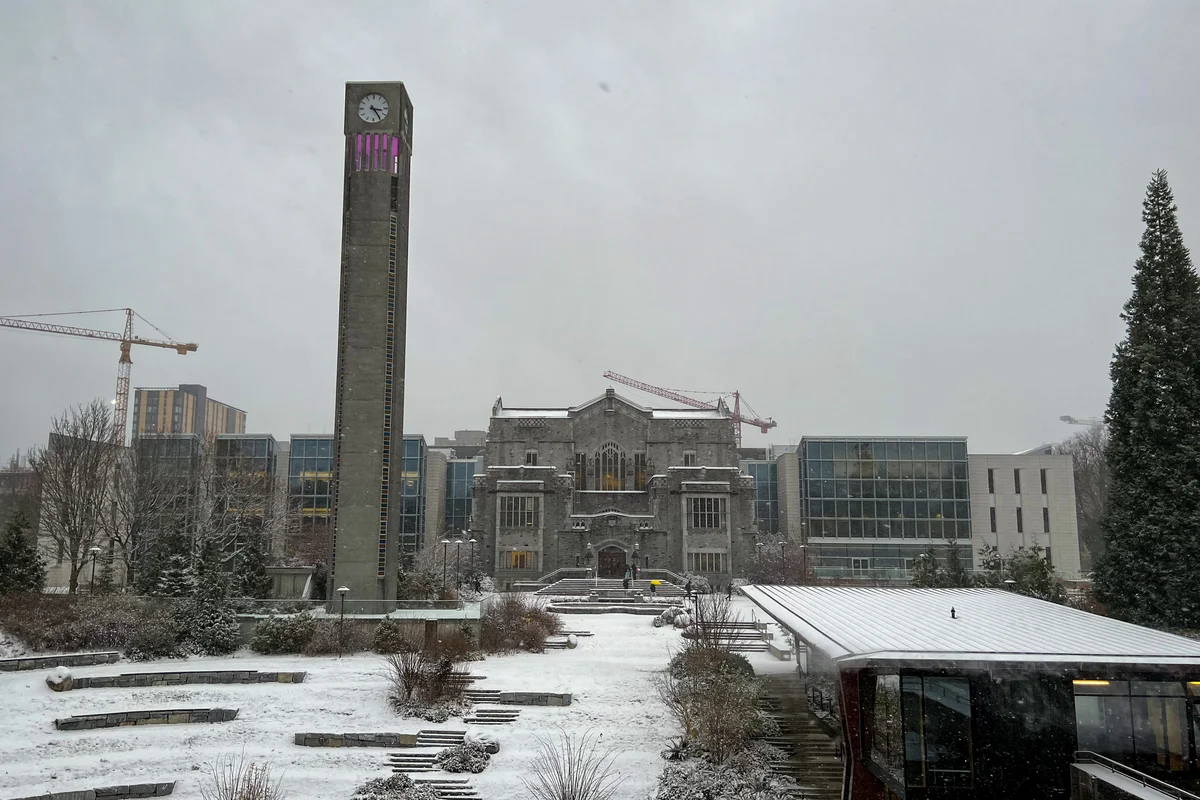 Nandita Valiramani woke up on December 20 to a notice that her exam that day was cancelled. The third-year psychology student was frustrated with how she heard.
"This was four and a half hours before the exam was supposed to happen," she said. "I thought it was ridiculous."
Several students and professors have raised similar concerns about how UBC handled winter exam cancellations, saying rescheduled exams created extra work. Some are calling on UBC to build more flexibility into examinations.
Due to snowy conditions towards the end of the final examination period last term, UBC cancelled and rescheduled December 20 exams to the beginning of term two.
Students were notified via email on January 6th that these exams would take place during the first weekend of term two — either on Saturday, January 14, or Sunday, January 15.
Valiramani emphasized the additional stress she experienced as an international student visiting home for the winter break, especially due to the lack of flexibility in exam scheduling.
"We have to change our flight days ... We have to jeopardize time with our families, which is more costly for us. I could have been at home right now," she said in an interview on January 12.
Students on co-op, exchange, and students fulfilling prerequisite classes for term 2 were also negatively affected by the rescheduling.
Savvas Hatzikiriakos, a professor in the chemical and biological engineering (CHBE) department, said multiple students approached him with such circumstances. Hatzikiriakos taught CHBE 344 last term, which had a rescheduled exam. He said that for his class, "special arrangements" were made for these students to take the examination remotely at the same time as the in-person exam.
He noted that his teaching assistant for the course, an international student, had to return early from vacation to mark the exam. 
Karen Smith, a lecturer in the department of microbiology and immunology and the course lead and coordinator for BIOL 112 which had exams rescheduled, had concerns about marking as well. 
"There was an added workload for myself and other instructors [and graduate students] because of … additional office hours … and student communications," she said. The first-year biology class has just under 1,000 enrolled.
Smith said that remote options were not offered for the class, and that students worried about taking courses this term which had BIOL 112 as a pre-requisite were directed to faculty advising. 
Sauder professor Cluny South also had remote options available for currently overseas students of her COMM 365 class.
South said she was glad that exams had been cancelled in this case. "It is unideal … but I would rather students be safe and not desperately trying to get onto campus and horrendous weather conditions," she said.
Communication about exam cancellations to professors also varied between faculties. South said instructors from Sauder had been told to expect exam deferrals to January in case of extreme weather conditions, which was not the case for Hatzikiriakos and Smith.
Bhushan Gopaluni, vice-provost and associate vice-president of faculty planning at UBC, said in a written statement to The Ubyssey that canceling exams was a difficult choice, made in accordance with the Snow Policy.
"We recognize that canceling exams and rescheduling them for a later date poses challenges for students and can be disruptive to their studies. The decision was not taken lightly," he wrote.
What can be done differently? 
Hatzikiriakos said that while he does not prefer online exams, he would have appreciated some additional flexibility from UBC, such as the option of giving the original exam online, or setting the date on the second weekend rather than the first.
According to a statement in December from UBC Media Relations Director of University Affairs Matthew Ramsey, UBC barred professors from switching to online exams day-of the cancellations in December because of potential unequal technology and internet access.
Smith agreed with the need for flexibility, and said that from a scheduling perspective, planning ahead for back-up dates might be helpful, so that communication could be more timely.
"Thinking about climate change … there's lots of things that could go wrong. It's the compaction of the exam schedule that doesn't allow the opportunity to schedule makeups", Smith said.
Smith added a note of gratitude for the organizational team.
"I definitely want to give a shout out to all the people behind-the-scenes who organized [things] because it isn't easy and I'm sure there's a lot of grumpy people." 
Valiramani hoped that students' opinions and needs can be taken into consideration, and called for UBC to continue to consider how its decisions impact community members.
"As a university you have so much power. Use it to do the right things."