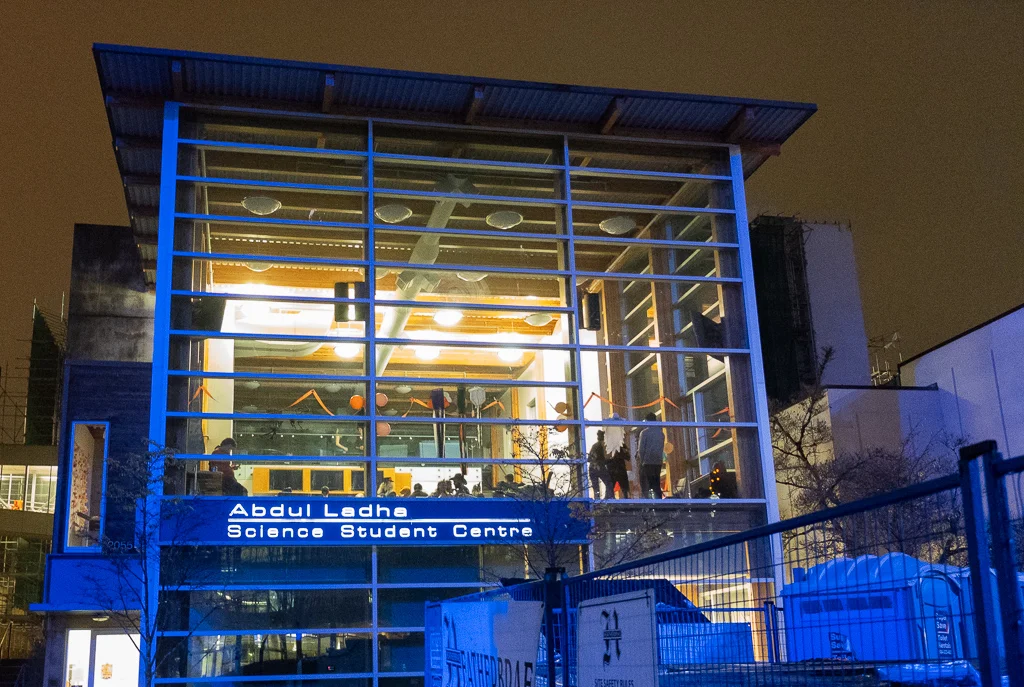 Ben Shapiro's much-discussed visit to campus on Halloween passed without any substantial protests or violence.
In anticipation of Shapiro's event organized by the UBC Free Speech Club (FSC), student groups on campus chose to stand against him by hosting a teach-in and a party, avoiding confrontation with his supporters.
About 35 students gathered near a campus Blue Phone for a teach-in organized by the Gender, Race, Sexuality and Social Justice Undergraduate Society (GRSJ). The event included discussion groups and speeches from fifth-year student Nodi Yunus and GRSJ professor Litsa Chatzivasileiou, who talked broadly about Shapiro's politics and the implications of free speech.
Yunus referenced Shapiro's politics and his comments on transgender people, Islamophobia, abortion and climate change, noting how his comments are indicative of larger societal trends such as the recent reports about the Trump administration's attempt to scale back civil rights for transgender people.
"Public speech like Shapiro's that called trans people's existence and dignity into question that reinforced prejudice against [them] as liars and mentally ill, as dangerous," Yunus said,
"Public speech is very much implicated in this. This legislation didn't come out of nowhere."
Chatzivasileiou then pointed out that there is a limit to free expression in the Charter of Rights and the BC Human Rights Code.
"I'm very glad that the teach-in is respectful and safe and diplomatic," said Andy, an arts student. "I think this event is simply to show that we care about trans people, we care about people of colour, we care about anyone who feels marginalized and we want to protect them through having a visible presence."
He added that UBC should be "cognizant" of the impact of giving a platform to speakers like Shapiro.
"If UBC denies this idea that they promote what they permit, then do something about it, balance it, actively go out and support members of the community who are negatively affected by events like this," said Andy.
Despite speculation that the event might attract protests, it proceeded without confrontation — aside from one incident when a man on a bicycle threw tomatoes at Shapiro supporters and then escaped after a brief confrontation.
The only form of protest at the Chan Centre itself were posters of hockey mascot-turned Marxist icon Gritty.
Dancing in the dark
Away from the Centre, other students who opposed Shapiro's visit gathered for Scaridarity, a Halloween party organized by a collective of progressive groups on campus including the Social Justice Centre, the Pride Collective and the Progressive Jewish Alliance amongst others.
The party attracted more than 60 students, raising money for Mutual Aid for Puerto Rico and Mutual Aid for Palestine.
"The main purpose is just to have a good time and raising quite a lot of money for the two causes that we're supporting," said event volunteer Reid Marcus, who helped organize a letter campaign against Shapiro's talk in the summer.
Marcus said that organizers were concerned about the safety of the teach-in attendees because of their proximity to the talk, especially since their only security came from volunteers.
Still, he felt the event was a success.
"It's funny that anyone would want to spend their Halloween listening to a reactionary hall monitor and we are having a great time," Marcus said.
Shapiro speaks
Inside the event, Shapiro spent the first few minutes of his speech attacking the AMS, UBC's discrimination policy and the BC Human Rights Code.
In particular, he mocked the AMS's statement expressing concern that his talk would "stoke intolerance and discrimination based on race, gender identity, and sexual orientation."
"Stating facts, stating conservative opinions, that is not threatening," he added. "... I have two words for you: grow up."
Shapiro also attacked UBC's discrimination policy and the BC Human Rights Code, which it cites, after rumours circulated that his talk might have been considered hate speech under the policy.
He called the Human Rights Code "... as foolish and [overly] broad a piece of legislation as has been propagated in a purportedly free society."
The FSC honoured a promise to allow people who disagree with Shapiro priority to ask him questions, but relatively few people challenged him in front of the sold-out crowd.
In a July interview with The Ubyssey, AMS VP Academic and University Affairs Max Holmes said the society was not concerned how Shapiro and supporters responded to their statement.
"What matters to us is make sure that our students know about the resources that are there for them," said Holmes.
"That they know that we don't support an event that's going to promote hateful or discriminatory views on our campus, and that if there's an event that makes our members feel threatened, targeted, and marginalized, the AMS is going to speak up. We have to."