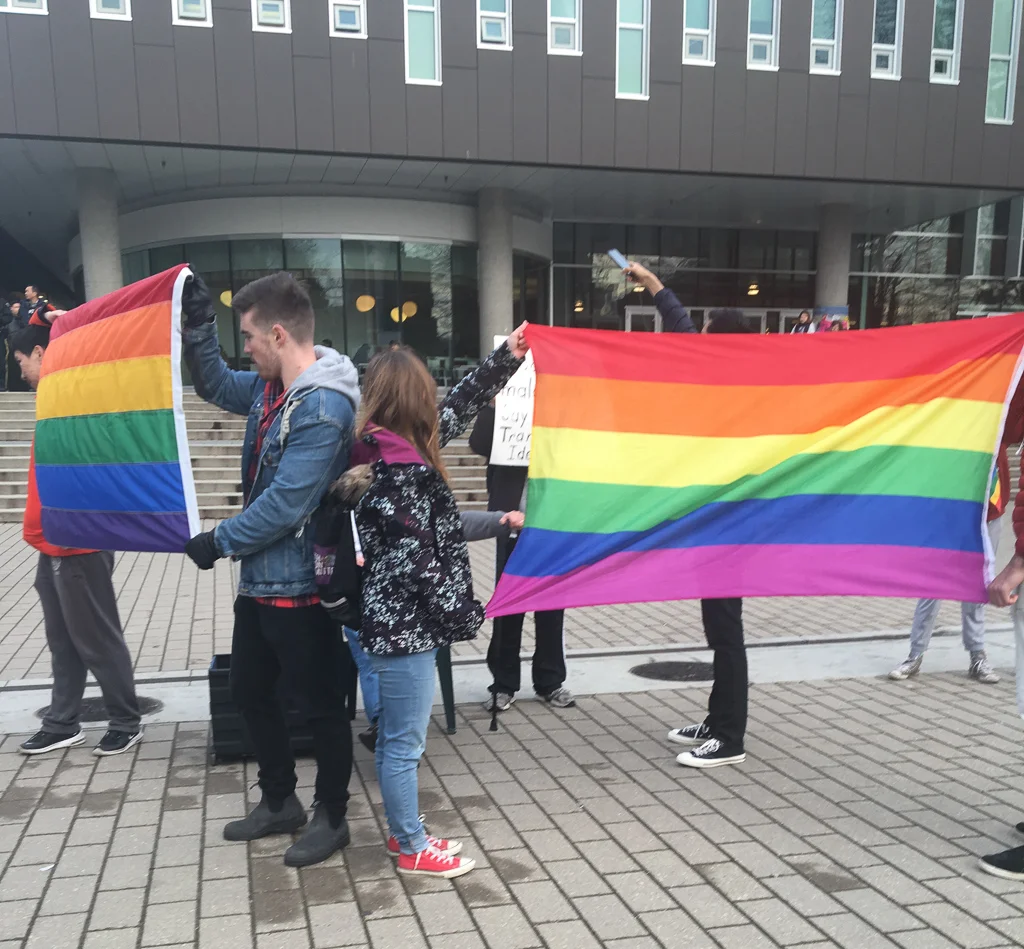 Today, students drowned out a small anti-transgender demonstration that took place mere steps from UBC's Pride installation outside the Nest.
Two individuals not affiliated with UBC came to campus this afternoon with materials denying the existence of transgender people, while stressing conservative Christian values. They were later joined by a third individual.
"I'm protesting censorship on university campuses and human rights commissions, and the imposition of transgender ideology and the inability to be able to freely speak out on this topic, as evidenced by some of the responses," said Bill Whatcott, a demonstrator and well-known anti-LGBT activist.
This is not the first time Whatcott has hosted an anti-LGBT demonstration on university campuses, having appeared at the University of Calgary and the University of Regina in 2016.
Around a dozen UBC students responded by chanting "trans rights are human rights" and "trans bodies are safe here." Some carried large Pride flags to block the demonstration from view.
First-year student Rowan Hurt said the counter-protest was unplanned, but stressed the importance of supporting those who might be affected by the demonstration.
"This is a main hub, this is the Nest, everyone goes past it … I just think that this isn't the space for making people feel unsafe," Hurt said.
Other protestors shared the sentiment, noting the stress students already face during exam season.
"I know I should be studying for my finance exam and I'm stressing out — but as [one of the other protestors] said, this seems more important," said Tanveer Romeo.
"And I'm just so pissed off that this is our space and we are all stressed out for our final exams, we don't need hatred right now. If anything, we need a lot of love and support at this time so it's just saddening."
AMS VP Academic and University Affairs Max Holmes and VP Administration Chris Hakim were also briefly at the protest in support.
"We've always tried to make sure that everyone on campus feels safe, and of course we don't welcome any events like this near the Nest," Holmes said. "We've made sure that they are not on AMS property and we support all the protesters who are out here making sure people know that trans rights are human rights."
A small group of UBC Campus Security and RCMP members stood by on the sideline to monitor the situation. The university confirmed that Campus Security knew about the individuals coming to campus ahead of time.
Legal trouble
Amidst the general anti-transgender rhetoric, Whatcott specifically targeted prominent transgender activist and BC NDP VP Morgane Oger, who filed a human rights complaint against him in 2017.
Last year, Whatcott published hundreds of flyers calling on voters to reject Oger's run for MLA because she is transgender. He was spotted distributing similarly transphobic handouts this year, during Oger's run as an independent Vancouver school board trustee candidate.
The case hearing is set to start tomorrow.
This is also not the first time his homophobic and transphobic flyers have landed him in legal trouble.
The Supreme Court of Canada ruled in 2013 that his flyers infringed on human rights laws in Saskatchewan. He was later charged for allegedly distributing "anti-gay material" at the 2016 Pride Parade in Toronto.
At today's demonstration, Whatcott wore a t-shirt with Oger's image and a message that intentionally misgendered her. He also handed out flyers questioning Oger's sexuality and criticized the tribunal's decision to hear the complaint as a "loss of freedom."
"Conservative Christians do pay taxes, so our voice should be at the table too," he said.
In an interview with The Ubyssey, Oger expressed disbelief about Whatcott's demonstration and offered solidarity to students on campus, especially given the timing of the protest in the middle of the exam period.
"It's incredible that someone facing charges for doing this in another province, and who's going in front of a hearing tomorrow would have the gall to do this," she said.
"He's too selfish to realize that it would really catch you off guard to mess with people during exams," Oger added. "For his actions, I regret that he's angered … sadly, UBC students were affected today. And I regret that."
—with files from Bridget Chase and Zak Vescera
This article has been updated to clarify the number of demonstrators.