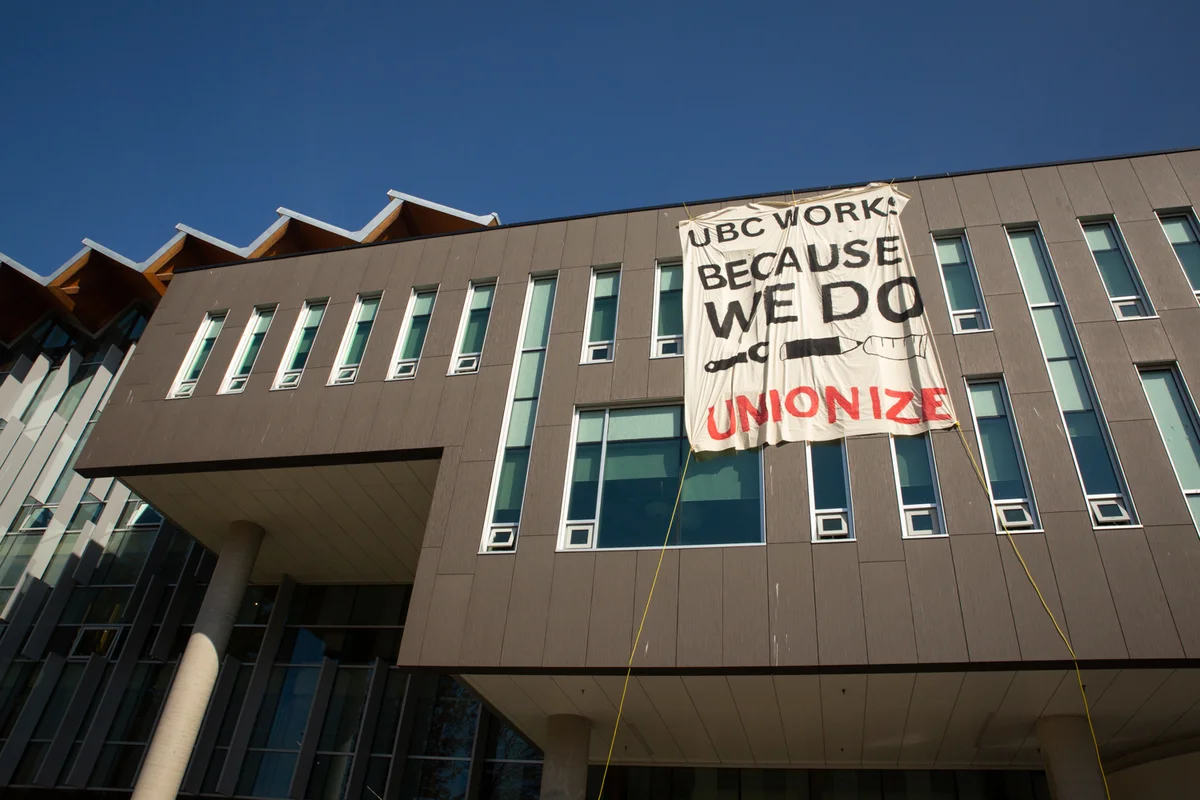 Members of component 1 of the Canadian Union of Public Employees (CUPE) 2278 at UBC have approved a new collective agreement.
The agreement, which takes effect retroactively from September 2022—25, increased wages and benefits for teaching assistants (TAs), graduate academic assistants, tutors and exam invigilators at UBC's Centre for Accessibility.
What has changed?
In a written statement to The Ubyssey, UBC's Executive Director of Employee and Labour Relations Mike Vizsolyi said "the parties worked hard to align the agreement with UBC's strategic plans, including the Inclusive Action Plan and Indigenous Strategic Plan."
The changes implemented in the new bargaining agreement include setting up a religious and cultural observance leave as well as a two day leave for Indigenous ceremonial, cultural, spiritual events without loss of pay.
In an interview with The Ubyssey, Kaili Vesik, a representative from the Linguistics Department who was part of CUPE 2278's bargaining team, praised the addition.
"There is added flexibility now … for people whose cultural experiences and priorities don't fit into the regular sort of Christian-based calendar that our holidays are based around."
The new agreement also expands the definition of who can be recognized as family for five-day bereavement leave.
CUPE 2278 President Emily Cadger added there was previously a "hierarchical bereavement relief."
"[For] certain family members, you would get five days off, like parents and spouses. And then for other family members like your siblings, you would get three days off."
Cadger noted out how this categorisation system may not realistically reflect how people process grief and people's relationships.
In the new agreement, employees are able to choose who to designate as family, which can include roommates, common law partners and close friends.
Vesik said the change is "more inclusive of people who don't have traditional family structures. Or who have … meaningful long term relationships with people who are outside of those bounds."
A wage increase
From September 2022 to September 2023, UBC undergraduate TAs wages ranged from $21.24 to $23.76 per hour, and graduate TAs made between $35.15 to $36.52 per hour based on their level in the past collective agreement between UBC and CUPE 2278. They were also entitled to four per cent vacation pay.
From September 2023 onwards, undergraduate TAs' wages range from $23.48 to $25.63 per hour, and graduate TAs wages will start at $37.53 and cap at $38.99 per hour.
Following the new agreement, TAs are entitled to receive retroactive payment making up the difference between the two wages for any work done during the 2022/23 winter Session or the 2023 summer session.
This year, all wages are increased by 6.75 per cent.
TAs are assigned category I or II based on their years of experiences.
During the bargaining process, One of CUPE 2278's main priorities was to help increase the wages of their lowest paid members – undergraduate members and exam invigilators.
UBC in comparison to other schools
Both the University of Toronto and McGill University do not differentiate between graduate and undergraduate TAs. As of August 2022, all McGill University's TAs were paid $33.03 per hour with six per cent of vacation pay. The most recent agreement for University of Toronto TAs notes the wage as $47.17 per hour with an additional four per cent vacation pay.
When asked about the wage gap between UBC TAs and McGill TAs, Cadger said that McGill TAs are not represented by CUPE, and that individual provinces in Canada have a lot more say on what happens to their unions and localities.
In regards to the difference between UBC and UofT, Cadger noted BC's Shared Recovery Negotiating Mandate, which applies to public sector employers with unionized employees. It outlines how General Wage Increase is implemented each year.
The PSEC Mandate is something that Ontario does not have, so "they can go to the table, and be like 'we want 11 per cent in one year' which you can't do in BC because it's mandated."
Cadger also noted differences between UBC and UofT in union dues structures may be an indicator for why UBC TAs are paid less.
Dues refer to payment made to unions like CUPE 2278 by its members to fund its operations.
"Ours are very low, they are only two per cent," said Cadger.
Cadger added "It's not always the case, but it also has to do with student bodies. So UofT has a lot of people. Their locals ha[ve] a lot more resources because they have more dues [as well]."
What is next?
Cadger said one of CUPE 2278's goals following this agreement is to set up a health spending account for their members. This account would reimburse union members them for extra health costs eyeglasses and dental care, which may not be completely covered under the students' AMS/GSS Health and Dental Plan.
Vesik and Cadger are both optimistic about this summer's bargaining process.
"There were many discussions but we came out feeling really good about what we achieved. I was really pleased to be at a negotiating table, where it felt like both sides were negotiating in good faith," said Vesik.
Cadger added "it really felt like we were being listened to when we were like 'hey, this is an issue.' And they were willing to listen, and really go back and forth with us to talk about it."
Full details of the 2023 bargaining agreement can be found online on UBC's website.