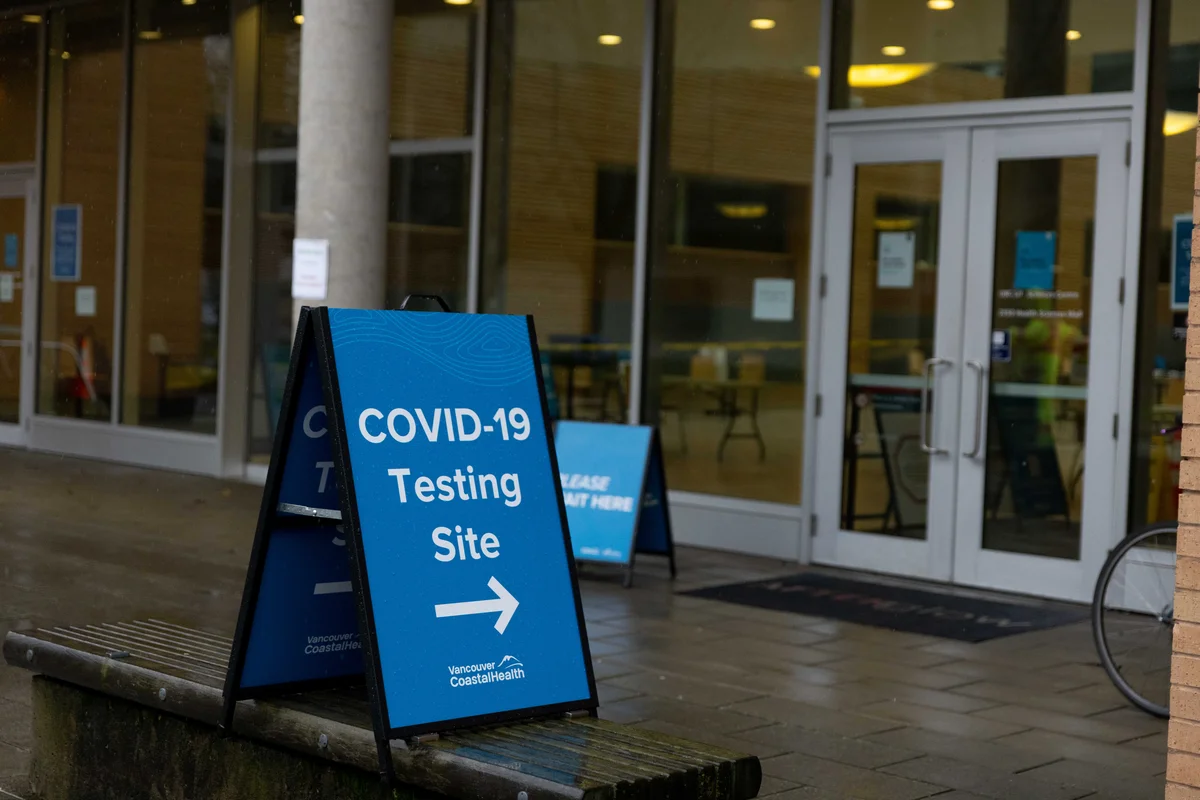 Looking to get a COVID-19 test? Wondering if you should?
Read on for information about when you should get tested, where you can get tested and what you should do afterwards.
Should I get a COVID-19 test?
If you're displaying COVID-19 symptoms, you won't always need a test, according to the BC Centre for Disease Control (BCCDC).
If you have mild symptoms, the BCCDC is telling people they should not get a test. If this is the case for you, you should:
Stay home until "you feel well enough to return to your regular activities."
Avoid high-risk settings like long-term care facilities until ten days after the beginning of your symptoms.
HealthLink BC and the BCCDC also state that "if you do not have symptoms of COVID-19, you do not need a test."
However, if you are unvaccinated, partially vaccinated or chose not to disclose your vaccination status to the university, you are mandated to get a COVID-19 test once a week. You must do this if:
You are "working or studying on one of UBC's campuses."
You are symptom-free.
You have not tested "positive for COVID-19 within the past 90 days."
You can book an appointment at this link by logging in via your CWL. Bring a photo ID and your Provincial Health Number to your appointment. For more information about how UBC's Rapid Testing Program works and how to view your results, there's an FAQ here.
Where do I get a COVID-19 test?
If you decide you need a COVID-19 test, find a testing centre near you by using the BC COVID-19 Collection Centres map. There is a Vancouver Coastal Health rapid test distribution site located on the UBC campus in the Life Sciences Building. This collection centre provides rapid antigen testing kits only and is open seven days a week from 9 a.m. to 7 p.m.
What if I test positive?
If you got a COVID-19 test at the UBC rapid test distribution site, you would have been given a rapid antigen test kit. According to the BCCDC, your test results will be ready in 20 minutes.
If your test is positive, you should self-isolate for five days from the first day you had symptoms or your test date, and wear a mask and avoid gatherings until ten days past your first day of symptoms. Your symptoms must have improved and your fever should have been resolved for 24 hours without the help of medication before ending your self-isolation.
Up until this morning, unvaccinated people had to isolate for ten days. Now, the guidance is the same, whether you are vaccinated or unvaccinated.
With a positive test result it is important to report this information directly to public health. To report a rapid test result to the government, you can fill out this COVID Positive Test Result Reporting Form.