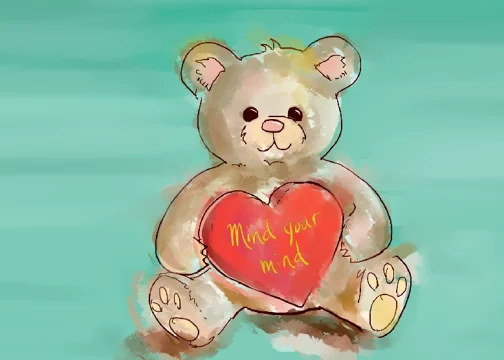 Lately, I've been reflecting on what beginnings and endings mean to me.
I started writing Mind Your Mind during my first year of university. I wanted to get involved with the student newspaper, and the opinion editor at the time was looking for someone to write about wellness.
I knew plenty about illness, and therefore, knew plenty about managing one's wellness. My editor, Jo, invited me to take risks in my writing, and she was the reason I began writing for The Ubyssey in the first place.
They convinced me not to quit many, many times. When I was ready to give up and complained about never being able to write another article, which was pretty much every other week, they sat me down and told me to breathe. They expressed their faith in me both as a writer and person.
"But I can't do it," I'd wail.
So, then she'd offer me a cookie, tell me once more to breathe and I never left her desk until we had come up with a new idea, plan or first draft.
Over the past seven years, I've learned to cherish Mind Your Mind with all my heart. Writing was healing for me, but I also hope that my articles have helped others over the years. Sharing the insights I gained over the past few years with my peers has always been an important mission of mine.
But like the saying goes, all good things must come to an end. So, it is with a heavy heart but wise mind that Mind Your Mind will be retiring this year. It fills me with deep sadness, but I'm also hopeful that another UBC student will take a leap of faith and start their own wellness column. I hope that this person will embrace the process as much as I have, and I hope that they will find their voice and share their insights with the rest of the UBC community.
I will miss writing Mind Your Mind so much, but I acknowledge that it is time for me to move on. I have other writing projects in mind, including a potential memoir and perhaps someday, a young adult novel.
After writing about mental health and wellness for so long, there is only so much more I can say. But, I know that mental health should be treated just like physical health. That is certain. I wish I could say that recovery is linear, that things get better overtime, and that one prescription or therapy session is all that's needed.
But that's simply not true.
I do know that we live in a depressing and beautiful world. We suffer immensely and care desperately. We have each other to lean on, and the power to stand on our own.
And to you reading this, your experiences, as a human being, are 100 per cent valid. It doesn't matter if other people believe your feelings are 'too big' or your emotions 'too intense.'
Feeling your feelings is so brave, and emotional experiences can hurt so much sometimes. I know that living with ongoing mental illness can feel like living with a constant headache and heartache.
I hope that Mind Your Mind has brought you comfort on sad days and that it has provided you with valuable information. I hope that you continue to reach out for help, or begin to do so if that's the next step for you. I hope you know that you can hold space for yourself, and that you are resilient and worthy.
Thank you for reading, and for all the support over the past few years.
Of course, a last shout out to the amazing opinion editors at The Ubyssey, past and present.
I wish you all the best.
The authors of this column are not mental health professionals. If you need additional support, please contact Student Health Services, the Sexual Assault Support Centre and/or the Wellness Centre. In case of an emergency, call 911.
Interested in writing about wellness? Email opinion@ubyssey.ca.