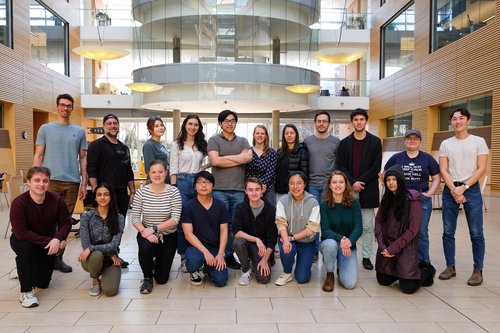 The UBC Virosight team (previously UBC iGEM) has developed software for predicting mRNA production inside viruses as their entry for the 2020 Biodesign Challenge. Typically held at the Museum of Modern Art in New York City, the competition aims to get students thinking about how biology can be incorporated within design and its following implications for biotech.
"Since it's so conceptual and a lot of the teams that participate are mostly arts students, most groups base their proposals on ideas," said Samuel King, fourth-year honours biology student and Virosight member. "We're all heavy science students. We wanted to use that as a strength rather than a weakness."
Working out of UBC's Hallam Lab, the team usually participates in the international genetically engineered machinery (iGEM) competition held at MIT. The lack of lab access during the COVID-19 pandemic prevented the team from partaking this year.
Instead, the rebranded Virosight team shifted gears to develop a software called Viral Predictor for mRNA Evolution (VPRE, pronounced 'viper'), that can predict messenger RNA (mRNA) production inside viruses. mRNA helps with carrying code from DNA and making proteins.
Viruses rely on the production of mRNA to hijack a cell. Virosight's software aims to predict how the mRNA production inside a virus changes such that the proteins inside it also change. The team hopes this would facilitate mRNA vaccine production before the spread of a virus reaches pandemic levels.
Since VPRE uses the COVID-19-causing virus, SARS-CoV2, as a model, the software specifically looks for spike proteins. By predicting the evolution of these spike proteins — what the virus uses to recognize receptors on human cells before binding to them — the Virosight team hopes their tool might assist in developing an mRNA vaccine for COVID-19.
"We've all realized as the general public that the holy grail of this pandemic is going to be a vaccine," said King. "We also realized that mRNA vaccines are safer, easier and more cost-effective to develop than traditional vaccines."
VPRE utilizes machine learning to make its predictions, with existing spike proteins from SARS-CoV2 being used as training data. Each prediction can be further analyzed by seeing how well it binds to receptors on human cells, a concept referred to as 'binding affinity.'
"If we can see an increase in binding affinity, then we know that this would be our target for a vaccine," said Emilia Chen, fourth-year combined major in microbiology and computer science and Virosight member.
To date, VPRE can predict the full length of a spike protein sequence. The model's results were 99 per cent similar to sequences found in SARS-CoV2 that arose in Japan and Luxembourg just days after the model's prediction. While VPRE remains specific to COVID-19 because the model is still in a primitive form, the team's goal is to expand it to other viruses.
"We want users to be able to go in, set which virus species they're working with, input a certain virus sequence and have it undergo the evolutionary algorithms that we've set in VPRE," said King.
"We're also hoping to use the model to simulate how the protein binds to human receptors," added Chen.
With less than a month to develop VPRE, the team found themselves working across different time zones to create a working product.
For a team with expertise in lab-heavy projects, switching to one with a greater emphasis on computer science also posed a challenge. By involving their larger social networks, team members gained useful insight from industry professionals, professors and even relatives about intricate technical details they were unfamiliar with.
"I think we really turned it around into a positive experience," said Ariel Qi, fourth-year physiology student and team member. "Especially for members who did not have the computer science background but still learnt a lot and contributed in other ways."
In their ambition to create a long-term solution for pandemic preparedness, the team considered several perspectives beyond the scientific details. This involved a dedicated concepts team that considered the implications and shortcomings of the ideas in relation to society. They also consulted a bio-ethics professor about where accountability might lie in the case of a false VPRE prediction.
"The value of this team is that it made me realize science is not just about the benchwork, and that there are so many considerations outside of the science involved," said Qi.
Given the overarching impacts of the COVID-19 pandemic, the team is excited to continue working on their solution with the hopes of making a meaningful contribution to the community and the world.
"From the three years I've been on the team, it felt like our team was the most well-bonded this year," said Qi of the experience.
"It's really amazing what a team of driven undergraduate students can do when they really focus on one thing and work on it really hard," added King.
The UBC Virosight team's video presentation will be airing on the Biodesign website on June 16 at 11 a.m. PT.