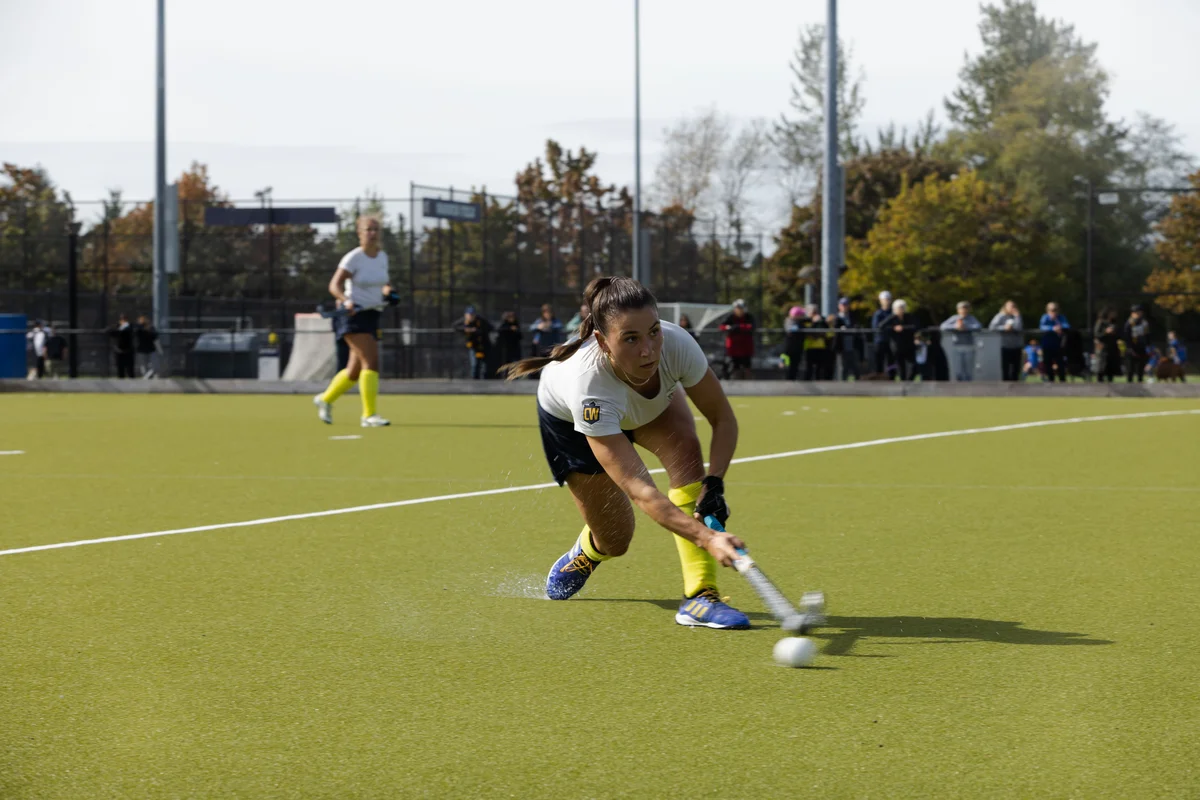 UBC's women's field hockey team split their weekend series at home against the University of Victoria Vikes, winning Saturday's game 2–1 and losing Sunday's game 3–1.
Team captain Izzy Fraser and forward Riley Brown stood out on Saturday, scoring the two goals that secured the win. When the 'Birds arrived at Wright Field on Sunday morning, they were motivated for another win but remained humble. As Brown commented, "you have to kind of hype each other up and not be complacent since we won yesterday."
It seemed like a slow start to Sunday's game, until the end of the first quarter. The 'Birds began to feel the pressure at the 12 minute mark, after a penalty corner resulted in a 1–0 lead for the Vikes. In the second quarter, the Vikes stole a tip shot increasing their lead to 2–0 before half time. However, the energy of the 'Birds shifted after the break, with more connected passes and midfielders Alix Vanry and Kenzie Girgis maintaining impressive control over the ball.
The T-Birds ended the third quarter strong, with 2022 Canada West Goalkeeper of the Year Hannah Rumble fielding shots on net with ease and Brown scoring on a penalty stroke making the score 2–1. At the start of the fourth quarter, Rumble was pulled to add another player to the field with the T-Birds' sights set on scoring. Yet, within the final minutes of the game, the Vikes drove the ball down field and launched a shot towards the empty net, solidifying the win with a final score of 3–1.
Despite Sunday's loss, UBC head coach Richard Hildreth said he was happy with the way the team played.
"We're getting better every game we play. We're really happy with how organized they are [and] with how well they move the ball. I'm really happy to see that and proud of how they're reacting when things aren't going well," he said.
Brown's two goals for the 'Birds over the weekend were unexpected considering she's recovering from a recent ankle injury. Hildreth praised her perseverance and commitment to the team.
"She's got really good intensity and a real will to go and win the ball and score goals, which can be a rare characteristic in a player," said Hildreth.
The Thunderbirds will play their next game on October 14 at Wright Field against the University of Calgary Dinos, giving time for Brown and the rest of the team to rest and regroup.