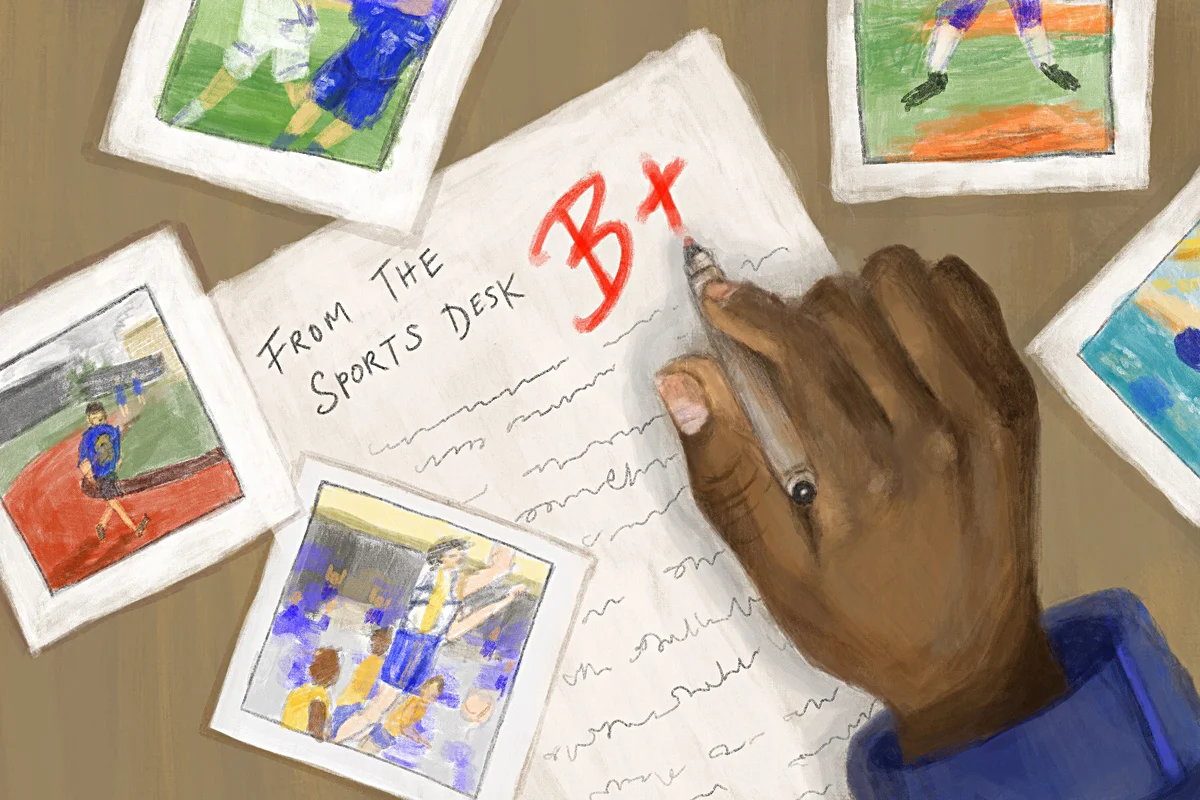 As we head into the second term of varsity sports on campus, The Ubyssey's sports team thought it was time to reflect on the last few months of athletic pursuits — to refresh everyone's memory and close yet another chapter in fall Thunderbirds' events.
For some teams, especially those who perhaps fly more-so under the radar with less head-to-heads here at UBC, it was a truly successful start to the year. For others, it was perhaps a term to put well in the past:
Golf: A+
As one unit, the UBC golf team has been an unstoppable force so far this season.
Through six tournaments, the men's team has reached the podium in every outing – including four first-place team finishes. T-Bird veteran Andrew Harrison opened the fall season in impressive fashion, picking up two consecutive individual titles, followed by a silver medal at the Western Washington Invitational. The team has combined for two individual gold medals since, including one from Zaahidali Nathu and rookie Andy Kim's first with the team.
Through their first five tournaments, the women's golf team has picked up four tournament titles of their own. Kelly Hellman picked up an individual title at the season opening tournament. Since then, rookie Thunderbird Esther Lee has become a standout for the team, picking up a pair of individual tournament titles. Each team has picked up titles in their pair of Cascadia Collegiate Conference outings, including both the Northwest Christian and the College of Idaho Invitationals in September.
Men's MVP: Andy Kim
Women's MVP: Esther Lee
Rowing: A+
The UBC Thunderbirds rowing program had a season for the history books in 2018. Just about everything there was to win, they won by a mile. First came the Western Canadian University Rowing Championships, which saw the men's squad edge out rivals the University of Victoria Vikes by 34.5 points and the women's squad leave the Vikes in the dust by 42 points. The National Championships were a bit closer — but in the end, the 'Birds beat out the University of Western Ontario Mustangs by 14 points for the men's crown and the Vikes one more time by a whopping 52 points for the women's title.
Coaches Mike Pearce and Craig Pond were named coach and co-coach of the year for their efforts.
Men's rugby: A
Though not a team that competes in a formal U Sports league, the team cruised with relative ease to their second-straight Spence McTavish Cup as the Canadian University Men's Rugby Champions. Their repeat championship performance included a qualifying game in which they hammered the Calgary Dinos 103-3 and a three-game tournament sweep that saw them dominate the field, outscoring opponents by 71 points through three games. In club play, the team has also fared well – their 6-3 record is good for second place in the table of the BC Rugby Men's Premier League.
MVP: Will Percillier.
Women's rugby: A
This year saw the UBC women's rugby team capture bronze at the 2018 Canada West Women's Rugby Championship. Given that the team was predicted to finish fourth in the conference this season, that's an evident success. Considering the injury issues the team faced too, this season should be viewed more as a triumph.
Many members of the team received accolades for their effort this season. First-year lock Rori Wood was named U Sports Rookie of the Year. Centre Shoshanah Seumanutafa and prop Sarah Klok were named Canada West All-Stars.
MVP: Tessa Woldring.
Swimming: A
To almost nobody's surprise, the UBC Thunderbirds were crowned both men's and women's Canada West Champions in November. It was the sixth season in a row that both squads topped off the conference standings, fending off attempts by the University of Calgary Dinos.
Events where the 'Birds struggled last year — like men's breaststroke and women's sprint freestyle — saw a lot of improvement, especially the women's freestyle events which saw Hoi Lam Tam, Quincy Brozo and Macken Gunther lock out the podium in the 50-metre and 100-metre events at the championship.
What's even better is that all three swimmers are in their third year or lower, showing that the 'Birds are relying less on their veteran backbone. The 'Birds are definitely favourites for both national crowns (good for T-Bird fans too, as they are hosting the championship in February!), but there is still much work to be done for the squad with 12 rookies if they want to fend off renewed attempts by the University of Toronto Varsity Blues and the Université de Montréal Carabins.
Men's MVP: Markus Thormeyer.
Women's MVP: Hoi Lam Tam.
Cross country: A-
Both the men's and women's cross country teams returned to Canada West competition this year in what was another strong season for the program. Overall, the women won the conference title and finished fourth nationally; the men placed second in the Canada West and ended up seventh in the nation.
Women's MVP: Gabrielle Joffe.
Men's MVP: John Gay.
Women's soccer: B
The women's soccer team had a great regular season, finishing with a 10-3-1 record and in second place in the Pacific division of Canada West. However, their post-season push came up well short of expectations. The team lost two straight playoff games against Alberta schools to close out their failed bid for a spot in the national tournament.
Although their season ended earlier than planned, second-year forward Danielle Steer had an impressive campaign, netting 10 goals to top the Canada West scoring table and assisting on another 10.
The team played at a high level throughout the season and showed that they could hang with the top teams. The 'Birds ranked second in goals (with 37) and ranked third in goals against average (0.86 per game) in Canada West. The only two teams that held a lower goals against average were the two teams that ended the Thunderbirds season: the Alberta Pandas (0.79) and the Calgary Dinos (0.36).
MVP: Danielle Steer.
Women's field hockey: B
With seven consecutive national titles going into the 2018 season, UBC women's field hockey had a lot to live up to. Playing with a younger roster and working under a new head coach, the team faced more adversity this year in terms of settling into themselves and their new lineup while also trying to compete against the ever-resilient University of Victoria Vikes.
Their short season would come down to their very last head-to-head against the Calgary Dinos, where they needed to win both games and win big to take the national spot over the Vikes — it proved too big of a task and UVic went on to play in and win the national title.
Sure, it was the way UBC is used to ending their season, but they still had a good season in the competitive Canada West division.
It was just time for the reign to end, unfortunately.
MVP: Margaret Pham.
Men's soccer: B-
For a team that dominated the Canada West conference and won handily, crashing out of the national championships — in front of their home crowd — wasn't a good look. In fact, had they won their redemption game at nationals, it would have bumped them up way closer to the A we expected, but getting swept against Canada's best competition puts their league play into perspective, and the Canada West league overall perhaps. It seems the biggest problem was an uninspiring midfield, which at times got caught out of position defensively and got complacent with lateral passing. At least the attack was fun to watch — and with the right midfield, it might actually do some serious damage next year.
MVP: Kristian Yli-Hietanen
Football: C+ (with a bit of luck)
All in all, it was a disappointing year for UBC football. What should have been a championship-calibre squad was riddled with injuries and plagued by poor discipline. Over the summer, the T-Birds hauled in some big-name veterans — Blake Whiteley and Sheriden Lawley for instance — to prove they were in a 'win now' mode. In the end, they made the playoffs and finished the regular season strong — but only after their season was essentially saved by Regina's forfeiture.
Prior to said forfeiture, the 'Birds were dead last in the standings after being embarrassed by Alberta for the first time in more than a decade. There were bright spots: the usual stars of the team — Michael O'Connor and Trivel Pinto — did show up. Nevertheless, it takes more than just a few players to win. The team was inconsistent overall: some weeks, UBC played very aggressively and others they played with their tail in between their legs. Ultimately, they had a lack of identity for a team that was full of experience and personality.
MVP: Trivel Pinto
Men's field hockey: C (with a heavy heart)
Without their former star player Gordon Johnston as he graduated last year, the men's field hockey team has been struggling through the first half of their season compared to past year's. They currently hold a 3-4-2 record going into term two and have yet to hold a win streak to any extent in the league.
It's been a pretty dismal start to the year for the team, but there is one encouraging note for the rest of their season: two of their wins in the fall were absolute blowouts, 5-0 and 5-1 against Burnaby Lake FHC. If anything, they can score goals when everything aligns. We'll see if that works out in their favour after a few week rest for the holidays.