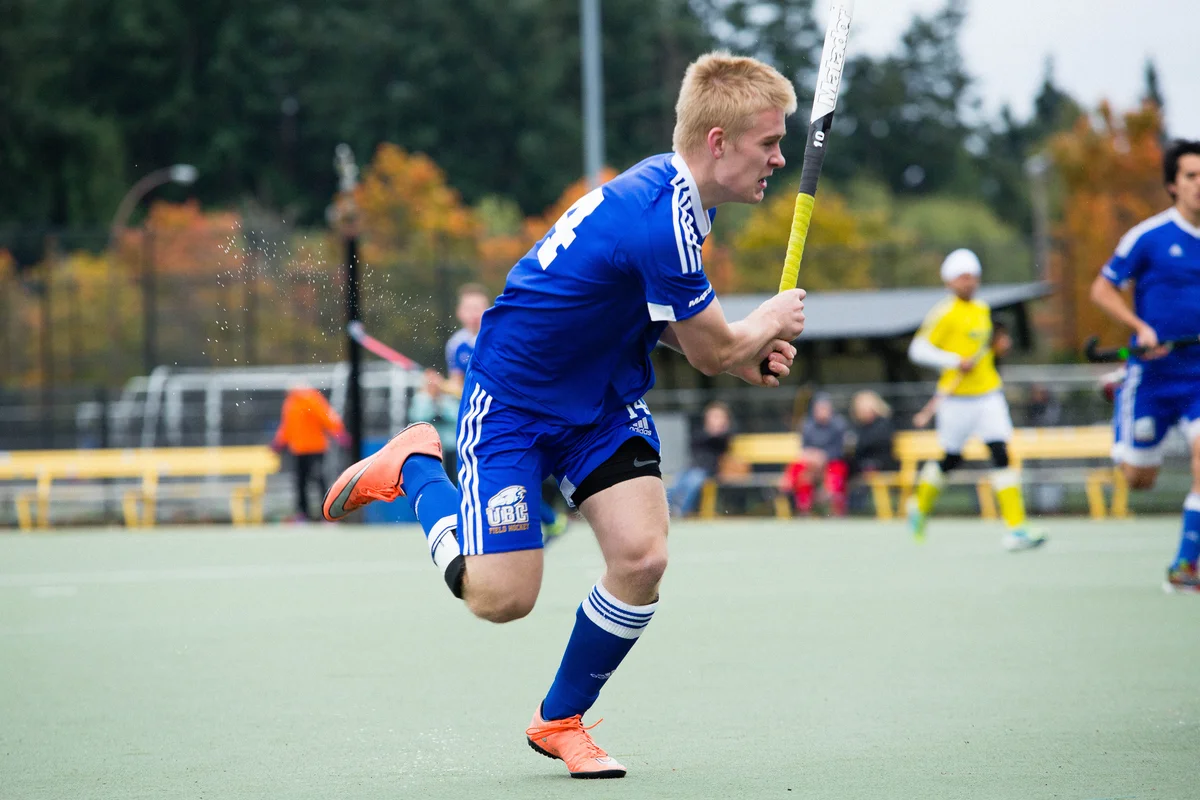 Men's field hockey, a highly competitive sport in many countries around the globe, is more niche here in Canada — among the over 100 universities in the country, only two recognize men's field hockey as a varsity sport: UBC and the University of Victoria.
For the Thunderbirds, that means playing at the local club level though the team holds varsity status here on campus. The women's team, on the other hand, plays as a part of U Sports — Canada's main university league.
But why is there a difference between a local league on the men's side and a national league on the women's side at UBC? Is it a lack of funding, a lack of elite competition across the country, a lack of interest and popularity, or something else that keeps men's university field hockey in the Lower Mainland?
Varsity standing but Vancouver league?
This season, the UBC men's varsity field hockey team competes against 10 teams in the Vancouver Men's Field Hockey League. Currently they sit in third place with 19 points. Only one other post-secondary institution, the University of Victoria, plays in the league.
In comparison, the UBC women's field hockey team competes against the University of Calgary and University of Victoria as part of the Canada West division of U Sports. They also have the chance to compete in a national championship each year, should they qualify, against the winner of the Ontario University Athletics' top team. Seven teams comprise that league, including the likes of the University of Toronto and McGill.
Though they lack a national league, UBC's men's team head coach Kinder Gill said in an email to The Ubyssey that the Vancouver league is still highly competitive on the men's side.
"The league is considered to be the top men's field hockey league in North America. [The] teams consist of current and former Canadian national team athletes at both the senior and under 21 level as well as international athletes that have relocated to Canada," said Gill.
UBC Thunderbird and German international student Paul Jelkmann sees the number of national and elite players in the Vancouver leagues as positive in terms of the level of training and competition.
"It's quite nice actually — in Germany, since [there are] so many clubs throughout the whole country, the top players are spread out across more teams. Whereas here, it's more concentrated, which you can see by the [number] of people that have played on the national team in the UBC squad and in the squads we play," he said.
UBC men's field hockey captain Gordon Johnston said he has no hard feelings about the contrasting leagues with the women's T-Birds, and in fact finds the UBC women's team's success motivating.
"It's actually kind of inspiring to look at what the UBC women's program here does. They have an excellent CIS [the former name for U Sports] program that competes [provincially] … and they've actually won CIS championships six years in a row. They're a really good program and for us to see that is definitely inspiring."
After this interview was conducted, the women's team won their seventh national championship against York University on November 4, 2017.
That said, Johnston admits that having a men's national league would be beneficial. "It would be quite special for us to have the ability to have other CIS teams in Canada to play against," he said.
For Robin D'Abreo — UBC women's field hockey coach, former men's national team player and former Field Hockey Canada director of sport development — the option to have a men's league at the university level is exciting, though perhaps not in the cards right now.
"If other universities were to jump in and support a varsity field hockey team on the men's side, I think it would be a point of debate as to whether we would create a university league to help grow the sport and continue to provide opportunities for our student athletes. But at this point there's just no demand for it in that sense," he said.
Location, location, location
One reason for the lack of university-level men's field hockey is the current culture for the sport across the nation.
Internationally, there is a large market for men's field hockey, particularly in Asia and Europe. Matthew Sarmento, a forward on the Canadian men's national field hockey team and UBC field hockey alum, said in an email to The Ubyssey that the sport is "extremely popular and well respected" in many places outside North America.
"This is due in part to the national team's success and the success of each country's professional league. There are also literally 100 times more players in Europe who start playing from a young age," said Sarmento.
In Canada, the story is slightly different. "The sport lacks popularity because of poor exposure and limited opportunities to play the game," said Sarmento.
At the grassroots level, there is a discrepancy from coast to coast on provincial participation and competitiveness. This year, British Columbia and Ontario each submitted two provincial youth teams to the U15 men's 2017 national championships in July, but provincial teams that struggle to maintain field hockey popularity from Saskatchewan, Manitoba and East coast provinces like Nova Scotia were missing from that lineup. Provincial youth teams from years prior continually come up short against provinces like BC, Ontario and Alberta.
Even when looking at the national level, BC wins out in terms of player population. The men's national field hockey team roster is made up of 20 players from the Lower Mainland, with three players from other provinces in Canada and one international player.
According to D'Abreo, there isn't much of the sport being played in the Prairie provinces or once you g0 beyond Quebec in the east.
"There's a reasonable amount of men's field hockey played in Alberta, not a ton in Manitoba and Saskatchewan, then Ontario is quite a hotbed and then it kind of phases out as you go further east," said D'Abreo.
In an email to The Ubyssey, Field Hockey Canada Director of Domestic Development Susan Ahrens suggested this disparity is likely due to a combination of factors.
"This concentration in BC and [Ontario] reflects population settlements ... these are the populous areas, so a small sport is evident and reflected in these areas because of density. However in the more sparsely populated areas of the Prairies, at the moment there is just not the number and when you combine this with geographical distance from competitors, the weather during 'traditional field hockey league season of Sept - May, and the strength of traditional (ice) hockey, then it has been hard to develop field hockey to where we would like it to be."
BC and Ontario also luck out in terms of places to play the sport. For international recognition of any game being played, the International Hockey Federation (FIH) — the governing body for field hockey and indoor field hockey — requires a specific water-based turf.
This turf has improved the nature and the safety of the game — but there are very few fields across the country. According to the FIH's website, Canada has just five internationally-certified fields. All are spread out between the Lower Mainland in BC and Ontario with the University of Toronto housing two of them alone.
Paying for their passion
With its niche status in Canada, many players are faced with the financial burden of having to pay to play. As Johnston explained, between 2014 to 2016 he paid over $20,000 to play field hockey for Canada.
"Every time we went on tour to play against good competition, every time that we had to train here at UBC and pay for the turf — I was paying for it myself. And I don't regret it for a minute, but I do know that it put a significant financial strain on my daily training environment as well as my future savings," he said.
Johnston also explained how funding has a reciprocal relationship with popularity and outreach. "When money gets injected into a program, interest rises. When it's marketed correctly you can gain fans and you can gain interest. But if you don't, then sometimes teams will fall off the radar," he said.
Here on campus, Gill said the team receives similar treatment from the department as other varsity teams in terms of support from UBC Athletics.
"UBC provides us with full varsity status and treats us like any other varsity sport," Gill said. "Our athletes have student trainers, a designated [physiotherapist], strength and conditioning coaches, academic support, etc."
For Sarmento, that wasn't necessarily the case across all areas of team support.
Hopeful future
Regardless of its current popularity here in Canada at the varsity level, Johnston is hopeful for men's field hockey's future both on campus and nationwide.
"You could get more people out to games, do better marketing, you could advertise the game and advertise its players better. To put the sport on the tip of someone's tongue rather than just the back of their mind.
"We don't have to sell out a fifty-thousand-person stadium, we have a bit smaller community, but what field hockey needs is enough to build a national program and programs for kids that can really relate what it means."
For Ahrens, Field Hockey Canada has identified the need for a more "concerted effort on the domestic side of the game."
"With this recognition has come a new drive and strategy by FHC in recent years to ensure domestic development is given the focus it [requires]," Ahrens said.
What will come of that push remains to be seen.
"We love a challenge and hope to keep making inroads, because there are some really top field hockey people in the Prairies," she said in a follow-up email. "If we can activate a small pocket,with good people involved, then it can grow quite quickly."
— With files from Lucy Fox