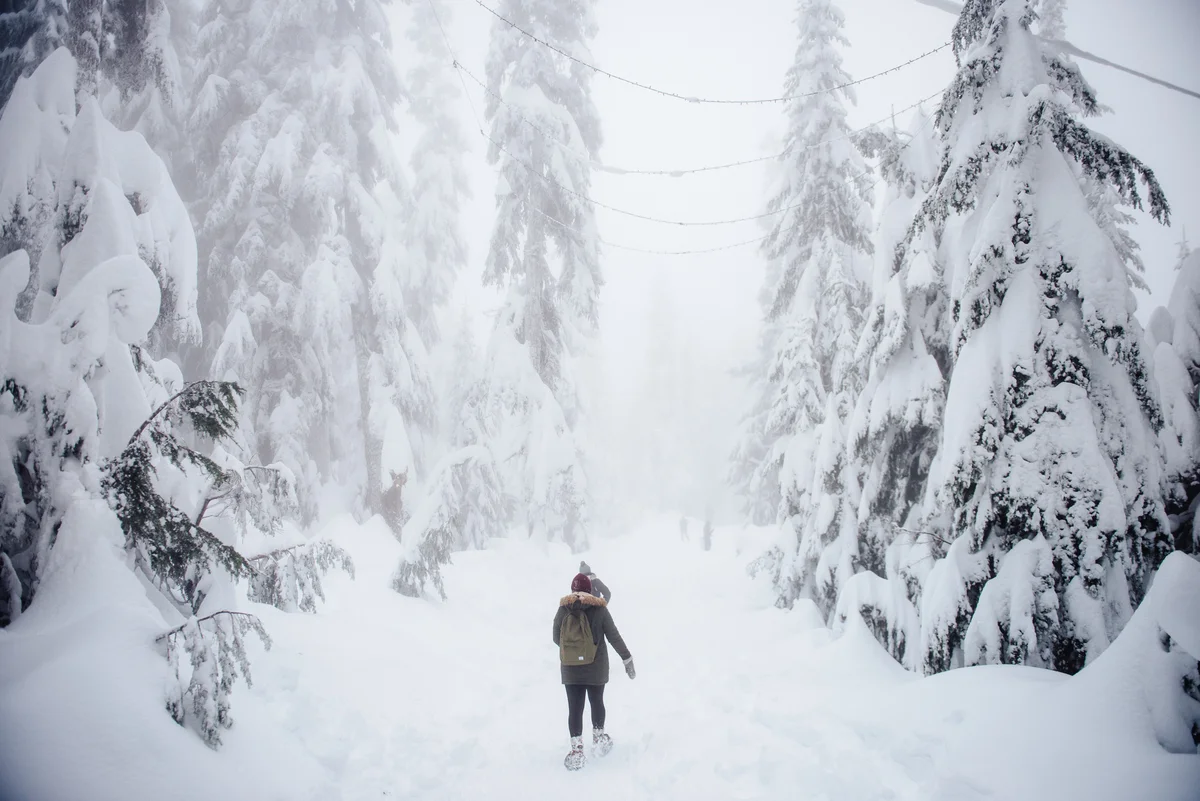 As soon as December hits, I wish for snow — softly piled upon windowsills, icicles sprouting from chimneys and pillowy heaps perched upon evergreen branches threatening to fall as you walk under. Unfortunately for me (and other snow lovers), winter in Vancouver is often drearily socked in with rain and fog, and thoughts of snow are somewhere far off in the distance.
This year was different though. My winter wishes came true and the entire city was blanketed with snow that seemed to calmly silence the world.
However, the beautiful blanket of snow has now transformed into dirty piles on sidewalks, melted sludge in drain sewers and a sheet of ice on the roads. This reality is not what I hope for when I wish for snow. This is the sad truth when it comes to snow in the city, especially a one which is not equipped for a "real Canadian winter."
Because I was unable to fulfill my wish for the perfect snow day in the city, I gathered a couple of friends to go snowshoeing in the hopes of finding my perfect tree-topped, snow-falling, pristine image of winter.
Off we went up the gondola, all bundled up in our snow gear and squished-in like a can of sardines, to the top of Grouse Mountain. After the short trip up, we strapped on our snowshoes and took off into the foggy winter wonderland spread out in front of us. The rocky summer terrain had turned into a snowy village with falling snow and icicles hanging from every raised surface.
Grouse had transformed one of the hiking routes into a "Light Walk," with thousands of twinkling white lights spread overhead. It had created the illusion of warmth and coziness despite being surrounded by a vast space of snow and trees. Couples stood under the lights, taking the perfect romantic Instagram photos while we trudged past, still searching for my perfect image of winter.
It wasn't until we had completed the Light Walk loop that we turned off onto a trail which appeared to be untouched. The ground was glistening and not yet downtrodden, and the billows of snow on the evergreen branches were delicately perched and undisturbed — the slightest breeze would send it all tumbling down in an avalanche. The fog clung to the top of the trees and provided a clear, pocketed walkway beneath, with long icicles hanging from the lowest branches. We had found my perfect image of winter.
The quiet winter setting was soon disrupted by our laughter, as staying upright on our feet became quite the task in the deep snow. Every few steps, our feet would sink and get stuck in a hidden snowbank, which would be followed by the roar of laughter in our attempts to free ourselves from the wintery hold.
The hills proved to be difficult to trek upon, particularly going down, and more than once, we found ourselves sliding down the hills like figure skaters — without the accompanying poise and grace. We explored the winter wonderland for a couple of hours before our noses and fingers began to freeze, and then decided to head back when the conversation turned to hot chocolate and marshmallows.
The trudge back to the main trail proved slightly more difficult than anticipated. Thinking back, I'm not sure whether that was because our route was uphill, or if we were simply tired and cold from all the falling.
We finally made it back to the lodge where we shook the loose snow from our hair and thawed our frozen fingers before we said goodbye to the mountain and headed back to the gondola. The gondola down was filled with red noses and rosy cheeks, and through the foggy windows, we watched the snow-topped trees pass below us. The icicles outside bumped and swayed, but managed to hang on for the whole trip down.
We stepped off and just like that, we were back with the dirty snow and icy sidewalks, but I could not have been happier. I had just experienced my perfect snow day surrounded by my best friends and that memory will never fade.
It isn't impossible to find the perfect snowy wonderland in this dreary winter city. All you have to do is explore.