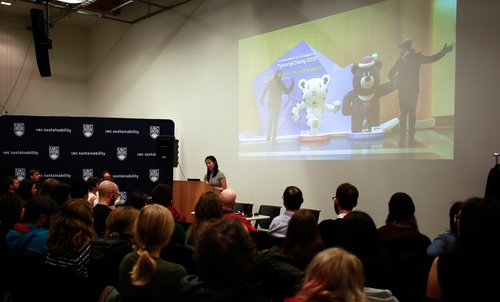 For many, the Olympics bring to mind images of dazzling opening ceremonies and intense competition between some of the best athletes in the world. But the impacts of the games are not always so positive.
From allegations of massive corruption surrounding the Sochi games to the forced evictions of residents of Rio de Janeiro's favelas in the lead-up to the 2016 games, the Olympics and other mega-events have not been without controversy in recent years.
Entitled Mount Gariwang: An Olympic casualty, a new UBC documentary developed by kinesiology doctoral candidate Liv Yoon and Director of the UBC Centre for Sport and Sustainability (CCS) Brian Wilson focuses on some of the environmental consequences of the 2018 PyeongChang Winter Olympics. The documentary was recently screened at a November public event sponsored by the CSS, among other partners.
The film — produced in collaboration with filmmakers Jordan Wade, David Gauthier and Connor Lang — examines the contested development that occurred on Mt. Gariwang in order to create a venue for downhill skiing.
To make space for the ski runs and other necessary infrastructure, large swaths of what was previously pristine forest were logged, resulting in the eventual removal of nearly 60,000 trees. The area was legally protected from development until 2013, when the South Korean government passed a special act that removed that protected status from 78 hectares of land.
The primary motivation behind the organizing committee's decision to construct an entirely new venue at Mt. Gariwang was the fact that there were no existing areas that met the Olympic standards for competition. There were, however, existing venues that could have been made to meet those standards with only relatively minor modifications.
In response to criticism from conservationists and other activists, the government created a restoration plan that included replanting efforts to replace lost trees with new ones. But, as Yoon notes in the film, many of those new trees have since withered and the success of the restoration effort as a whole appears dubious.
The film goes further than much of mainstream reporting on the Mt. Gariwang controversy when it comes to chronicling the resulting social and political issues that local residents faced, such as the challenges encountered by those who were displaced from their homes as a result of the development.
Beyond being a means for communicating Yoon's dissertation to a wider audience, the motivation for the film was also driven in part by Yoon and Wilson's interest in sport journalism.
"We were just simply interested in best practices around sport journalism when it came to covering social and environmental issues," said Wilson.
"An issue like this one and the Olympics is just an excellent case study for thinking about how these different ways of thinking about sport — good and bad — can come together."
Prior to starting in on production of the film, the two had developed a framework of five different criteria that characterized "good" environmental journalism. The documentary was, in part, designed to be an example of those criteria in action, giving the production team an opportunity to wrestle with the best ways to apply them to a real-world issue.
One of the results of those conversations was the decision to add nearly 10 extra minutes to the first cut of the film to offer the audience a more complete and nuanced picture of the issues surrounding the Mt. Gariwang controversy.
"When we got the first cut, it had really good footage in it and it was interesting — but from our perspective, with this environmental journalism piece in mind, it lacked a bit of context," said Wilson.
The end result was a film which takes a definite stance on which side in the debate is in the right — a feature that Yoon sees as an important part of the documentary.
"One of the best practice recommendations was [that] to take a side isn't always a bad thing," she said.
"Offer balanced coverage, offer different perspectives, but at the end, ultimately, if you were to point out what needs to be pointed out and that means taking a side, then so be it — especially if that means uncovering injustices and advocating for people who are marginalized."
One of the things that she hopes audiences will take away from watching the film is not just that sport mega-events can have deeply problematic impacts that aren't immediately obvious, but also that simply informing people of facts is not a sufficient condition for creating change.
"We need to think hard about how environmental issues and stories are told, that it can't just be fact, fact, fact … [and] hoping that scientific literacy is going to transform into action," she said.