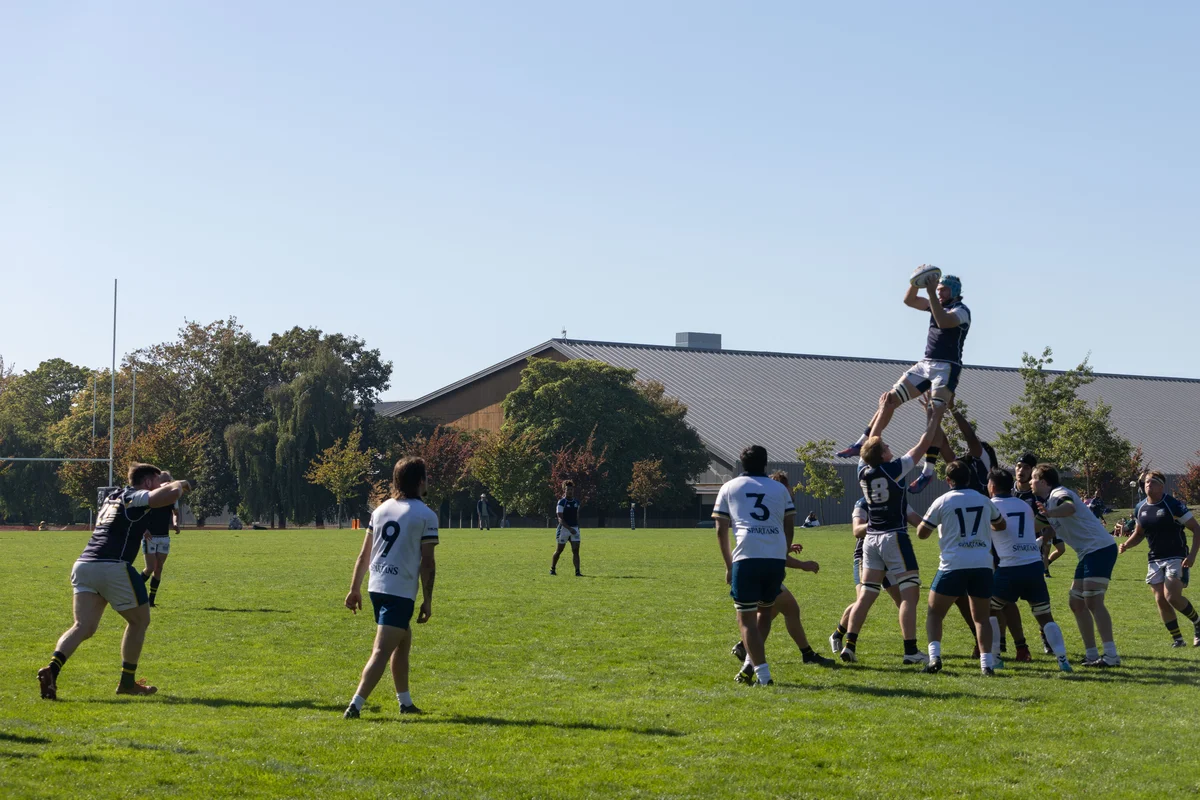 Over the weekend, men's rugby defeated the Trinity Western University Spartans 61–22 in front of a packed crowd at the Gerald McGavin UBC Rugby Centre.
The forward pack was commanding, showing great experience in lineouts, mauls and scrums. Their efforts opened up scoring opportunities for Takoda McMullin to get the 'Birds on the scoreboard and Alistair Marshall nine minutes later to make the score 12–0.
The Thunderbirds continued to dominate, adding two more tries while holding off the opposition. The only points the Spartans managed to get before half were from a field goal from the 10 meter line to make the score 26–3.
"We have a lot of guys from last year and the year before so they know our attack plan very well. So making sure that we can earn the right to play out wide — that comes down to the forwards and they did an amazing job in the first half," said head coach Didier Banse after the game.
In the second half, the 'Birds continued their forward strategy, with a strong maul clearing the path for fly-half James Biss to score. An interception and 75 meter run from Owain Cormack increased the UBC lead to 40–3.
Pressure from the Spartans led to UBC turnovers and defensive gaps — something the visitors capitalized on to score two tries making the score 40–15. The T-Birds added two more tries while TWU only added one and when the final whistle blew, it was 61–22 in favour of the home team.
"We came off a bit of a setback last week, losing against the [Pacific] Pride, who are a great team. So we just needed to focus on having the team train together a little bit more," said Banse. "I think the guy's preparation at the moment compared to last year is a lot better than where we were this time around last year."
That preparation will be crucial when the Thunderbirds (1–1) host the Pacific Pride (2–0) on September 16 at 2:30 p.m. for their first BC Premier League game of the year.