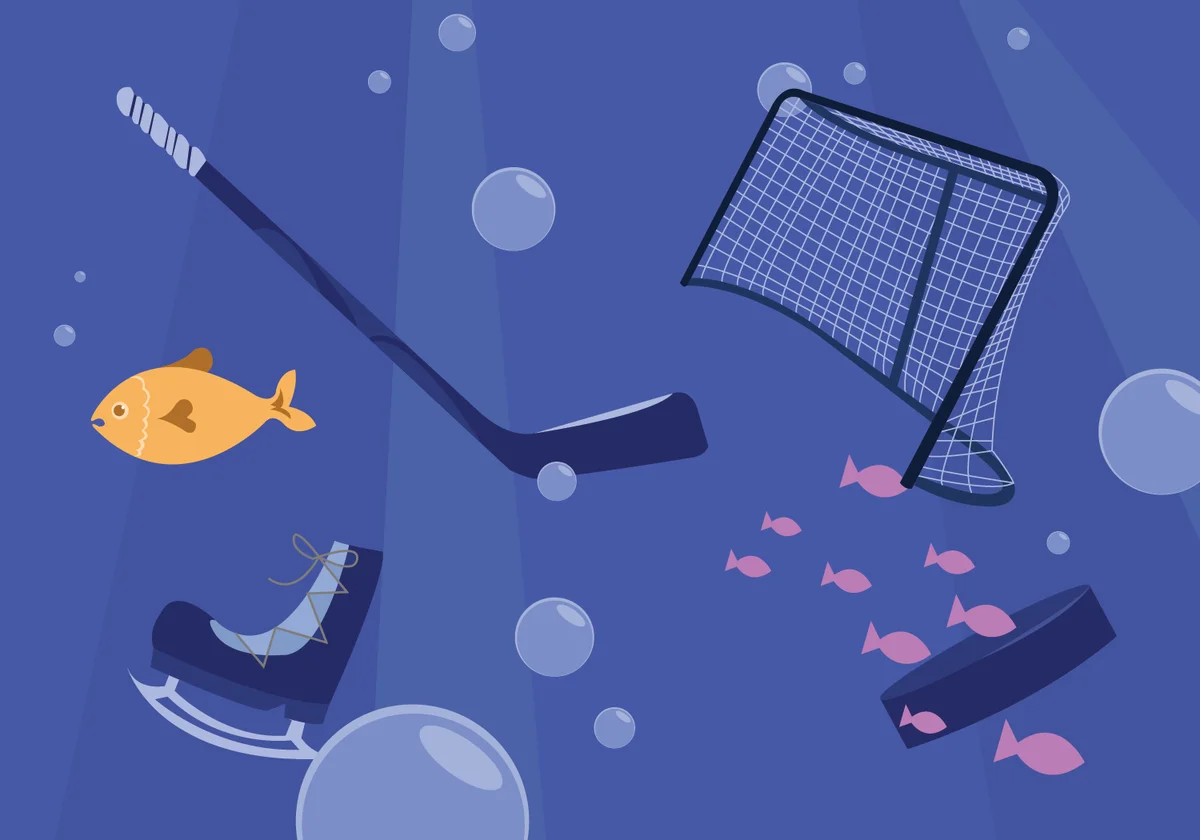 If you look at the surface of the competition pool at the UBC Aquatic Centre on Sunday mornings, you'll see an array of flippers and bodies mingling beneath the surface. From the pool deck, it looks like a bunch of rugby players pretending to be submarines. Below the surface, though, a sport of intricacy and physicality is being played: underwater hockey (UWH).
Invented in the 1950s by a UK diver as a means of staying in shape in the winter months, underwater hockey has developed into an international sport. The sport spread across several Commonwealth countries throughout the 1960s and reached North America by way of Vancouver.
Since then, Vancouver has remained the hub for underwater hockey in Canada — and it thrives here at UBC.
The sport resembles its ice-loving relative in its use of nets, sticks and a puck. Players try to send the puck into their opponent's net, too. But how does that work underwater?
During a game, two teams of six move the puck along the bottom of the swimming pool, aided by snorkels, flippers, masks and shortened sticks. As it's hard to communicate, athletes require a high level of aquatic ability as well as a willingness to get up close and personal.
While underwater hockey is not a contact sport, UBC's Underwater Hockey Club President Pau Sard said, "the product of having a very small puck and a lot of people [is that] some contact happens."
The club, was formed in 2016 by Emily Dressel. Today, it consists of a hearty mix of beginners and expert underwater hockey players. Sard, a veteran player, first got involved with underwater hockey at age 12.
"I was in my school's swim team and waterpolo team and they started hosting UWH training sessions at the pool and I had a couple of friends doing it so I decided I'd give it a try."
After moving to the UK, Sard lost contact with the sport. He was reintroduced to it upon arrival at UBC. "When I got back to UBC for my second year, during Club Week I saw a stand that said 'Underwater Hockey'…. I've been playing twice or three times a week since then!"
The club, which has roughly 30 regular players, even has athletes representing their countries at some of the highest echelons of the sport.
"We currently have one player playing for the U-23 men's Canadian team, three players who regularly play for the Canadian women's elite team, and one who plays for the New Zealand men's elite team," said Sard.
Though they evidently have an intimidating roster, the club rarely sends teams comprised fully of UBC students to tournaments because there aren't enough players who compete for the club. Nowadays, the team typically teams up with the Rumblefish, a Burnaby-based team.
There was a time a few years ago when UBC had its own competitive, traveling team, though. As Sard explained, the team "wanted to be called the Thunderbirds, but UBC does not allow that unless you are varsity, so they called the team the Thunderducks."
Currently, the biggest hurdle for UBC Underwater Hockey is student participation. "[It] is very difficult to promote a sport like ours in a country where ice hockey, the real hockey, is a thing," Sard said.
That said, the team is very keen to find new players. They are even hosting one-on-one sessions with beginners with a stock of gear to borrow, with practices on Tuesday nights and Sunday mornings too — all free.
So, if you're ever watching the latest Canucks game and find yourself thinking 'These sticks should be shorter, this ice should be melted and these people should be swimming,' it may be worth your time to check out the quirky sport of underwater hockey.