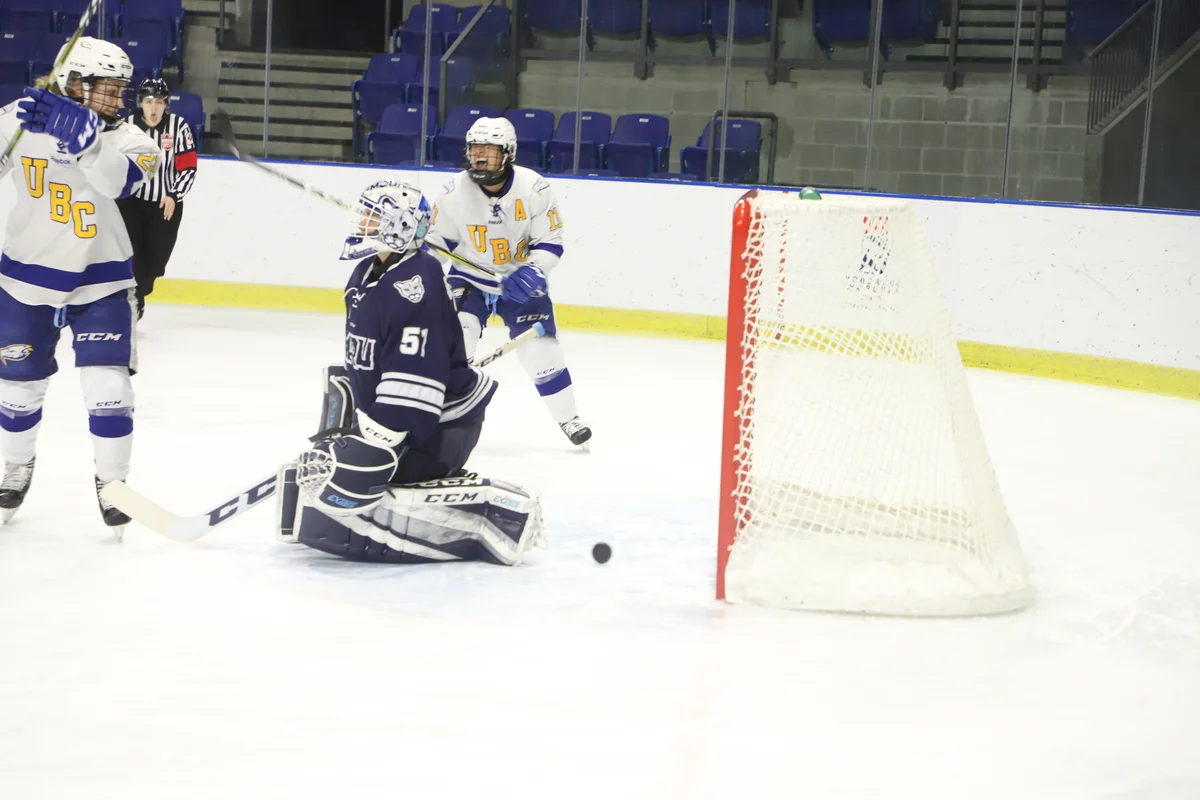 In our first weekend back after the holiday break, the happiest news came out of War Memorial Gym, where the basketball teams continue to elevate their game and impress. On the road and out at Doug Mitchell Thunderbird Sports Centre, though, it was a different story.
Win streaks alive and well at War
With two wins each against the UBC Okanagan Heat, men's and women's basketball got January off to a flying start. The 69-51 Friday win and 87-57 Saturday win put the women's team on a 5-game winning streak, continued over from the fall term. The men are now on a 10-game streak after a 100-29 win on Friday and 103-69 on Saturday. Highlights of the weekend? A career-high 32 points for women's star player Keylyn Filewich on Saturday night, and a sunk half-court shot by Kate Johnson. Other than the obvious foray into triple digits, the men impressed in the second quarter on Saturday on their field goal attempts, sinking 16 of 22 for 73 per cent.
Topsy-turvy weekend for women's volleyball
It started out with a win-streak snap on Friday for the Thunderbirds against the Mount Royal Cougars — it was even a loss in straight sets, not the way anyone wanted to start the new term. With a 3-1 win on Saturday, though, they don't head home licking their wounds necessarily. What's more, a UBC rookie was named player of the game on Friday: outside hitter Brynn Pasin. She sat second in kills with 13 behind always impressive second-year Kiera Van Ryk who had 25. Pasin also notched 6 digs on the night.
In Saturday's win, veteran Olivia Furlan put up 44 assists for the Thunderbirds ­— the game high.
Where was the men's roster this weekend, you ask? With a bye-week in Canada West, they lucked out with a trip to sunny Hawaii to face the University of Hawaii's Rainbow Warriors. They lost their games against the American side, but hey, they got some great weather before heading back to rainy Vancouver.
Losses for the men, split for the women in hockey
Both hockey teams played the Mount Royal Cougars this weekend, with very different results. Out in Calgary, the men's team faced two dismal losses: 5-2 and 6-1 across two days, with their forwards struggling to find the net. They have a lot of work to do if they want to compete against the league-leading Alberta Golden Bears next week, and then in the Winter Classic the following Friday. They now sit fifth out of eight in the league.
For the women's side, though, it was a different story. Playing the Cougars here at home, it was a much tighter series; they pulled out a 2-1 win on Friday, only to be stifled 1-0 on Saturday afternoon. One goal on the power play in the second for the Cougars was all it took to down the Thunderbirds that day. That said, the women still sit comfortably in third place in Canada West, so the tighter weekend against a lower-placed divisional team may be just the wakeup call they need to light a fire under their … well… you know… coming back into the final weekends of the regular season.
They also scored two beautiful goals on Friday from the hands of Hannah Clayton-Carroll and Rylind MacKinnon, which were a delight to see in-person.
Friday's game was in solidarity with sexual assault awareness month in January.