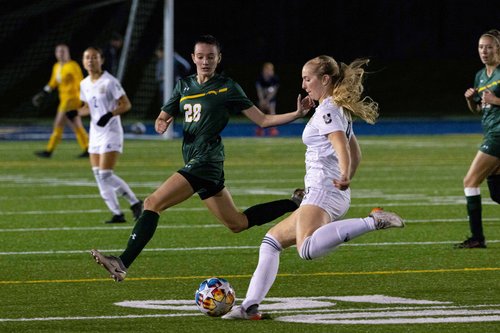 UBC women's soccer are through to the Canada West Final Four after an emphatic 8–1 quarter-final victory over the University of Regina Cougars at Thunderbird Stadium on Friday night.
Coming in as heavy favourites after a 13–1 regular season, the T-Birds set the tone with a blistering first half. Nisa Reehal opened the scoring in the 7th minute after a nice feed from Katalin Tolnai. Tolnai then showed off her goal scoring ability with a trio of finishes for her second hat trick of the season, and a 4–0 UBC halftime lead.
Despite making several substitutions at halftime, the T-Birds' high level of play did not drop. Jade Taylor-Ryan grabbed two quick goals shortly after the restart, before Sophie Damian made it 7–0 with a strike into the top corner from 20 yards out for UBC's best goal of the night. Taylor-Ryan would also complete a hat trick late on with a penalty kick, before Sophia Stevens got a consolation for the Cougars to finish the match at 8–1.
"We've talked all season about trying to score a goal early to get on the front foot," said T-Birds head coach Jesse Symons, hailing his team's statement performance across 90 minutes that showed why the T-Birds are ranked number one in Canada. "We wanted to make a statement tonight … overall it was an opportunity to showcase our players and our depth, and I think both halves showed that."
The T-Birds return to action on Friday with a semifinal matchup against the winner of the Dinos-Pandas quarter-final. They will host the Final Four as the highest remaining seed in the Canada West playoffs.