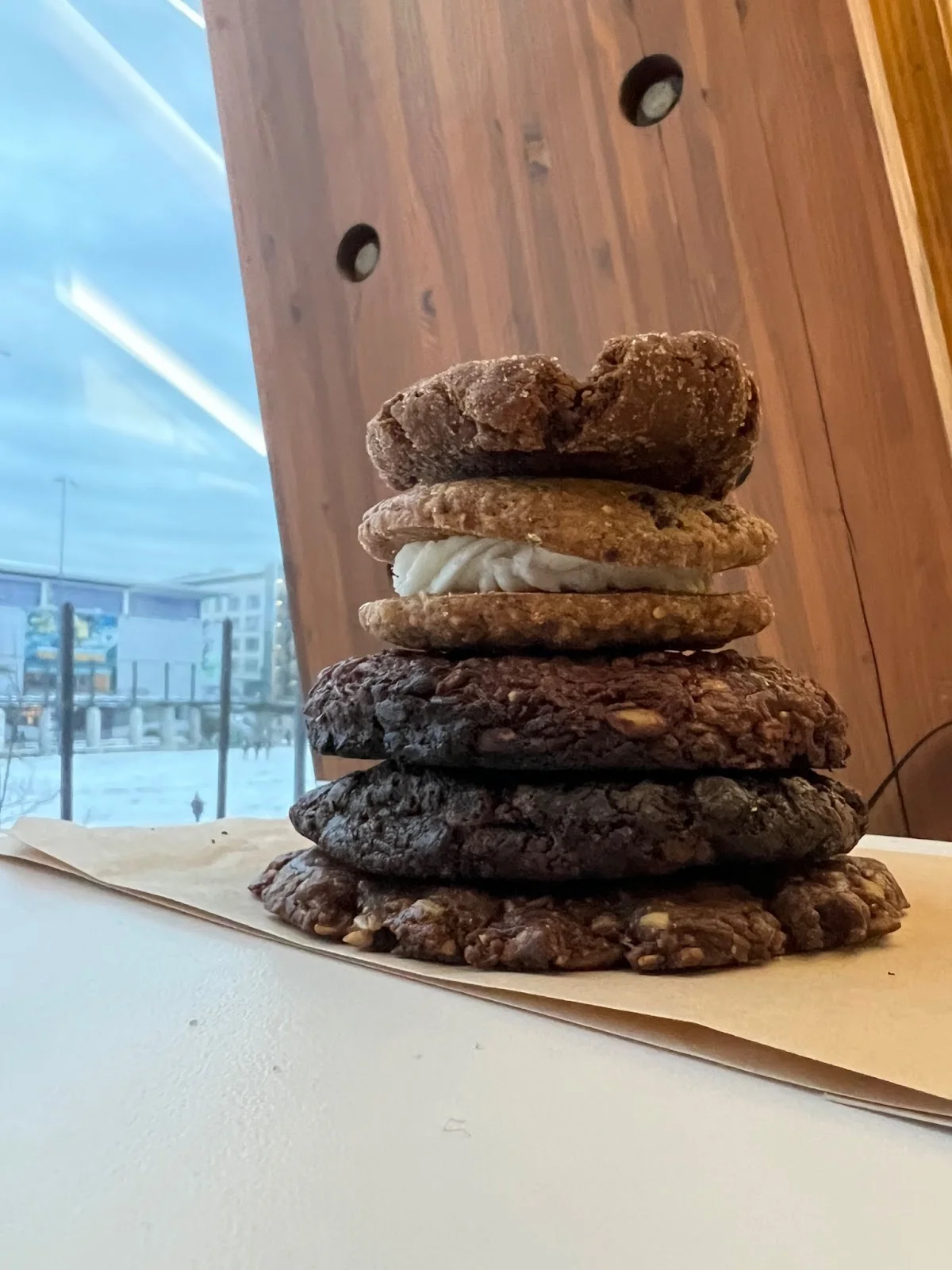 The Blue Chip vegan cookie: many know it, and most agree on its mediocrity. What can a UBC student do when searching for the joy of a plant-based cookie? Fortunately, some of the cafes on campus have answered with their own iterations of a vegan cookie, and a few offerings are delicious enough to put Blue Chip's vegan cookie to shame. I will examine all the cookies in order of ascending quality.
Editor's note: No living creatures were harmed in the writing of this review — aside from the brutal murder of Blue Chip.
Blue Chip – Vegan Cookie
For comparison, the original Blue Chip vegan cookie is thin and flat, with dried apricots and plenty of oats. The cookie can snap easily – it is rather hard and crunchy, and more like a granola bar than a cookie. In fact, granola in cookie form may be the best way to describe it, as it lacks the softness of an energy bar or ball. While this cookie is not necessarily bad, it is something I would only eat if given to me for free.
Bean Around the World – Vegan + GF Breakfast Cookie
This breakfast cookie is almost a sibling to the Blue Chip cookie. It is filled with oats, seeds and dried fruit, but is softer in texture and has a strong cinnamon flavour. Though not sweet for a cookie, it is sweet enough to be palatable. This cookie is very soft and is mostly granola filler so it may not appeal to everyone. Yet, to my taste, its texture and spices rank it above Blue Chip's. This may not be a good option for those on a quest for a traditional cookie, but it provides a good alternative for those who feel that Blue Chip succeeded in their idea but not their execution.
Blue Chip – Oatmeal Coconut Cookie
Blue Chip has a second, lesser-known vegan cookie: the oatmeal coconut cookie, a sandwich of two gluten-free oatmeal cookies with a coconut icing filling. Unlike Blue Chip's original vegan cookie, this cookie is incredibly soft. The baked outsides are very chewy, with some seeds and the occasional raisin, but they have a more pleasant uniformity than the infamous original. The coconut flavour is faint, which is not an issue overall, yet it may be disappointing to fans of coconut. The one issue I found with this cookie is that it can be too sweet; the first bite is fine, but more can feel a little overwhelming.
JJ Bean – Double Brownie Chocolate Chip Cookie
This cookie is a similar size to the Blue Chip cookie, only taller and softer in texture. It has pieces of chocolate in the cookie that have a bit of a coffee taste. The texture is reminiscent of the corner piece of a pan of brownies – not quite as soft as a normal brownie piece, but definitely softer than the Blue Chip vegan cookie. While only moderately chocolatey, anyone who likes brownies and doesn't mind a bit of coffee flavour will probably enjoy this cookie.
Sprouts – Ginger Molasses Cookie
The ginger molasses cookie from Sprouts, one of their rotating choices, is soft without being too cakey. It is the thickest and most uniform of the cookies, with a strong but not overpowering molasses and gingerbread flavour. While this cookie is definitely sweet, it's not excessive. This cookie is by far the cheapest at $1.25, and while it rotates as one of a few cookie offerings from Sprouts, the alternatives (including sesame seed and peanut butter cookies) are of comparable style and quality.
Verdict: In an emergency, the JJ Bean double chocolate cookie will fulfill cravings for a comforting cookie. Ultimately, the Sprouts cookies are the only ones I would recommend that everyone go out of their way to try.