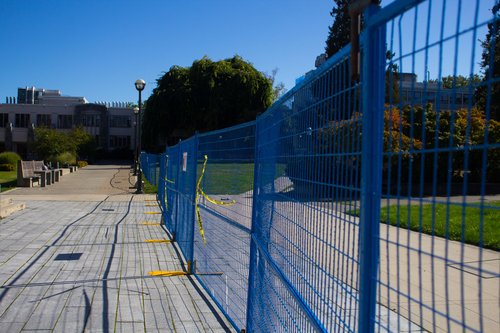 Construction on the Indian Residential School History and Dialogue Centre (IRSC) is currently underway and projected for completion in July 2017.
UBC is building the $5.5 million facility in the space between the Irving K. Barber Learning Centre and the Koerner Library. The decision to build the IRSC was made in 2011 and received formal approval by the UBC Board of Governors in June of this year.
"It's very welcome to see that construction is beginning. We've been working on this project for quite a long time and at various points, we were not entirely certain that the project would be completed," said Linc Kesler, senior advisor to the president on Aboriginal affairs and the director for the First Nations House of Learning.
The IRSC aims to increase awareness about residential school issues by providing visitors both in and outside the university community with access to public records. According to Kesler, UBC will be obtaining these records from the University of Manitoba's National Centre of Truth and Reconciliation Commission among other places.
"[The National Centre holds] a lot of the records from the Truth and Reconciliation Commission … We are working very closely with that centre to making the records more usable," said Kesler.
 Kesler noted that the IRSC will be unique from other related establishments due to its focus on using interactive technology to present its materials. Specific plans to achieve this are currently in the making.
 "We want to develop an approach to interactive technology in working with that kind of information that will be very intuitive for our users," said Kesler.
Construction wise, the IRSC will consist of two floors and occupy a total area of approximately 5,200 square feet. John Metras — managing director of infrastructure development at UBC — said that although the IRSC is physically a relatively small project, the location does present challenges.
"It's not an easily accessible location for construction activity and so we've had to think carefully about the logistics," said Metras.
On top of construction on the building itself, the project includes additional landscaping work in the surrounding area. Plans are being made to upgrade the Library Garden once the IRSC is complete.
 "[The Library Garden] needs to be refreshed. It's been a long lime since any work has been done in that area and so it's due for work to enhance it given its prominent location," said Metras.
Today UBC held a formal ceremony to announce the start of construction on the IRSC, where UBC President Santa Ono and key members of the Truth and Reconciliation Commission presented.
"We are aware that public education has until very recently offered very little to generations of students," said Ono during the presentation. "We are committed from this day forward to addressing that deficit seriously."