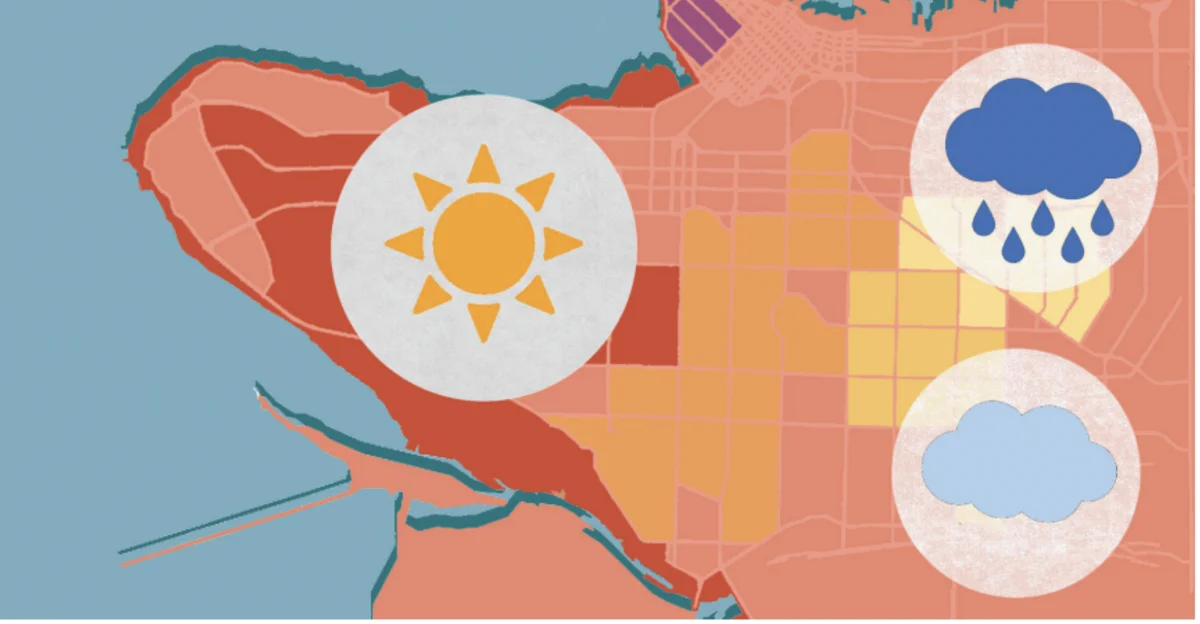 Vancouver's first hyperlocal weather network, Weatherhood, launched on July 19, with an app available for download in fall 2023. The project is a collaboration between Glacier Media and UBC's Department of Earth, Ocean and Atmospheric Sciences.
If you're wondering what hyper-local weather forecasting means, think about a time when a weather app has told you it's partly sunny with clouds, even as you're getting soaked by a downpour.
Turns out, most local weather forecasting may be less local than you think. In Vancouver, the nearest weather station run by Environment Canada is in Richmond. Meteorologists use data from existing stations to extrapolate what is happening in between them, but the variation that exists in these in-between areas can result in less than accurate weather.
"The challenge there is that when you have the types of diverse topography - the actual height of the land, and where the ocean is - having those stations so far apart and using traditional grid modeling [leads to] a lot of inaccurate weather forecasts," said Kemp Edmonds, the director of Weatherhood. "There are massive differences in temperature and wind and other conditions across small areas."
Nearly sixty sensors have been installed by Weatherhood across Metro Vancouver, between one and ten kilometres apart. The data from these weather stations are fed into a service called Meteo Blue that uses multimodal data modeling to create forecasts for each sensor's location.
Kat Pexa is a research assistant with UBC's Weather Forecast Research Team who was involved in the installation of Weatherhood's stations across the city.
"They're standalone and wireless," Pexa said. "They don't connect to the building, and communicate using a SIM card."
"For the smaller stations, we have temperature, relative humidity and precipitation," Pexa said, "For our bigger stations … [we also have] solar radiation and wind."
Local news website Vancouver Is Awesome is already using Weatherhood for weather service. When you visit their site, Weatherhood gives the most accurate weather for your exact location.
Weatherhood hopes to use this information to deliver "weather-triggered advertising," according to Edmonds. This means that users see ads that better match the conditions that Weatherhood's data projects— for example, an ad for a coffee shop would be tailored to either show hot options in the cold and iced drinks in the heat.
"When it's sunny, we're going to deliver sunny creative, when it's rainy we'll deliver rainy creative," Edmonds said.Weather based advertising has been previously shown to be effective for boosting advertisement views as well as product sales.
Predicting microclimates in a changing climate
Weatherhood also hopes to work with municipalities to provide climate-related services.
One area of concern for cities is the urban heat island (UHI) effect, which refers to the phenomenon of cities being warmer than surrounding areas.
UHI stems from factors such as human heat-generating activities like driving cars and air conditioning, dark roofs that absorb rather than reflect sunlight, lack of tree canopy and green space, and well as impermeable surfaces such as paved roads and concrete buildings.
UHI effects are not spread evenly across cities. In Vancouver, wealthier neighbourhoods, such as Dunbar or Point Grey, tend to have more tree coverage than less affluent areas like Strathcona or the Downtown Eastside, as a 2019 UBC study found.
Differences in temperature across the city can become dangerous in hot summer months, when some neighbourhoods can be as much as 17 degrees hotter than others.
Weatherhood has the potential to alert citizens of dangerous heat and direct people towards cooler temperatures. Edmonds said their partner organization in Switzerland is already doing so.
"They let citizens know, 'Hey, it's 10 degrees hotter in this area, head over to the park in this area where it's 10 degrees cooler to help yourself.'"
In the bigger picture, Edmonds said that urban planners could use Weatherhood to avoid putting people at heat risk.
"When you're about to put in a brand new social housing development, where do you want to put it? Well, we don't want to put it where… temperatures are super high."
Edmonds is optimistic about the possibility of different applications for Weatherhood going forward.
"For us, we're a business," he said, "What it really comes down to is what are people willing to pay for and support financially."
"I think the timing for the smart city climate networks is really good because the will is there, and the budgets will follow ... the technology is in a great spot in terms of what it costs and what it can do."