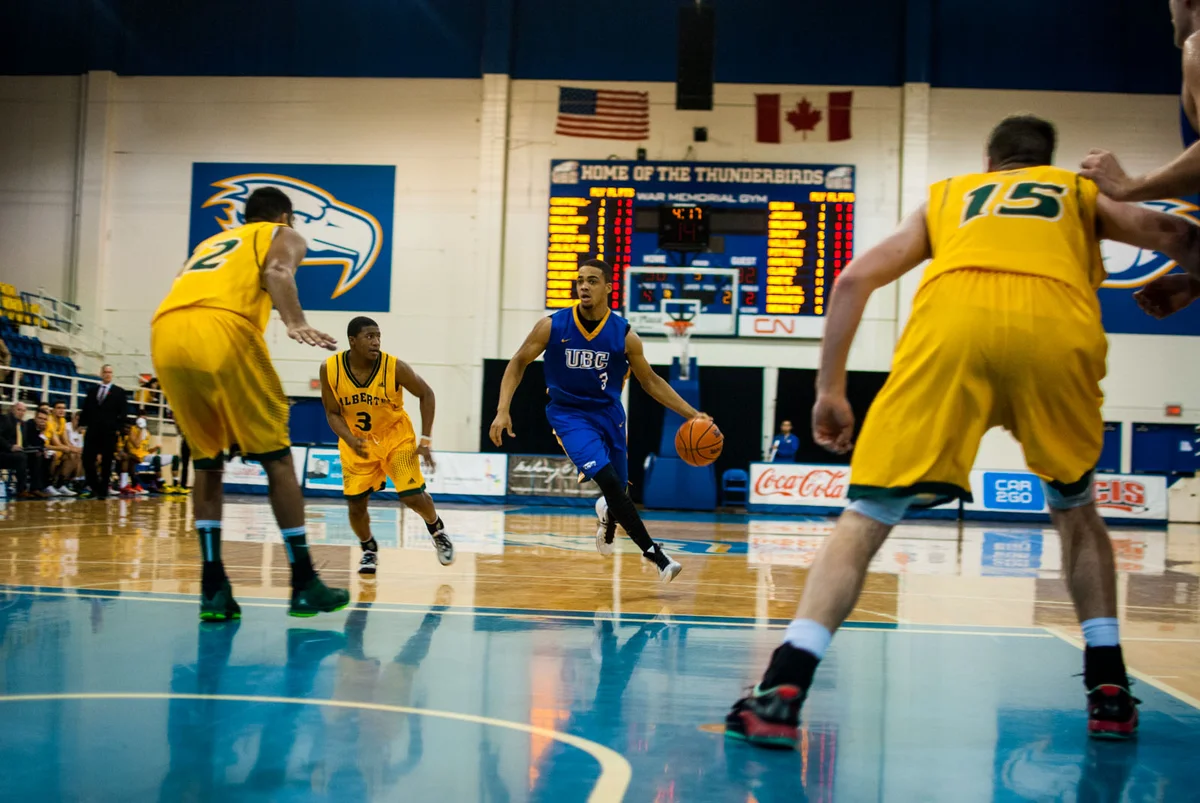 While you were binge watching all the Netflix you had to catch up with after finals and eating piles of holiday cookies, some of the UBC Thunderbirds were keeping busy. Men's basketball and volleyball hit the road, competing in a combined four games.
Basketball
The men's team first took on the University of Antelope Valley Pioneers December 29. The 'Birds took down the Pioneers 93-71 as forward Conor Morgan and Phil Jalalpoor scored a combined 43 points. The game was part of the 40th Annual Tom Byron Classic in Santa Barbara, California. Game highlights saw Morgan score a team high of 23 points and the 'Birds shoot 52.4 per cent from outside the arc.
The next day, UBC dropped a 83-70 decision to their hosts, the Westmont College Warriors. Morgan scored another 24 points and first year Taylor Browne added 18 more. UBC held their own into the final quarter, but the last few minutes saw Vestment go 26-10 over UBC.
In their first game of the new year, Morgan continued to shine, tying a career-high 34 points in an 82-67 non-conference win over the Hope International University Royals. Guard Jordan Jensen-Whyte scored 10 and finished with eight rebounds and seven assists.
Volleyball
The men's volleyball team travelled to California to take on the UCLA Bruins and Pepperdine University — both top ranked NCAA teams. UBC fell in three straight sets to the UCLA Bruins on January 3. UBC couldn't keep up with the fifth-ranked NCAA team, dropping the sets 25-19, 25-15 and 25-14. UBC will stay on the road to face Pepperdine January 6 and 8.
In other news
Running back Brandon Deschamps signed with the Saskatchewan Roughriders. Deschamps ran for 1,098 yards in 12 games with the Thunderbirds this season and was named MVP in UBC's Uteck Bowl win over the St. Francis Xavier X-Men.
Field hockey defenders Balraj Panesar and Floyd Mascarenhas will be playing for Canada's under-21 national team in four matches against the United States, January 14-18. Former Thunderbird field hockey player and national team captain Scott Tupper had his olympic and alumni rings stolen from his house.
In the new year
Although the women's teams took a break from competitions over break, the women's basketball team looks to turn their 5-11 season around in the new year, hosting the University of Lethbridge twice this weekend. 
The women's volleyball team will look to keep their winning streak alive and improve upon their nearly flawless 11-1 conference record when they host Brandon University January 15 and 16.
The women's hockey team will take on Mount Royal University twice this weekend in their first games of the new year.
Men's hockey is in Calgary this weekend to take on Mount Royal University. Meanwhile, the men's basketball team hosts the University of Lethbridge and return to conference play this weekend. Men's volleyball will continue their road trip in California and take on the seventh NCAA ranked Pepperdine University on January 6 and 8.