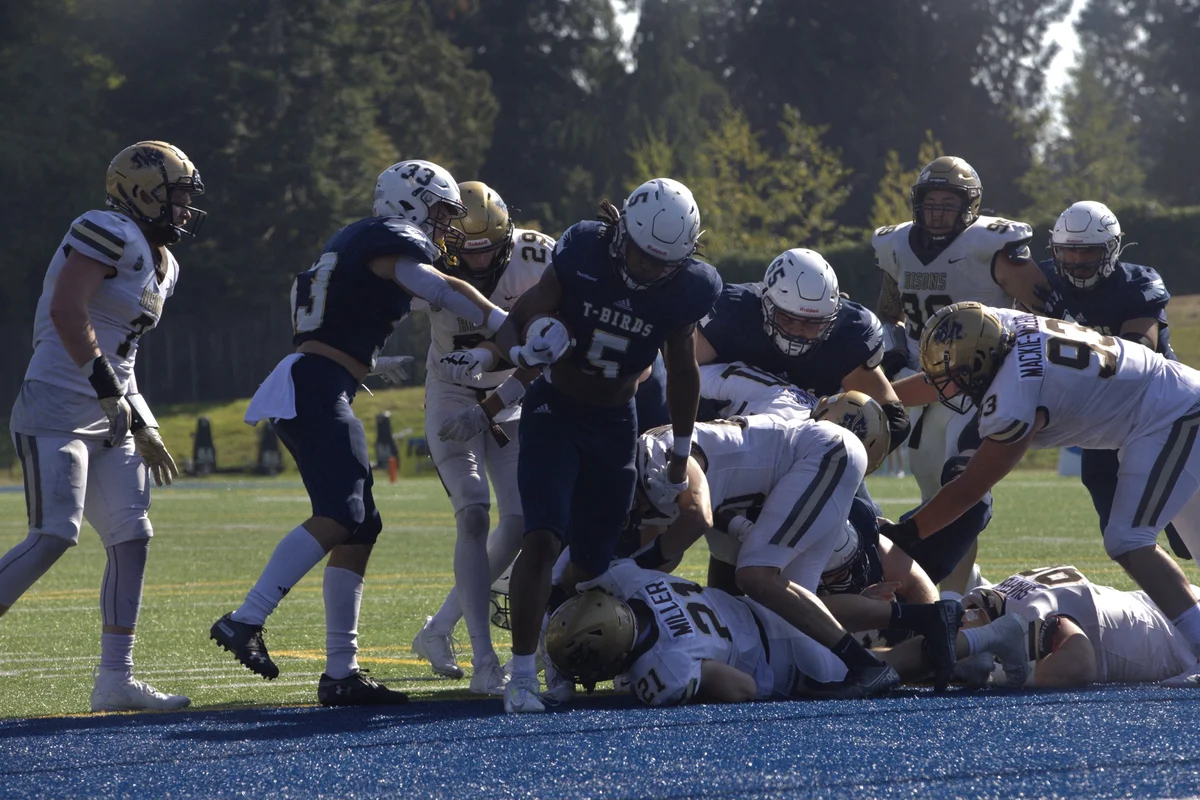 On Saturday afternoon, the Thunderbirds continued their winning streak, defeating the University of Manitoba Bisons 56–10.
The UBC offence began the game with a statement drive. Two plays – a five-yard rush and a 70 yard touchdown pass from quarterback Garrett Rooker to receiver Jason Soriano – made it a 6–0 game. A successful extra-point attempt by Kieran Flannery-Fleck brought the score to 7–0.
After the opening drive, both offences seemed to stall. Neither team would make it into the red zone for the remainder of the first quarter, but two successful field goals improved UBC's lead to 13–0.
The Thunderbirds opened the second quarter with another scoring drive, resulting in an imposing 20–0 lead. When a Manitoba field goal finally put the Bisons on the board, UBC's response was swift. On the first play of the following drive, Rooker handed the ball off to RB Isaiah Knight, who ran 75 yards for a touchdown.
UBC's quick score forced the defence back onto the field without substantial time to rest. Perhaps consequentially, as momentum began to shift in favour of the Bisons, who put together the longest drive of the game thus far, and cut UBC's lead to 27–10 with five minutes remaining in the half.
The T-Birds responded to Manitoba's first touchdown by going two-and-out. Fortunately for UBC, the Bisons failed to capitalize on this critical moment and a fumbled UBC punt recovery near the end of the half. The 'Birds managed to find the end zone once more, closing out the half with a 34–10 lead.
UBC continued to play strong in the second half, shutting down a fake punt at the end of Manitoba's first drive, and quickly scoring after gaining possession at their 47 yard line. With a 41–10 lead, backup quarterback Derek Engel was subbed on to give Rooker a rest.
The Bisons appeared to lose enthusiasm as the T-Birds became increasingly dominant in all three phases, scoring two more touchdowns and forcing a rouge and two interceptions in the second half.
"I thought today was as complete a game as we've had in a long time, certainly since the end of COVID," said UBC head coach Blake Nill.
With the win, the Thunderbirds improve to 3–0, remaining at the top of the Canada West conference. They are tied only with the University of Alberta Golden Bears, who they will face on Friday at 6 p.m. in the Homecoming game.
"It's gonna be a very physical game. This is gonna be a real showcase of our football conference," said Nill. "I'm a big fan of what Coach Morris has done at Alberta, and I'm looking forward to testing our athletes versus his athletes."