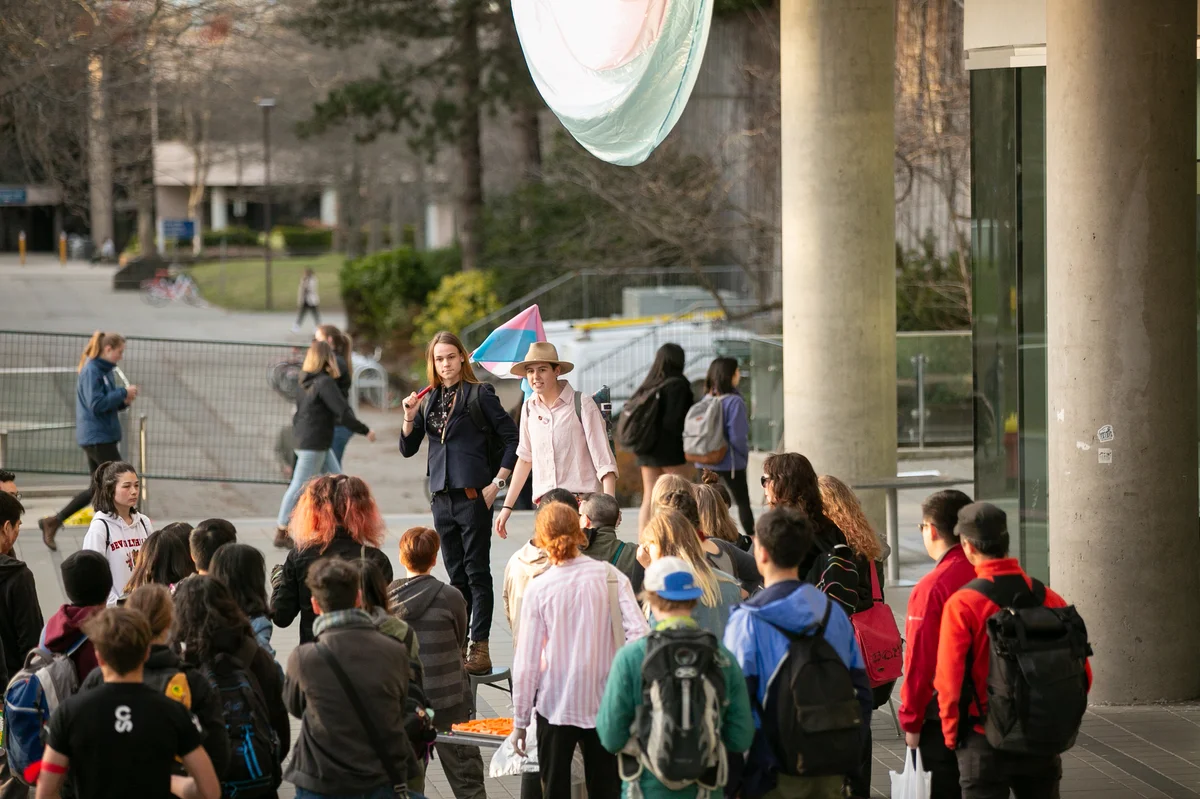 Roughly 75 students gathered in front of the Nest's Pride Installation on Wednesday evening for a meet-up as a peaceful show of solidarity against a talk from a transphobic speaker.
Meghan Murphy is considered a trans-exclusionary radical feminist (TERF) — a feminist who does not believe that trans women are women. She was banned from Twitter for repeatedly and aggressively misgendering trans people and has widely been condemned as transphobic.
According to co-organizer Robyn Quinn, the inspiration for the meet-up and teach-in came when members of the trans community were invited to the Facebook event created by Nicholas Kosovic, president of Students for Freedom of Expression.
Quinn said she tried to engage with members of the Facebook group and posted a positive message both pointing out the danger in misgendering trans people and welcoming Murphy to UBC in good faith. According to her, her efforts were met with hateful comments and messages.
"I knew that I had to do something positive with it," Quinn said, "Because if I had just ... left it and not done anything physical, then they would have believed that they won that situation. I don't want them to win that."
Kosovic denies that the invitations were in bad faith, adding that he wanted to stir debate at his event.
"I actually want these speakers to be criticized to the greatest degree so we can figure out if they can stand up to scrutiny," he said in an interview prior to the event. "There's no means of convincing a TERF if there's no means of establishing dialogue with the opposite side."
But the counter-event organizers deliberately avoided a direct protest, saying it would only draw attention to the speaker's views.
"We really want to avoid that violence on campus — we don't want people attending our event to be in danger," added Fruin Pow, co-organizer of the event.
This is not the first time UBC community members decided to stand up against controversial speakers by hosting alternative events instead of directly protesting the event. In response to Ben Shapiro's campus visit last Halloween, student groups decided to host a teach-in and a party instead, and the talk passed without much protest.
"I wanted it to be a protest. I wanted it to be aggressive. But it's not going to work that way. Because this is fighting an already hateful group with more of what they want," said Quinn.
"Megan Murphy's narrative really tries to portray... trans people in general as aggressive," said Miles Justice, a participant of the counter event. "We are already having to put ourselves on the defensive because everything we do, they can twist and use against us. So it's important to have a peaceful presence to show solidarity to other trans people."
At Murphy's talk, Kosovic started by expressing appreciation toward the counter-protest. He said SFE does not endorse the speakers it invites — it merely hosts.
Kosovic was followed by Franz Kurtzke, the head of the UBC Men's Rights Association (MRA), which co-sponsored the event. The UBC MRA is not an official group recognized by either UBC or the AMS, and it's best-known for an event where Kurtzke, alone, attempted to argue that women-specific services at UBC — like the Women's Centre — represented discrimination against men.
Murphy, who is a widely-published feminist author, apparently did not know that a men's rights association was co-hosting the event.
At the teach-in led by Pow, attendees criticized Murphy's anti-trans work and discussed how to combat narratives that oppose trans rights effectively and safely, and how they believe the "free speech narrative" perpetuates oppression and violence against minorities and marginalized groups.
In addition to the teach-in, Quinn and Pow wanted to provide a safe space for students during the event. They rented two areas in Buchanan, one for the teach in, and the other as a safe space, with volunteers who acted as security.
"I think it's just super important just to show that these people are loved, these people are thought about, these people are cared for, these people matter, and that there are students out there that are willing to support them," said Spencer Latu, one of the security volunteers.
The event had 21 volunteers that helped out with food preparation, security and clean-up.
"These are all volunteer people who've all said 'I don't feel this place is going to be safe enough. I want to help you.' And I'm just so glad that the community came together," said Quinn.
—with files from Zak Vescera
This article has been updated to clarify that the UBC MRA has more than one event, but is best-known for the incident mentioned.