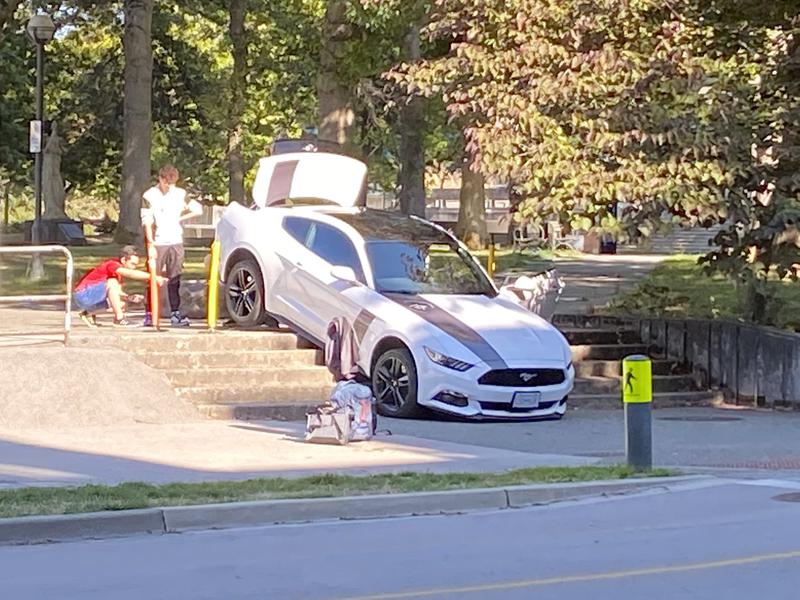 One more supercar is off the streets today as a couple of knuckleheads alleged (by us) to be students of the Sauder School of Business wedged their thiccie Mustang on the steps leading to IKB this past weekend.
We've all rambunctiously driven down University Crescent hoping to find our way to Place Vanier on move-in day, only to be greeted by a grinning chrome UBC sign and a bus loop ringed with gawking onlookers, but these drivers are clearly no strangers to the geography of UBC Vancouver.
We here at The Dingbat have assembled a list of useful tips for avoiding a situation like this in the future.
Obtain depth perception
The transition from high school to college has thrown us all for a loop at one time or another, but you'll never get into the Human Resources program without knowing where the sidewalk ends and how to lower your standards down into the pavement.
Get a bike
Perhaps a more diminutive vehicle (without that god-awful paint job) would do the trick if you're attempting to get off-road and make your study slot at IKB on time.
Drop out
If understanding the basic laws of pedestrianism seems to bar you from attaining higher education, perhaps you would be better suited at a school of your caliber, such as the University of Phoenix or SFU.
Get an invisible car
If you insist on wedging your vehicle on the staircase like a witless rhinoceros, maybe obtain a vehicle with which you will attract less attention, like a Prius or a Nissan Leaf.
Don't
Just don't. Why is that hard? You can walk to class. You can get a paper map if Google Maps is on the fritz. This was as hilarious as it was absolutely avoidable.
With this helpful guide, hopefully you'll be able to ditch the McLaren and get to PSYC 101 by walking East Mall rather than rolling through stop signs and over the feet of unsuspecting pedestrians.