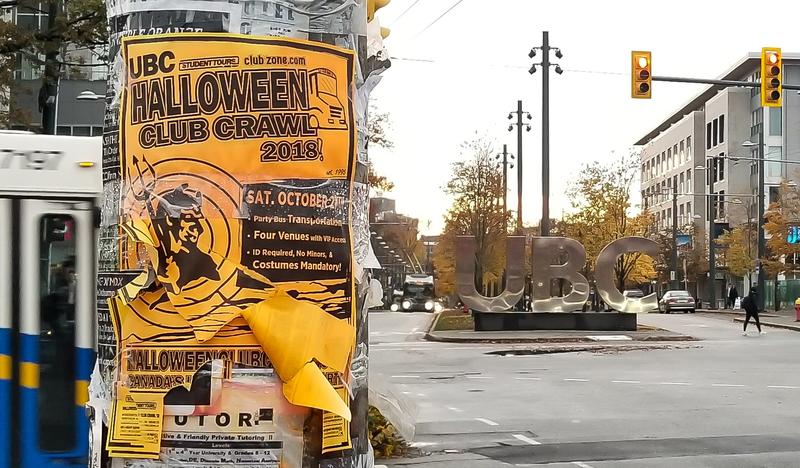 Just as the birds will certainly return once again in the spring, there is no surer sign of autumn than fluorescent black and orange club crawl flyers advertising the 'UBC Halloween Costume Crawl' scattered across UBC lecture halls like fall leaves on the ground.
However, like so many seasonal phenomena, we are left with cosmic questions. Who goes to the costume crawl? Does it actually exist? What does one do there? Most importantly, who is person that places the flyers? So, for the sake of journalism, I decided to go — alone and sober — in order to find answers that have eluded me for four years. What I got, while not entirely fun, was something more mysterious and life affirming than I could have ever imagined.
The mystery became murkier before it was cleared. The flyer itself gave little information with no pricing or locations. The event page yielded meager results and many more questions. One step forward and two steps back. I learned basically that tickets were $30 and that I would be attending on Halloween, a Thursday. I still had no idea where we were going.
And so, on Halloween I showed up at The Pint at 6:30 p.m. I was given a bright orange wristband, told to be out front at 7:45 and was set loose on a half full bar. I meandered around, identifying those with orange wristband and asking questions. My findings can be generally summed up in a few sentences: "No, I don't go to UBC," "I found this event when I googled stuff to do on Halloween in Vancouver" and "No, I have no idea where we are going next."
In hindsight, this was the most fun of the night. I talked with, by my estimate, around 40 people. Only three went to UBC and only four had actually been to the event before. No one knew where we were going. At 7:45, the front of the bar was crowded with begrudgingly sobering people. We were shepherded into two buses with cushy seats, tinted windows and a broken CD player and driven to our first location: The Roxie.
This is where the night began to turn downhill. One of the most dejecting experiences of my life was riding in a dark, music-less party bus with drunk strangers and arriving to a bar that is altogether deserted. In all fairness, 8 p.m. on a Thursday is probably not when The Roxie expects to be busy. The Blarney Stone was next and marginally better. Music was bumping and the bar was the busiest we went to that night (half-full). Our final stop took us to Cabana, which was as empty as a TA's office hours. So I called it quits. On the bright side, I was home by 11:30.
As much as I would love to report that the UBC Halloween Club Crawl was surprisingly fun, I can confirm that it is exactly what we all thought: a sub-par Halloween pub crawl. If you are searching for a UBC student-only exclusive experience into four lively clubs, stay away. However, if you're looking for a pub-crawl with a lot of drunk strangers, two buses, free entrance into four empty clubs and to be in bed by 11, by all means spend the $30.
One mystery remains.
I asked everyone I could think of if they knew who put out the flyers. Despite emails and many well-placed questions, it remains a mystery. Perhaps it is for the better. But I like to think that like Santa, the Tooth Fairy and Jack Frost, their veracity is not as important as what they represents: a harbinger of a world that exists outside of UBC midterms and textbooks in late October. A world that involves music, dressing up and saying "'Screw it, I don't care if this bar is empty, I'm going to dance."
And those, my friends, are the mysteries that give life meaning.