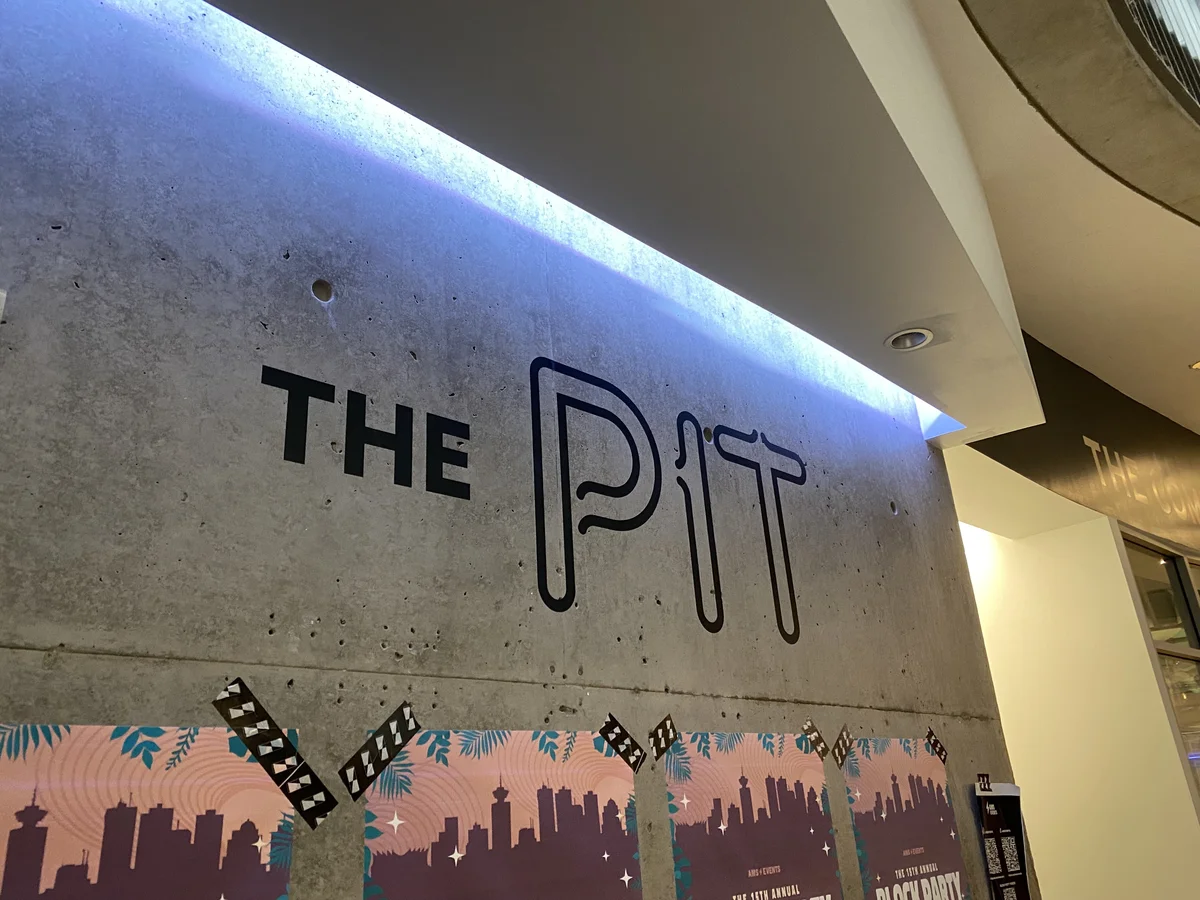 Wednesdays at The Armpit are a longstanding tradition at UBC campus.
They've recently tried to Vegas-ify the venue for their new Friday events, but that's a whole other review.
I attended their one-time only "Sound Off Saturdays" event last weekend without knowing that this meant that our campus club would be transformed into a silent disco. Somebody had mentioned that The Armpit was hosting a techno night, and like any loyal EDM fan, I bought tickets without thinking twice. I ended up being the only headphone-free person there — clearly best equipped to analyze it as a piece of performance art.
Since it's begun to look a lot like spring recently, it's no surprise that so many people were down to get out and clown around with only themselves to hear the music. It's a decent pre-game for rave season this summer, and seems like being social while being anti-social is very much in vogue these days.
The lines for entry were bubbling with excited faces well before 10 p.m., which is when "Sound Off" was due to start. As you might expect, in the midst of freshly-turned-legal students, there was a fair amount of washed-up upper years like myself too. Although everyone around me seemed to have a set of headphones, I still did not catch a hint until we walked through the doors and people began signaling to each other and "talking" by typing their words out on their phones.
I finally understood what event we were at when the screens behind the DJ had the exact words "SILENT DISCO" spelt out.
DJs Taik Abyte and Ai H8 Noyz were blasting some of their best techno tracks in the hopes of transforming The Armpit into some underground club in Berlin. While I can't attest to the quality of their music, the enthusiastic and mosh pit-ty dancing around me certainly implied they were doing a great job. On my end, all I heard was people screaming out lyrics — and I'll never even know if they were wrong or right.
The discounted bar was definitely one of the highlights! To boost attendance — and presumably, vibes — The Armpit offered reduced rates on some campus classics like the T-Bird lager. Given that the tickets were priced at $50, this was a tiny win, but a win nonetheless.
Adding to this attempt at a rave aesthetic were neon mascots of some famous UBC celebrities. More than once, I looked up to find someone dressed as Kip the Coyote in a hot pink suit attempting to hit on me (I clearly looked out of place).
When the event wrapped up at 2 a.m., I still didn't know what exactly I'd gotten myself into. Having heard none of the music but absorbing 100 per cent of the club's energy, I felt like "Sound Off" was more about being in touch with yourself than anything else.
There's something electric about being in a room full of people and still having an especially intimate experience with the music you love. Every single person around me — bad dancer or not — looked like they were having the time of their life. Someone even typed "THIS IS LIT" on their phone when I signaled to ask how the music was.
Berlin or not, The Armpit actually did a pretty decent job with this one. Maybe if we all follow Taik Abyte and Ai H8 Noyz on LoudCloud, they'll give us a "Sound Off Saturday" again.
This is part of The Ubyssey's 2023 spoof issue, explain!. To read more, click here.