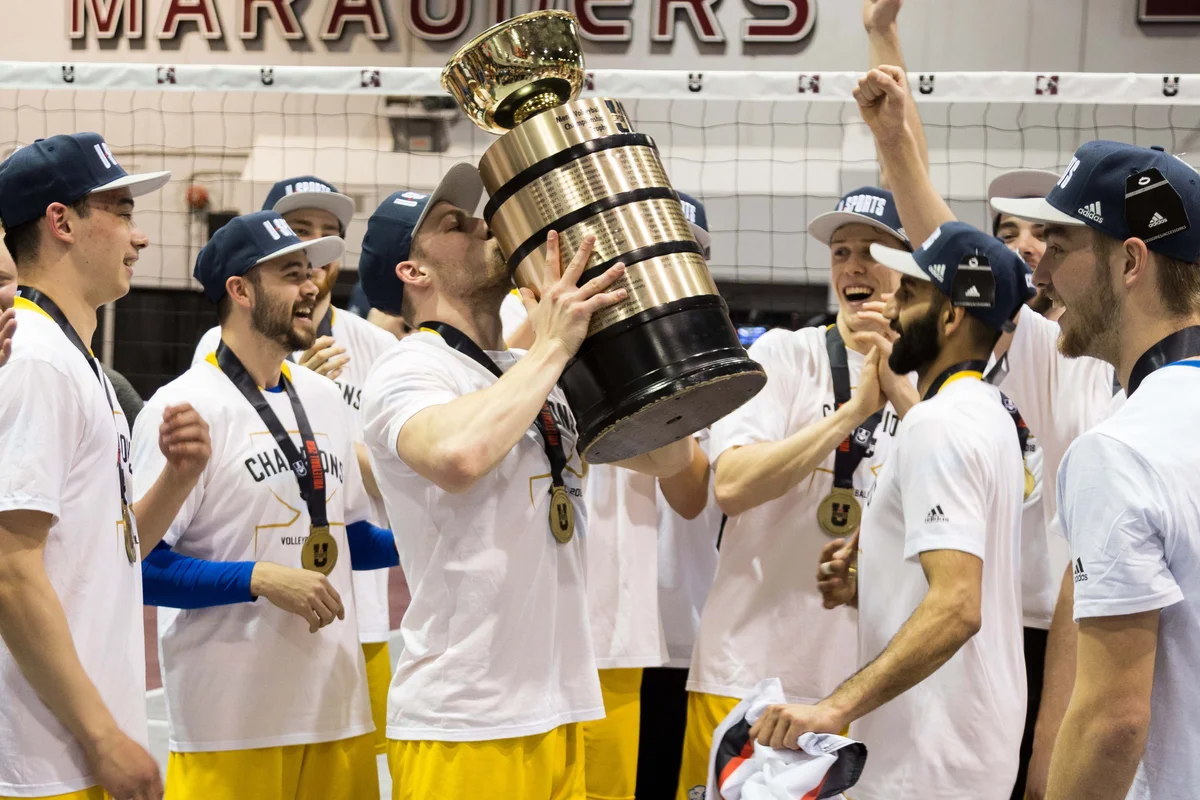 Sure, sports is a results-driven section. We love our national titles and tournaments. But, there's been more going on in UBC athletics than just your average wins and losses. Here are our top 10 sports stories of 2018, from raised banners to policy implementations:
10. T-Birds and Vikes rivalry heats up with new Legends Cup Series
Author: Lucy Fox
It's a time-honoured rivalry on the West Coast and it now comes with shiny, shiny hardware for some of UBC and the University of Victoria's varsity teams.
9. U Sports Men's Soccer Championship hosted by the UBC Thunderbirds
Authors: Brendan Smith, Ryan Neale, Scott Young, James Vogl, Mitchell Ballachay, Sherwyn Kalyan and Lucy Fox
Though UBC under-performed, it was a hell of a tournament for soccer fans hosted on campus in November. Natty's, baby!
8. U Sports launches new policy on transgender student-athlete participation
Author: Alex Nguyen
Canada's governing body for university sports, U Sports, unveiled their new transgender policy in September. Athletes, including our Thunderbird varsity athletes, can now choose to compete in the team of their gender identity or the sex they were assigned at birth.
7. Women's varsity sports scholarship fund announced to close gender gap in athletics funding
Author: Lucy Fox
In the 2018 fiscal year, funding for women's athletic scholarships was $150,591 less than their men's counterparts at UBC. The new Blue and Gold Women's Varsity Endowment Fund announced in February hopes to combat that inequity.
6. Men's rugby claim second consecutive national title
Author: Mitchell Ballachay
It was a 21-10 dismantling of the Queen's Gaels that claimed them their second championship. What's more, eight of the Thunderbirds got named to the tournament's Championship XV.
5. Women's golf keep the good times rolling with third straight national title
Author: Lucy Fox
One-upping the rugby team — and keeping the Thunderbirds going throughout the summer months — women's golf claimed their third consecutive title at the Canadian University/College Championships. T-Bird Avril Li also claimed the individual title, earning herself a spot in the 2019 Summer Universiade.
4. Birdcage student directors step down after repeatedly butting heads with UBC Athletics
Author: Jack Hauen
Birdcage execs said they were frustrated with UBC Athletics' management of their program. UBC Athletics said they did their best and were surprised it fell apart. Nevertheless, the Thunderbird fan club came to a grinding halt.
3. Former Thunderbird player tackled by seven VPD officers, kicked and tasered in jaywalking incident
Author: Olamide Olaniyan
This wasn't technically a sports section-specific story — our news team started our coverage here — but it is more than worth mentioning. Former T-Bird Jamiel Moore-Williams was tasered on Granville in February for jaywalking. He also received a jaywalking ticket and two charges of obstruction of justice. Moore-Williams claimed it was because he was Black.
We've continued to follow this story from GoFundMe campaigns to the court case in the sports section since.
2. Changing of the guard: Though nationals was not in the cards this year, women's field hockey is heading in a new, exciting direction
Authors: Ryan Neale and Lucy Fox
They have been UBC's consistent national title-contenders next to the swim team, but their reign came to a close in November. A tough goal differential-based decision sent UVic to nationals in the Canada West berth, instead of the Thunderbirds. It was a heartbreaking end to a new era in women's field hockey under new head coach Poonam Sandhu, but one that promises some exciting hockey in the coming years.
1. Kings of Canada: Thunderbirds win nationals for first time in 35 years
Authors: Elizabeth Wang and Lucy Fox
The headline says it all really and places the men's volleyball team as our number one sports story this year. It was a proud day to be a Thunderbird that March day — we're just sad we weren't there to see it live at McMaster University.
Honourable mention:
Through 2018, UBC played host to two of the biggest figure skating competitions in the world. Though only one UBC athlete, Kevin Reynolds, featured between the two events, it was still a massive sports draw to campus. What were these two events, you ask? Skate Canada in January and the ISU Grand Prix in December.
1. UBC skater Kevin Reynolds falls short in free program at nationals, misses out on 2018 Olympic nomination
Author: Lucy Fox
2. Skating royalty back on campus: UBC hosts ISU Grand Prix Final this week at Doug Mitchell Thunderbird Sports Centre
Author: Natalie Morris